From Zoom rehearsal to stage, Waco's 'A Midsummer Night's Dream' to premiere
By Trent Sutton
"All the world's a stage."
Though we aren't performing those particular words of Shakespeare in A Midsummer Night's Dream, those words have truly been put to the test as we have prepared this performance.
Wild Imaginings had planned to launch our Summer Shakespeare series this summer anticipating it being a big community event that would become annual fare for years to come. Much like the rest of the world, all of those plans were brought into serious question in the midst of the rise of COVID-19.
We felt, however, that we ought to press ahead, even in the face of uncertainty. We're an arts organization after all, and limitations are nothing more than creative boundaries.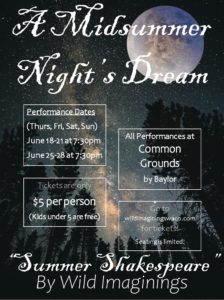 With this in mind, we held auditions for the show via Zoom and proceeded to have rehearsals for the show via Zoom. I can't say it's something I recommend. I think we all got really tired of one another's faces on our computer screens. But despite the fact that we couldn't plan our movement for the show, we worked through the script as best we could while online.
And truly, through this process, we have discovered that all the world is indeed a stage. Even virtually speaking. Sometimes we came together not just from different homes but from different cities and even different states. And all the while, we prepared, we worked through the text, we developed our characters, and when it was finally safe to rehearse in person, we dove in head-first, ready to put it all together. And in just a couple short weeks, we have had to transfer everything we learned via Zoom to the real in-person world.
The third commitment which Wild Imaginings holds in its value statement is "cultivating a willingness to explore, experiment, and otherwise push the boundaries of what performing arts can be and the impact they can have on the community." And you know, the world in which we currently find ourselves has put that commitment to the test.
We have explored the depths to which we can connect through online platforms; we have experimented with different ways of rehearsing and learning together; and we continue to push the boundaries of what performing arts can be, as we figure out ways to move from Zoom to my living room to finally Common Grounds.
And as far as impact on the community goes, we hope that this will be every bit the community event that we hoped it would be, albeit with smaller numbers of people. We are fully committed to the safety of our audience, which is why we'll be working with Common Grounds to limit seating per state guidelines.
So to help navigate this challenge, we've decided to record a performance so that people can buy "tickets" to the recording.
Our goal from the beginning in launching this Summer Shakespeare production has been to make it accessible to anyone who wants to come. We believe ART IS FOR EVERYONE. In our efforts to maintain this desire, we want to be sure it remains accessible, even for those who may not yet be comfortable venturing out.
We cannot wait to share this with the Waco community. A Midsummer Night's Dream has been such fun to work on, despite the challenges we faced. I've had the privilege of working with an amazing cast, and I hope you'll take the opportunity to see them perform, because it's definitely worth it.
Love triangles, angry fathers, fairy magic, mischief, and even a play within a play (I think that's called playception). This is a Shakespearean work of art that you're going to want to make sure is a part of your summer.
Tickets can be found at http://wildimaginingswaco.com/shakespeare/.
And even if you can't make it, you can purchase a "ticket" to the video recording when we have it or else just make a donation. We need your help to make Summer Shakespeare something that we can share with the Waco community for years to come.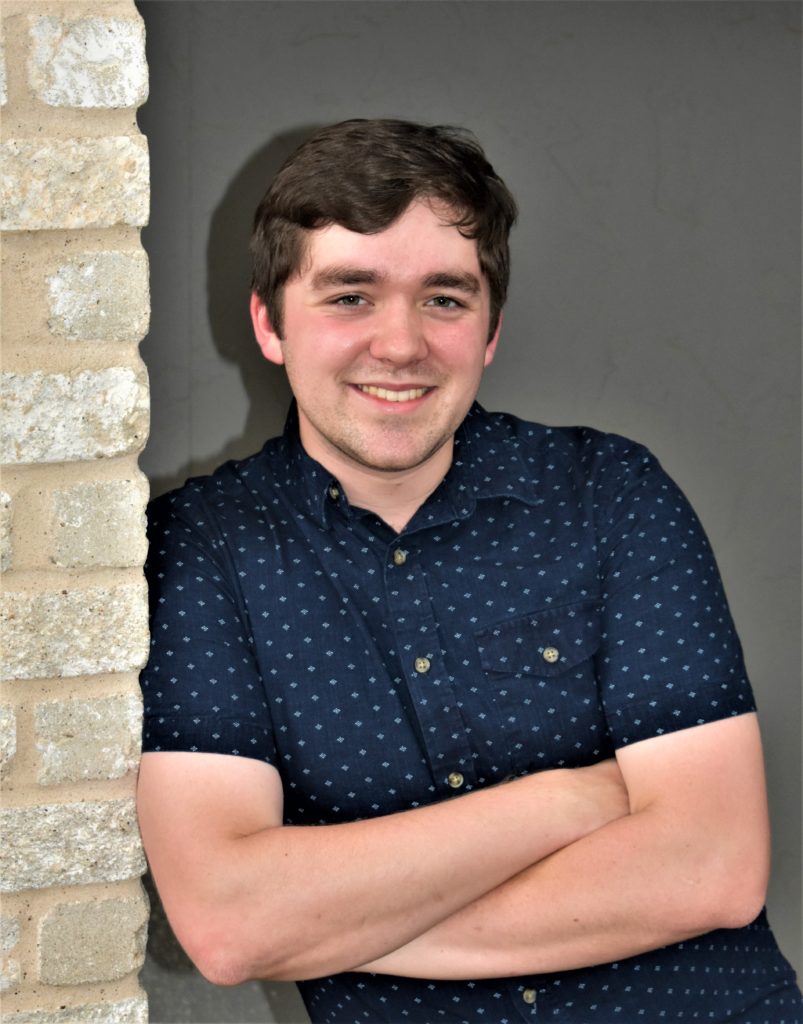 Trent Sutton is founder and artistic director of Wild Imaginings, a newly formed performing arts nonprofit here in Waco. He has recently graduated from Truett Seminary with his Master of Divinity and has already made Waco his home. He is passionate about the arts and believes them to be the best way in which he can contribute to the city he has grown to love so much. He believes Wild Imaginings is uniquely positioned to truly bring a different flavor of art to Waco, and he is excited for what this new adventure will bring. His desire is that this community be limited only by the scope of their imaginations. His favorite thing is sharing dreams and ideas and working together to bring them to life. So don't hesitate to reach out.
(Visited 259 times, 1 visits today)