Written by: Robin Layton
As Americans regroup after two years of a pandemic lifestyle, studies are revealing that youth who are in the sexual and gender minority are experiencing depression and anxiety at a faster rate than other groups.
In fact, The Trevor Project 2022 National Survey on LGBTQ Youth Mental Health found that "45% of LGBTQ youth seriously considered attempting suicide in the past year," with 60% of the youth who wanted mental health care in the past year unable to access it. The survey also found that 73% of LGBTQ youth reported having symptoms of anxiety.
Being an LGBTQ young person, unfortunately, means that during their critical adolescent years, they can often feel isolated and misunderstood, lacking the resources they need to maintain their mental health.
With pandemic-related measures in place across the country, youth are at an even greater risk of social isolation and depression. But online resources, including supportive and educational materials, can help them maintain mental and emotional health.
In a Catch-22, the internet can make this necessary information accessible, but only if you have access to the internet.
In this guide, Allconnect researchers take a look at available online resources, as well as address the digital divide and homeless issues within the LGBTQ youth community.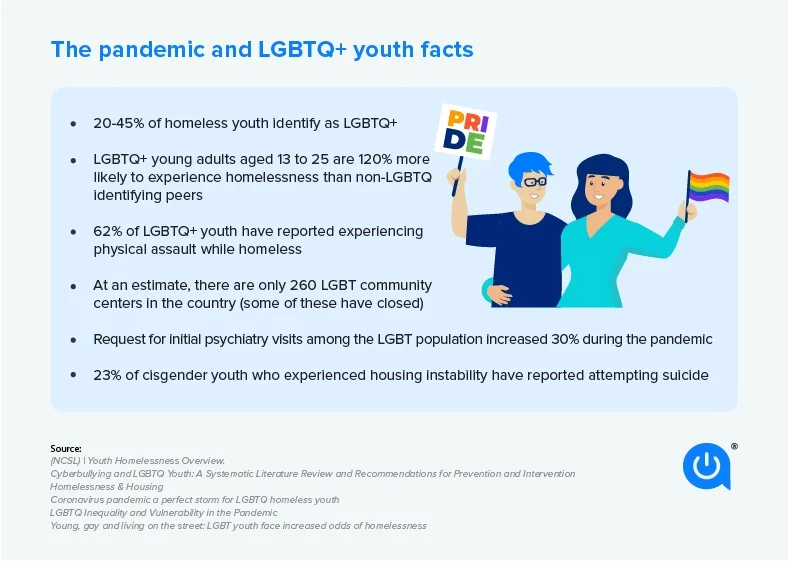 LGBTQ youth can face some unique challenges, such as higher rates of depression and suicide than their peers. A behavioral health report on youth.gov noted that suicide is the third leading cause of death among youth and young adults, and up to 33% of LGBTQ youth report having attempted suicide. LGBTQ high school students are also two to seven times more likely to commit suicide than their peers.
Along with all the pressures of growing into their own identities, they have increased risks of alcohol and drug use, bullying, peer pressure, depression, suicide attempts and high-risk sexual activities. LGBTQ youth and young adults may be kicked out of their homes, and often face homelessness.
Identifying as LGBTQ doesn't cause depression or mental health issues. The cause is rooted within outside factors: Discrimination, family rejection, negative biases and bullying and hostile microaggressions that can lead to suicidal ideation, according to the report. When LGBTQ youth aren't accepted for who they are, they have higher rates of stress, anxiety, depression, self-harm behaviors and other disturbances to mental health.
In addition, many LGBTQ youth are confronted with online bullying. Pre-pandemic, 32% of teens aged 14-17 spent about four hours in front of screens. As of June 2020, that number leaped to 62%, according to a Statista report.
Cyberbullying has made the internet a dangerous place for LGBTQ youth, and approximately 48.7% of LGBTQ students are victims of cyberbullying each year. This can be through private text messages or public posts on social media. Cyberbullying leads to high rates of psychological and emotional distress for LGBTQ+ youth, as well as low self-esteem, social isolation, depression and thoughts of suicide.
Other resource and advocacy groups