Here is what I learned from my family's battle with COVID-19
By Nelissa Davalos
My name is Nelissa, and I am an otherwise healthy 25-year-old female with no prior medical history. In early March, reports of transmission of COVID-19 began to appear in the United States. When my mother learned of the transmissions, she immediately urged us to wear face masks to protect ourselves and those around us. She was terrified of this virus because she has been diagnosed with type-2 Diabetes as well as asthma. Due to these underlying conditions, she is at higher risk of developing serious complications from the virus. When my mother first heard of the virus there were no signs of community spread in Waco, so my small family of three did not wear masks until signs began showing in our county.
My family had previous plans to visit South Padre Island from June 26-30 of 2020 to celebrate my brother joining the U.S. Navy. Our family decided not to cancel this trip. Instead we committed to wearing face masks, sanitizing, social distancing, and quarantining ourselves once we returned to Waco. Although we had made plans to be safe the fact of the matter is – you NEVER know who has been exposed. My father was unknowingly exposed to an infected individual at his workplace Thursday before we left for South Padre Island. Leadership did not inform him right away as I believe they should have. In fact, they did not inform him until two weeks after the incident occurred. Unknowingly, we continued our trip to the beach and followed the rules we had set in place prior to traveling.
Soon after we returned, I received a call from my mother who was in tears. She told me that my father had been notified of his exposure. He had been advised that he and anyone he had been in contact with should get tested. There was dead silence on the phone. I could not believe that we had been put at risk from my own father.
It was frustrating to me to know that no matter the precautions we had taken, we had been put at risk due to the behaviors of others who may have not taken this virus as seriously as we did. Sadly, our test results all returned positive. In the next few weeks my family would begin to experience an array of symptoms. My own symptoms included lower back pain, chills, nausea, diarrhea, a cough which caused shortness of breath, as well as losing my sense of taste. To combat the virus we took vitamin C, ibuprofen, drank ample amounts of water and slept most of the day due to fatigue. Our recovery seemed to be going well.
Then my mother's recovery took a different route. She was admitted to our local hospital with breathing complications. Her battle with COVID-19 was only beginning. Her doctor explained that her symptoms were worsening, and she was not receiving enough oxygen due to her asthma. The virus was wreaking havoc on her immune system and lungs. Doctors administered insulin and steroids every few hours due to the impact of the virus and her underlying illnesses.
As each day passed, she grew weaker. We were told to prepare for the worst outcome. A blood transfusion was suggested so the antibodies created from a recovered patient would help her combat the virus. We waited anxiously for a match that never came.
Thankfully, days later, my mother began to breathe on her own and was permitted to come home to recover.
As of now, we have all made full recoveries, but there was a moment where we had no idea what would happen. While hospitalized my mother was preparing for the worst outcome. I learned she had made plans for her cremation and written us goodbye letters. This broke my heart to hear. I cried and thanked her as well as my father for doing the best they could with us. Growing up there was never an end to the amount of love and support they provided.
Why is my story important?
Because this could have easily been your story, this could have been your mother, your son, or your husband. I encourage you to read my story and do the following:
Stay home. It is the easiest way to prevent community spread. I have seen first-hand how this virus takes lives. During my mom's stay in the ICU two women passed away because of this virus. They were only a few doors away from my mother's room.
Wear a mask. Based on the demographics provided by Mclennan County, the Hispanic population makes up about 50% of positive tests. Of those tested 22 cases are between the ages of 20-29 years of age. You can find this information at coivdwaco.com. We don't know who is positive and who is not. Wearing a mask can help us slow the spread. Research from the CDC shows some studies have estimated that people without symptoms (whether truly asymptomatic or presymptomatic) could be responsible for up to half of the spread. This is why the virus has been so difficult to contain.  You may be harming those you love without realizing it.
If you have recovered, donate plasma. If you have recovered from COVID-19 your body has produced antibodies to combat the virus. I would encourage you to visit Carter Blood Care online and learn how you can provide plasma for treating COVID-19. It may well save the life of a stranger.
You may not be worried about contracting the virus and you may feel as if you have nothing to lose, but there are others with underlying conditions who could lose everything.
If we join together as a community, we can all help keep our loved ones safe so others in our community do not have to experience my family's story.
---
Useful links:
---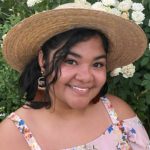 Nelissa Davalos currently serves as the Marketing and Economic Development Coordinator for the Cen-Tex Hispanic Chamber of Commerce. She is grateful for the knowledge and inspiration that local entrepreneurs and businesses have shared with her. Nelissa and her husband Ralph are the proud parents of their outgoing son Jacob. In her spare time, she enjoys learning new skills, reading, and spending time with her family. She frequently volunteers for local community organizations located in the greater Waco area, one of her favorite volunteering activities is welcoming children on the first day of school. She currently serves on the solid gold neighbor ambassador council as well as the child well- being core committee for United Way of McLennan County. Nelissa is an advocate for holistic health and in her free time encourages family and friends to take a break from their work life and enjoy their family. She looks forward to creating a positive impact in the Hispanic Community, as well as the Greater Waco area by sharing the impact her chamber has had on her life with today's growing neighborhood and business sectors.
The Act Locally Waco blog publishes posts with a connection to these aspirations for Waco. If you are interested in writing for the Act Locally Waco Blog, please email [email protected]for more information.
(Visited 1,049 times, 1 visits today)