Plan to Vote!: Helpful round up of voting rules and tips
By Becca Muncy
Step One: Getting Registered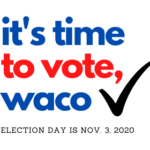 Election season is fast approaching (Election Day is November 3, 2020), and there's no better time to get educated on voting in Waco! The first step is registering to vote. In the U.S., you are eligible to register if:
You are a United States citizen
You are a resident of the county where you submit the application
You are not a convicted felon (you may be eligible to vote if you have completed your sentence, probation, and parole)
You are at least 17 years and 10 months old, and 18 years old on Election Day
You have not been declared by a court exercising probate jurisdiction to be either totally mentally incapacitated or partially mentally incapacitated without the right to vote.
In Texas, the deadline for registering to vote is October 5, 2020. In order to register, you must fill out an application, which can be picked up at any city office, post office, city library, or at the county Elections Administrations Office (214 N 4th Street Suite 300). You can also fill out an application online here (in English) or here (in Spanish) and then print the completed application. Once you have filled out the application, mail it to the county Elections Administrator (Kathy E. Van Wolf, P.O. Box 2450, Waco, TX 76703-2450).
If you think you are registered to vote, but aren't 100% sure, you can check your registration status here.
Double check your registration if you have moved
According to Dr. Peaches Henry with Project V.I.E.R ( Voter Information Education and Registration), sometimes people believe they are registered and discover that they are not when they attempt to vote.  The most common reasons for this misunderstanding is that a person has moved and believes that the postal service will forward her voter registration card when, in fact, the card will be returned to the Elections Office.  Another reason a voter might not be registered is that she might be on suspense (see explanation below).  Any voter concerned that she might not be registered should simply complete a voter registration card and get it to the Elections Office by Monday, October 5, 2020 at 5PM.  The card must be in the office not postmarked by the deadline.
Suspense means that the registrar is not certain of your residential address. If the registrar has reason to believe that a voter's current residence is different from that indicated on the registration records, then the registrar shall deliver to the voter a written confirmation notice requesting confirmation of the voter's current residence. When a Notice of Address Confirmation is sent, the voter automatically is put on suspense. As a common practice, a Notice of Address Confirmation is sent (and an individual is placed on suspense) when:
The voter's registration certificate has been returned as non-deliverable;
A Jury Summons is returned as non-deliverable; or
Any mailing that was sent to the voter was returned as non-deliverable.
The voter registrar has received information indicating the voter no longer resides at the address on the voter's record.
In-Person Voting on election day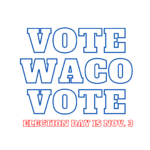 In McLennan County, there are 34 voting centers. Any registered voter in the county can vote at any voting center. You are not required to go to the polling place that is in your precinct. You can vote at any voting center. You can find a list of voting centers here.
When you arrive at the voting center, you are required by Texas law to show an ID. Acceptable forms of ID are: a Texas driver's license issued by the Texas Department of Public Safety (DPS), a Texas election ID certificate, a Texas personal ID card, a Texas handgun license, a US military ID with photo, or a US citizenship certificate with photograph.
Keep in mind that electronic devices, like cell phones, and any form of electioneering, such as campaign t-shirts, are not allowed in the voting center. You are allowed to bring a paper list of the people for whom you plan to vote.
Early Voting
Early voting in Waco is available to anyone who is registered in McLennan County. Early voting is available October 13 to October 30. Early voting is available on Saturdays (7 AM – 7 PM) and Sundays (1 PM – 6 PM) during the early voting period. For a list of times and locations, click here. Early voting locations include the Robinson Community Center, the Waco Multi-Purpose Community Center, First Assembly Church of God, the McLennan County Records Building, and Hewitt Public City Hall/Library. Early voters follow the same steps in the voting center as any in-person voter, so be sure to bring your ID with you, and leave your campaign T-shirt at home.
Absentee Voting
Different states have different rules about absentee voting (also known as mail-in voting). The rules in Texas limit absentee voting to a few specified groups. You can vote absentee if 1) you will be away from your county on Election Day and during the hours that early voting is conducted, 2) you are sick or disabled, 3) you are 65 years of age or older on Election Day, or 4) you are confined in jail.
To vote by mail, you first need to fill out an application for a mail-in ballot. You can fill out and print an application here or you can have an application be sent to you by filling out this request form. The last day to apply for a ballot by mail is October 23. After you apply, you'll be sent a ballot, which you will fill out and return to your county's elections office by Election Day.
Staying Safe While Voting In-Person
Due to Texas's regulations on absentee voting, voting by mail due to concerns over COVID-19 is not an option for everyone; however, there are still many ways you can stay safe while exercising your right to vote.
Jared Goldsmith, Assistant Elections Administrator, wants to assure voters that voting centers are taking numerous precautions. "We are enforcing social distancing rules and encouraging all voters [to] wear a face covering while in the polling place," says Goldsmith. "We have placed protocols to make the voting process as touchless as possible to help ensure the safety of our voter's health." Goldsmith also stresses the importance of voting early, when there is likely to be less of a crowd.
McLennan County is also offers curbside voting for those who are unable to enter a voting center without personal assistance or likelihood of injuring their health, and for those who are showing signs of COVID-19.
Christina Chan-Park, President of the League of Women Voters Waco, encourages voters to plan ahead in order to stay safe. This can mean voting early, or, if you vote in November, finding a voting center you can get in and out of quickly. Chan-Park recommends looking at past election results and figuring out which centers had the fewest voters. She says, "Going to a polling place that is frequented less might be faster. In the 2016 election Waco First Assembly of God on Bosque had over 1,500 people vote there. Waco High School, which is less than… 5 minutes away, only had around 300 voters. Even though the church will have more machines and workers based on past usage, it will probably not have 5 times as many as the high school."
You can also prepare your ballot ahead of Election Day to reduce time spent in the voting center. You can find a sample ballot on the McLennan County elections website. You can fill out the sample ballot prior to arriving at your voting center and bring it with you. Then, you won't have to take the time to make decisions while you're in the voting booth. (Note: you will need to know your precinct number to select the correct sample ballot. Your precinct number is listed on your voter registration card or you can find it at this website. Login to get your voter information including your precinct number.)
A full list of health protocols that can be encouraged in polling places all around Texas can be read here.
College Students and Voting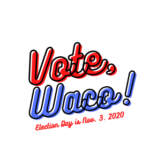 College students who are not permanent residents of McLennan County have three options when it comes to voting: the first (and probably most common) is to vote absentee from Waco. Because you are away from home and in a different county, you qualify for mail-in voting in Texas (if you are an out of state student, check your state's absentee ballot rules here).
The second option is to go home during the early voting period and vote early in your hometown, but that can be hard to do with a busy college schedule.
The third option is to register to vote in McLennan County. However, you can't be registered in McLennan county and your home county, so you would need to determine if Waco is your primary residence over your hometown. Then you would go through the regular voter registration process and vote in person in Waco.
Voting- It's Your Civic Duty!
You may have seen a lot more hype and conversation surrounding this year's election, but voting in elections has always been important, and it has always mattered. Your vote matters. Voting holds our elected officials accountable, and every vote is significant, especially in close races. Voting lets you be an active, influential participant in your community, and it is a right that, historically, many people had to fight to achieve.
Chan-Park stresses the importance of voting and the impact it has on your individual community, saying, "Try to be an informed voter…. Don't just vote in the 'big' elections for President and Senator. The results of 'down ballot' races can affect our day-to-day lives too."
So get registered, get out there, and make your voice heard on November 3! (or before!)
---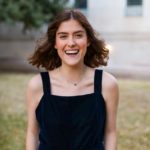 Becca Muncy is an Act Locally intern from Dallas. She is studying professional writing at Baylor University and is completing her senior year.
The Act Locally Waco blog publishes posts with a connection to these aspirations for Waco. If you are interested in writing for the Act Locally Waco Blog, please email [email protected]for more information.