Caritas offers numerous services to the community. Do you know them all?
By Alicia Jallah
These are challenging times we are currently in. There have been significant changes that we all have had to make to our lifestyles in order to adapt to the COVID-19 pandemic. Even with these changes many in our community are still struggling to meet basic needs such as housing, food and utilities because of unemployment, underemployment and/or trying to catch up on bills that accrued during the shelter-in-place order.
At Caritas we are grateful that we are able to stand in the gap and help those who are having to make difficult decisions during this season.
Do you need assistance or know someone who does? Here is how we can help.
Veterans Case Management
Veterans receive specialized assistance through a grant provided by the Texas Veterans Commission. Our case manager Mr. Harris, assists with financial needs such as housing, utilities and childcare. He can be reached at 254-753-4593 ext. 233 or

[email protected]

.
COVID Case Management
Those that have been personally affected by COVID due to layoffs, diagnosis, etc. can receive financial assistance funded by the COVID-19 Community Response Fund created by the Waco Foundation and United Way of Waco-McLennan County. To receive more information about qualifications you can call Ms. Ramon at 254-753-4593 ext. 226 or

[email protected]

.
"I lost my job due to Covid-19, I was in panic mode and unemployment was a mess. I applied and it took months before I even heard from someone. I am a single mom with two kids, it was really rough. I called Caritas and was connected with a Caritas case manager that day and she answered all of my questions immediately. Caritas was able to pay my utility and mortgage bills. It gives me hope to have an organization like Caritas in our community." — Sabrina, Caritas Client
Utility Assistance
When funds are available we are able to assist with utilities call the main line at 254-753-4593, to hear more information about qualifications and current assistance.
Food
Our drive-thru food distribution occurs Monday- Friday from 8:30-11:00 and 1:00-2:00 (weather permitting). The drive-thru line is on the front side of the building facing Mary street and wraps around 15th street. The food will only be loaded into the trunk. Please, make sure that trunks are empty before getting in line. Households can come twice a month and will be asked for a photo id.
Employment Case Management
We work directly with employees to find and maintain employment. Our case manager, Ms. Tyler can help employees with financial assistance for transportation, housing and child-care. She can be reached at 254-753-4593 ext. 234 or

[email protected]

.
Hidden Treasures
Our Hidden Treasures thrift stores offer low cost options for our community. They carry household essentials, clothing, furniture and more. Our stores are located at 3912 Bosque Blvd and 3016 Bellmead Dr and are open Monday-Friday, 12:00-6:00 and Saturday, 10:00-6:00.
SNAP
We offer enrollment assistance for state and federal programs. Clients are individually guided through the application process online or with paper applications. Ms. Morales can be reached at 254-753-4593 ext. 204.
Those who would like to join us in the fight against poverty and food insecurity can do so in various ways. Join us by volunteering your time in the distribution line by loading the food into the trunks of our clients. We need a lot of food to meet the needs; individuals, business and organizations can host food drives for us. Our common needs are pop-top cans of soup and proteins, grains such as noodles and oats and kid-friendly items like applesauce, mac-n-cheese and granola bars. Those who would like to be financial supporters can do so on our website caritas-waco.org or mail checks to 300 S. 15TH St. Waco, Tx 76701.
We could not do this without the continued support of our community and donors. Even during these challenging times, we have seen the best of humanity come together to support those who have been affected the most.
We hope that you and your family stay safe and well!
---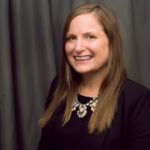 After earning her Masters of Arts from Denver Seminary, Alicia Jallah, entered the non-profit world to act on her calling of providing dignity and respect to those struggling in poverty. She currently has the privilege of serving as Co-Executive Director at Caritas of Waco. When she is not working you can find her in the glorious outdoors with her husband and son.
he Act Locally Waco blog publishes posts with a connection to these aspirations for Waco. If you are interested in writing for the Act Locally Waco Blog, please email [email protected]for more information.
(Visited 288 times, 1 visits today)