By Jack Hill
I recently completed poll working training in anticipation of working Early Voting and Election Day sites. I was shocked to learn that, although Waco has mask requirements in place for all restaurants and bars, masks will not be required for anyone who votes, neither during Early Voting nor on November 3rd. Rather, signs will be posted outside voting sites stating only that "masks are recommended."
Gosh, I wanted to help out, but it is too risky to do so given the lack of safeguards for poll workers in Texas. According to the CDC, three factors especially facilitate the spread of Covid-19: being in
crowds,
enclosed spaces with others with limited ventilation and,
an enclosed space with persons who are not wearing masks.
Evidence indicates that Covid-19 is primarily spread by aerosols—microscopic particles produced when we cough, talk loudly, yell or sneeze. Aerosols may remain in the air long after persons who emitted them have left the vicinity. They may also travel well beyond six feet.
To work in any enclosed space, virtually non-stop for 5-12+ hours, for the 18 consecutive days of Early Voting —in which individuals are permitted to come and go without wearing masks—is not only unnecessary from a public health standpoint, it is like playing Russian roulette—you may not get the bullet, but then again, you may.
Several states, such as Colorado, have state-wide mask mandates in place. Texas is not one of them
The nonpartisan organization, Mi Familia Vota, together with the Texas NAACP, have filed a lawsuit to protest the state of Texas' decision to tolerate voters who refuse to wear a mask on Election Day. But even in states, like New York, which also do not require masks, it is recommended that each polling site have an isolated area where poll workers in special protective gear can assist voters who are unwilling to wear a mask.
This is a state-level decision. Come on fellow Texans, call Governor Abbott (512- 463-2000). We can do at least as well as New York!
---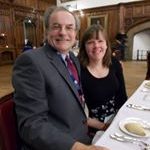 Jack A. Hill is a political activist and Emeritus Professor of Religion and Social Ethics at TCU, where he taught for the past two decades. Prior to coming to TX, he resided in the Caribbean, the Fiji Islands and Southern Africa for 15 years of an international teaching career. He was the first U.S. born Christian Church (Disciples of Christ) Partner in Mission to be ordained by a church overseas—the Jamaican Disciples of Christ (April 8, 1980). He has written eight books, including Ethics in the Global Village: Moral Insights for the Post 9-11 U.S.A. and I-Sight: The World of Rastafari. He was a Fulbright Scholar (Distinguished Chair) in Scotland and served as President of the American Academy of Religion in the Southwest. He has two daughters and six grand-children. Dr. Hill resides in Waco with his wife, Katherine Logue.