Fruit of the month: Pumpkins
Happy fall, y'all! I hope everyone is enjoying the cooler weather as much as I am.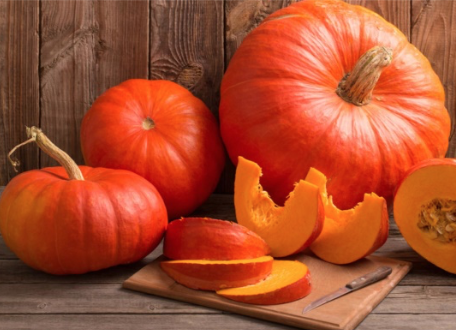 The fruit I will feature in this blog is often mistaken as a vegetable, an all-time favorite the pumpkin. Pumpkins bring forth a bit of nostalgia, thinking of my late grandmother who would give us sun-toasted pumpkin seeds. I enjoy observing the anticipation and excitement of all things pumpkin spice.
Did you know eighty percent of our United States pumpkin supply is available in October? Let's not forget our pumpkin patches, fall décor, children's activities, and oversized sweaters. I look forward to all the new and creative ways individuals and communities will embrace the season while practicing social distancing.
Select pumpkins that are firm and heavy. Look for those with a one to two-inch stem, those with small stems will decay faster. Avoid those with soft spots or blemishes. Pumpkins may last up to two months when stored in a cool, dark, and dry location.
Canned pumpkin is also an option. Pumpkins can also be purchased canned and are safe to consume past the expiration date so long as the can is free of dents, swelling, or rust. For decorative purposes, keep in mind lopsided pumpkins are not necessarily bad.
Pumpkins are 90% water. They're low in calories, fat free, cholesterol free, saturated fat free, sodium free, high in vitamin A, and a great source of vitamin K.
Get the Facts!
Wash your hands as recommended by the CDC, and clean contact surfaces often.
The U.S. Department of Agriculture MyPlate provides recipes, tips, and resources to guide you in creating a healthy eating plan. Start simple, download the MyPlate App, an easy-to-use app that will help guide you and track your progress.
Enjoy the tasty recipes below: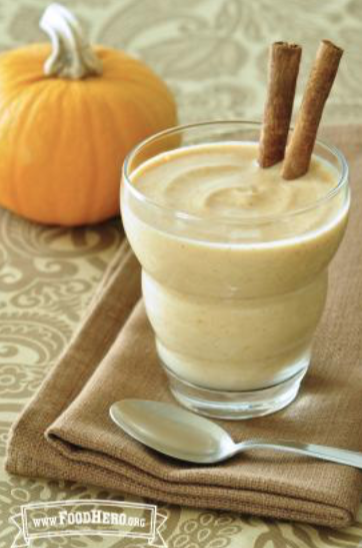 Pumpkin Smoothie in a Cup
Prep Time: 5 minutes
Serving: 1 cup
Ingredients:
2/3 cups low-fat vanilla yogurt or 1 six ounce container
¼ cup canned pumpkin
2 teaspoons brown sugar
¼ teaspoon cinnamon
1/8 tea spoon nutmeg (optional)
Instructions:
Combine ingredients in a bowl or blender
Mix until smooth
Serve or refrigerate within 2 hours
Enjoy!
Additional suggestions:
Add granola
Excess canned pumpkin can be frozen
---
Low-Fat Pumpkin Bread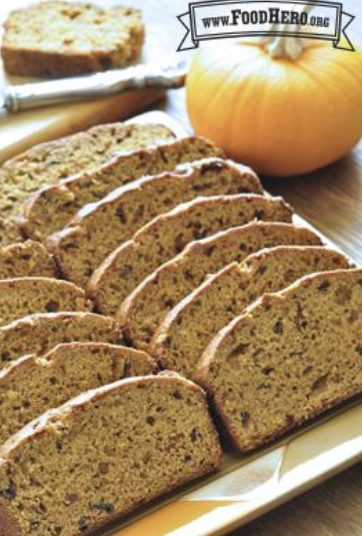 Prep Time: 15 minutes
Cooking Time: 1 Hour
Serving: 20 Slices
Ingredients:
1 ½ cup of whole wheat flour
1 1/3 cup all-purpose flour
2 teaspoons baking powder
1 teaspoon of baking soda
½ teaspoon salt
1 teaspoon of cinnamon
½ teaspoon of grown cloves
¼ teaspoon of ground ginger
¼ teaspoon nutmeg
4 eggs
1 cup canned pumpkin
1 cup applesauce
¾ cup packed brown sugar
¾ cup sugar
Directions:
Preheat the oven 350 degrees
Lightly coat an 8 ½ x 4 ½ inch loaf pan with cooking spray oil and set aside
Combine flours, baking powder, baking soda, cinnamon, salt, cloves, ginger and nutmeg in a medium bowl (dry ingredients)
Combine eggs, pumpkin, applesauce, brown sugar and sugar in a separate bowl and mix (wet ingredients)
Combine wet and dry ingredients. Careful not to over mix
Pour batter onto pan and spread into the corners
Bake for approximately 60 minutes or until a wooden pick comes out clean when inserted in the middle
Remove from oven and cool for 10 minutes
Remove loaf from pan and slice
Wrap and freeze leftovers for up to one month
Enjoy!

Paula Solano is a Master in Public Health student at Baylor University, a certified Community Health Worker, and is volunteering at the Texas A&M AgriLife Extension Service. A Waco native, she is passionate about serving her community, particularly the underserved and underrepresented.
Due to the continued spread of COVID-19 and the challenges it poses to communities across Texas, Texas A&M AgriLife Extension and many others continue to practice public health recommendations. Whether we are communicating online or face-to-face know that program content will always be research-backed to help individuals navigate decisions for themselves and their families. For information on resources, ideas, and programs for yourself and family visit Texas A&M AgriLife's HUB.
USDA is an equal opportunity provider and employer. This material was funded by USDA's Supplemental Nutrition Assistance Program — SNAP. To learn more about the Supplemental Nutrition Assistance Program (SNAP) or to apply for benefits, visit www.yourtexasbenefits.com
References:
Food Hero (2020) Recipes. Retrieved from: https://foodhero.org/recipes/pumpkin-smoothie-cup
Texas A&M AgriLife Extension (2020) Vegetable Fact Sheet Guide. Retrieved from: https://mail.google.com/mail/u/0/?tab=wm#search/lindsey/FMfcgxwJXLmlTmrsWggKBbBkJgmzwHJC?projector=1&messagePartId=0.5
U.S. Department of Agriculture (2020) Pumpkins. Retrieved from: https://snaped.fns.usda.gov/seasonal-produce-guide/pumpkin
University of Illinois Extension (2020) Pumpkins and More. Retrieved from: https://web.extension.illinois.edu/pumpkins/selection.cfm
(Visited 132 times, 1 visits today)