Fruit of the month: Cranberries
By Paula Solano
Thanksgiving and fall festivities might look a bit different for most of us this year. When I think about the holidays, I think about food, fellowship, reflecting on the past year, and forward-thinking on years to follow.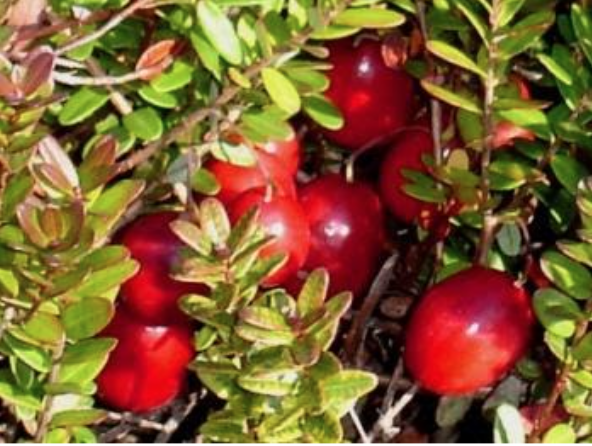 Food is in the center of many cultures, in the center celebrations, those of joy and those of mourning. The types of foods we consume during the holidays also look different in many cultures.
Tamales are a Thanksgiving staple in our gatherings, along with our turkey, ham, and desserts. Nevertheless, this year we have the opportunity to make changes for health, wellness, and safety.
I look forward to this year's holidays as a time to recharge and reflect. Our Thanksgiving celebration will be different as we will continue to practice social distancing, particularly thinking about our older adult loved ones and medically fragile friends. It is also a time of solidarity for those who have unexpectedly lost someone due to COVID-19.
This year, we will opt out of the large gatherings or travel and stay home. Nutrition and physical activity have gained substantial importance in our household and we hope to continue these practices as we prepare our Thanksgiving meal on a much smaller scale.
I've invested some time reviewing options to introduce to my picky eaters (my three children). I have had some successes and learned many lessons along the way. Particularly thinking about the cookie recipe I've included in this blog, a lesson learned from preparing the recipe is that I might have succeeded in sneaking cranberries had I pureed the cranberries. Needless to say, I considered this recipe a success when two-thirds of my kiddos gave the cookies a thumbs up.
Changing habits and behaviors can bring forth challenges; however, consistency is key. Health and wellness are at the forefront for many, and I personally hope our healthier choices will continue beyond this pandemic. Scaling back will be less complex as we face the possibility of preparing a smaller "feast." Feeding a family of five will call for a smaller spread yet equally as cherished.
Our spread will likely includes cranberries. They are a seasonal fruit and can be found in the produce section, frozen, in a can, or as 100% juice.
Nutritional Facts and Health Claims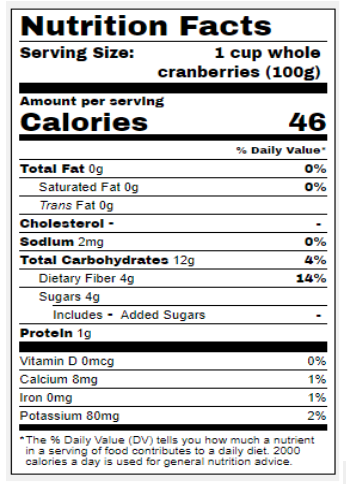 Did you know cranberries are a good source of antioxidants? One cup of whole cranberries contains 46 calories, calcium, iron, and potassium. Additionally, they're sodium, cholesterol, and saturated fat free.
Cranberries offer unique health benefits, including potentially reducing the risk of high blood pressure when part of a low-sodium diet. Drinking cranberry juice can reduce the risk of UTIs.
Shopping & Storage
When shopping for fresh cranberries, select those that are firm to the touch. A single fresh cranberry will bounce if dropped on the floor. Avoid selecting cranberries that are soft or contain spots. Fresh cranberries may be refrigerated for up to two months, then, it is recommended that you freeze them.
Get the Facts!
Wash your hands as recommended by the CDC and clean contact surfaces often.
The U.S. Department of Agriculture MyPlate provides recipes, tips, and resources to guide you in creating a healthy eating plan. Start simple, download the MyPlate App, an easy-to-use app that will help guide you and track your progress.
Use:
OATMEAL CHOCOLATE CHUNK COOKIES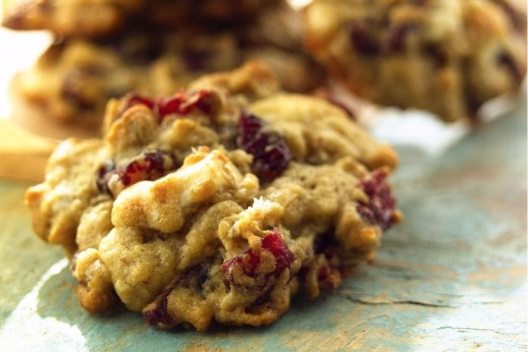 Prep Time: 10 minutes
Serving: 2.5 dozen cookies
Cook Time: 12 minutes
Ingredients
2/3 cup of butter or margarine, softened
2/3 cups of brown sugar
2 large eggs
1 1/2 cups of old-fashioned oats
1 1/2 cups of flour
1 teaspoon of baking soda
1/2 teaspoon of salt
1 6-once Ocean Spray ®Craisins Original Dried Cranberries
2/3 cup of white or semi-sweet chocolate chunk cookies
Directions
Preheat oven to 375F degrees.
Beat butter/margarine and sugar together in a medium mixing bowl until light and fluffy. Add eggs and mix well.
In a separate bowl, combine oats, flour, baking soda, and salt. Add to butter mixture in several additions, mix well after each addition. Stir dried cranberries and chocolate chunks.
Drop round teaspoonfuls onto an ungreased cookie sheet. Bake for 10-12 minutes or until golden brown. Cool on a wire rack.
Per serving: Cal. 130, Fat 6g (9%DV), Sat. Fat. 3.5g (18%DV), Sod. 90mg (4%DV), Carb. 18g (6% DV), Sugar 11g, Pro. 2g
CRANBERRY NUT BREAD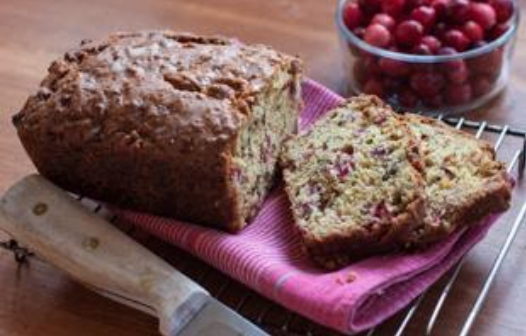 Prep Time: Approximately 1.5 hours
Servings: 15 portions
Cook Time: 50-60 minutes
Ingredients
2 cups of flour
2/3 cup sugar
1 1/2 teaspoon baking powder
1 1/2 teaspoon of baking soda
2 teaspoon grated orange peel
3/4 cup orange juice
4 tablespoon butter or margarine melted
1 egg or 2 egg whites (medium)
1 cup of chopped cranberries (I used a can)
1/3 cup chopped walnuts
1/3 powdered sugar (1/3 cup, optional, for glaze)
1 teaspoon of water (optional for glaze)
Directions
Preheat oven at 350F degrees. Mix flour, sugar, baking powder, and baking soda in a large bowl.
Grate orange peel, then squeeze juice from the orange. Add additional juice if needed to make 3/4 cup.
Blend orange juice, butter, egg, and grated orange peel in a separate bowl. Then add the flour mixture, stirring until blended, and add the cranberries and walnuts.
Pour batter into a 9-by-5-inch loaf pan, greased at the bottom.
Bake for 50-60 minutes or until a toothpick inserted in the center comes out clean. Cool in pan for 10 minutes.
Remove and cool completely in a wire rack.
Optional: To make the glaze, mix powdered sugar and water. Add water slowly to create a thin glaze, then drizzle over the cooled loaf.
Enjoy!

Paula Solano is a Master in Public Health student at Baylor University, certified Community Health Worker, volunteering at the Texas A&M AgriLife Extension Service. A Waco native, she is passionate about serving her community particularly underserved and underrepresented citizens.
Due to the continued spread of COVID-19 and the challenges it poses to communities across Texas, Texas A&M AgriLife Extension and many others continue to practice public health recommendations. Whether we are communicating online or face-to-face know that program content will always be research-backed to help individuals navigate decisions for themselves and their families. For information on resources, ideas, and programs for yourself and family visit Texas A&M AgriLife's HUB. USDA is an equal opportunity provider and employer. This material was funded by USDA's Supplemental Nutrition Assistance Program — SNAP. To learn more about the Supplemental Nutrition Assistance Program (SNAP) or to apply for benefits, visit YourTexasBenefits.com.
The Act Locally Waco blog publishes posts with a connection to these aspirations for Waco. If you are interested in writing for the Act Locally Waco Blog, please email [email protected] for more information.
(Visited 105 times, 1 visits today)