The Act Locally Waco Thanksgiving Cookbook
Happy Thanksgiving, Waco! A few weeks ago, I put out a call in The Whole Enchilada, asking for people's favorite Thanksgiving recipes. I wanted to create a blog post that could serve as a community cookbook for Waco. And, boy, did you deliver some fantastic recipes! Read on for three great recipes from your Waco neighbors: a show stopping side, a fun and easy dessert, and a unique twist on Thanksgiving leftovers! Then, click here for a special Act Locally Thanksgiving recipe card you can print off and use to keep these recipes for years to come!
The Recipe: Hasselback Butternut Squash (Adapted from Bon Appetit Magazine)
This recipe was submitted by Rachel, who has lived in Waco on and off for the past 10 years, and whose favorite Waco spot is Lula Jane's porch! Rachel made this recipe while celebrating Thanksgiving in the UK and added the serrano pepper and sorghum syrup for a little Southern flair once she returned to Waco.
Ingredients:
1 large butternut squash
1 tablespoon olive oil
Kosher salt
Freshly ground black pepper
1 serrano chile, thinly sliced
¼ cup pure sorghum syrup
3 tablespoons unsalted butter
2 tablespoons apple cider vinegar
6–8 dried bay leaves
Directions:
Place a rack in the upper third of oven; preheat oven to 425°F. Halve squash lengthwise and scoop out seeds with a large spoon. Using a peeler, remove skin and white flesh below (you should reach the deep orange flesh). Rub all over with oil; season with salt and pepper. Roast in a baking dish just large enough to hold halves side by side until beginning to soften (a paring knife should easily slip in only about ¼"), 15–18 minutes.
Meanwhile, bring chile, sorghum syrup, butter, and vinegar to a simmer in a small saucepan over medium-high, stirring occasionally and removing chile as soon as desired heat level is reached (set aside for serving), until just thick enough to coat spoon, 6–8 minutes. Reduce heat to very low and keep glaze warm.
Transfer squash to a cutting board and let cool slightly. Using a sharp knife, score rounded sides of squash halves crosswise, going as deep as possible but without cutting all the way through. Return squash to baking dish, scored sides up, and tuck bay leaves between a few of the slices; season with salt and pepper.
Roast squash, basting with glaze every 10 minutes or so and using pastry brush to lift off any glaze in the dish that is browning too much, until tender and glaze forms a rich brown coating, 45–60 minutes. Serve topped with reserved chiles.
The Recipe: Cinnamon Walnut Pecan Pie Bites (From the Texas A&M AgriLife Extension Service)
This recipe was submitted by Lindsey, who has lived in Waco for 5 years and loves walks along the Brazos River! This recipe can be easily doubled, tripled, or even halved, depending on how big or small your Thanksgiving crowd is!
Ingredients:
15 mini phyllo shells, frozen
1/4 cup liquid egg substitute
3 tablespoon dark brown sugar
1/2 tablespoon room temperature butter
1/8 teaspoon cinnamon
1 drop vanilla extract
1/8 teaspoon salt
2 tablespoon chopped walnuts
2 tablespoon chopped pecans
Directions:
Preheat oven to 375°F. Spray a baking sheet with nonstick spray or line with parchment paper.
In a medium bowl, combine egg substitute, brown sugar, butter, vanilla extract, cinnamon and salt. Mix well.
Stir in 1 tablespoon chopped pecans and 1 tablespoon chopped walnuts into mixture. Arrange phyllo shells on baking sheet and distribute the mixture evenly among the shells. Combine remaining nuts and sprinkle them on the top of the shells.
Bake in the oven until edges are crisp, 15-18 minutes. Allow to cool slightly before serving. If you like, top each piece with a squirt of fat free whipped cream topping. Enjoy!
The Recipe: Thanksgiving Leftovers Lasagna
This recipe was submitted by an anonymous Act Locally reader, who has lived in Waco for 49 years and whose favorite Waco spots include Cameron Park and the River Walk at the Waco Suspension Bridge! This recipe is a great way to use up leftovers; feel free to swap any ingredients based on whatever leftovers are in your fridge!
Ingredients:
3 cups leftover cornbread stuffing
1 (14-oz.) can whole berry cranberry sauce
1 ¼ lbs cooked turkey breast, sliced into ¼ inch slices
3 cups cooked mashed potatoes
2 cups green beans, corn, or mixed vegetables
6 oz sharp white Cheddar cheese, shredded (about 1 ½ cups)
Gravy, for serving
Directions:
Preheat oven to 400°F. Lightly grease a square baking dish with cooking spray.
Spread half of the stuffing in a layer in bottom of prepared baking dish. Spread half of the cranberry sauce in an even layer over stuffing. Layer half of turkey slices on top of cranberry sauce, then half of vegetable of choice, then spread half of the mashed potatoes on top of vegetables. Sprinkle half of the shredded cheese on top of potatoes. Repeat layers once. Bake in preheated oven until lasagna is warmed through, about 20 minutes. Increase heat to broil, and broil until cheese is golden, about 2 minutes.
Remove from oven and let stand 5 minutes before cutting into squares. Spoon gravy over each square to serve.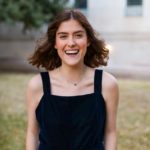 Becca Muncy is an Act Locally intern from Dallas. She is studying professional writing at Baylor University and is completing her senior year.
The Act Locally Waco blog publishes posts with a connection to these aspirations for Waco. If you are interested in writing for the Act Locally Waco Blog, please email [email protected]for more information.