New Year – New Beginnings: You can help!
By Catherine Haynes Bauer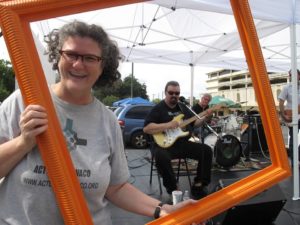 It goes without saying that 2020 has been a challenging year. Act Locally Waco was born out of a desire by our founder, Ashley Bean Thornton, to build community in Waco, and to bring people together who shared a desire to make Waco a better, more productive, and connected place. It began very simply as a means to communicate what was happening in the community in one central place and grew to include The Whole Enchilada newsletter, guest blog posts, a book club, a thriving community of contributors and readers, and so much more.
In the context of 2020 and a global pandemic, when so many events and gatherings have been canceled and postponed, it has never been more important to find new ways to build community. As Wacoans have evolved to adapt to new ways of gathering and sharing ideas amidst a global pandemic, so too has Act Locally Waco had to explore how to evolve. 2021 ushers in for us a new era as we adapt to the changes in the world and uncertainty regarding when we'll be able to gather together in physical spaces. With the arrival of a vaccine we look forward to having more events and gatherings to promote and new ways to engage with our community in 2021 and beyond.

Forward-looking nonprofits with forward-looking founders plan for the future and equip their organizations to exist in perpetuity. And Ashley, our devoted founder, did just that. After pouring many years of her heart and soul into Act Locally Waco, Ashley decided in 2020 that it was time to establish a 501(c)3 nonprofit organization in order allow ALW to expand and grow. She selected a founding board of directors made up of like-minded, passionate community leaders who were similarly devoted to supporting Waco and building a robust and diverse community. Those individuals include: Catherine Haynes Bauer, Cory Dickman, Ferrell Foster, Jillian Ohriner, Cuevas Peacock, and Alfred Solano. As a board entrusted with upholding Ashley's vision for Act Locally Waco and committed to ALW's loyal followers, it has now become our responsibility to plan for Act Locally Waco's future. Beginning in 2021, Ashley is turning over the reigns of this dynamic organization to us, her carefully selected board members, and we are honored to continue her mission and vision for Act Locally Waco.
As we eagerly anticipate the arrival of a new year and a fresh start, the board of Act Locally Waco would like to invite you to help us dream for the future, while expanding upon our capabilities and offerings. Please consider an end of year gift to Act Locally Waco to equip us to serve our community well into the future. We look forward to sharing the exciting ways in which Act Locally Waco will be evolving in the future. And we'd also love to hear your ideas and desires for how we can together make Act Locally Waco a better and stronger resource for the Waco community. Join us on social media or send us an email to let us know what ideas you have….and please don't forget to remember us in your end of year giving. You might also consider an end-of-year gift in honor and recognition of Ashley Thornton's countless contributions to Act Locally Waco as we thank her for her service and boundless devotion. Here's to a happy and healthy New Year! On behalf of Ashley Bean Thornton and the new ALW board of directors, thank you for reading and for your continued support. Stay tuned for good things to come in 2021 and beyond.
With gratitude and hope,
Catherine, Cory, Ferrell, Jillian, Cuevas, and Alfred