Vegetable of the month: Lettuce
By Paula Solano
Cheers to the New Year! A new year, a new beginning. As we return to our routines, a little planning will not only save time and money, it can help you set and maintain a new routine.
Our environment and communities have a great influence on our beliefs and behaviors. As we begin to plan for the return of in-person learning, I'm reminded of a person who had a significant impact on the nutrition choices I was making as a parent. A brief conversation transformed my thoughts on packing school lunch. Now, packing lunch or even drinks and a snack are essential in our household.
The seasonal vegetable for this month's "Better Living for Texans" blog is lettuce. Lettuce is in season in the spring and fall and has an ethnic presence in Asian, Southeast Asian (Vietnam, Cambodia, Laos), African, Latino, and Mediterranean cuisines.
Did you know May is National Salad Month? Share your photos on social media platforms using #RomaineLettuce! @fruitsandveggies. I've selected lettuce as the vegetable of the month as it represents a nutrition staple and can be paired with endless accompanying fruits, vegetables or serve as a side dish for a meal.
Nutritional Facts and Health Claims
While many factors impact one's health, let's learn nutritional claims about lettuce. The nutritional value of lettuce varies, generally, lettuce is low fat, saturated fat-free, cholesterol free, sodium free, high in vitamin A, low calorie, and a good source of folate (folic acid).
According to the American Cancer Society and American Cancer Institute, foods rich in vitamin A and C (antioxidants) protect against some forms of cancer.
Hypertension & Sodium: A diet low in sodium may reduce the risk of high
blood pressure, a disease associated with various factors. Lettuce contains very low sodium.
Coronary and Risk of Coronary Heart Disease & Dietary Saturated Fat: While many factors impact heart disease, a diet low in saturated fat and cholesterol may reduce the risk of the disease. Lettuce contains no saturated fat or cholesterol.
Cancer & Fiber – Containing Grain Products, Fruits, and Vegetables: Lettuce is high in vitamin A. A low-fat diet rich in fruits and vegetables may reduce the risk of some types of cancer. The disease is associated with various factors.
Shopping & Storage: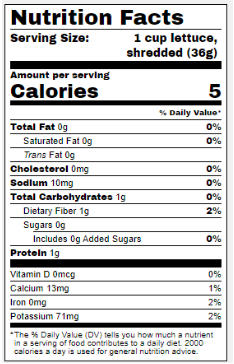 Lettuce is a cool weather crop. When shopping for lettuce,
select those closely bunched, with a fresh appearance.
Avoid those with brown or wilting edges.
Avoid storing lettuce with apples, pears, or bananas.
Wrap fresh, unwashed lettuce in plastic wrap and store for a few
days. Cooler temperature will maintain lettuce fresh longer.
Discard lettuce that appears to have brown spots or has a slimy
appearance.
Get the Facts!
Wash your hands as recommended by the CDC and clean contact
surfaces often.
The U.S. Department of Agriculture MyPlate provides recipes,
tips, and resources to guide you in creating a healthy eating plan.
Start simple, download the MyPlate App, an easy-to-use app that
will help guide you and track your progress.
Use:
Avocado Garden Salad
Source: Eat Fresh
Cook Time: 20 minutes
Serving: 6
Ingredients
6 cups of mixed salad greens
3 tomatoes (medium) chopped
5 green onions chopped
1 cucumber small, peeled and chopped
2 tablespoon of lemon juice
1/3 teaspoon garlic powder
½ teaspoon black pepper (ground)
½ teaspoon salt
1 avocado (large) peeled
Directions
In a large serving bowl, mix salad greens, tomatoes, onions, and cucumbers
In a small bowl, mix lemon juice, garlic powder, ground black pepper, and salt. Stir with a fork or whisk. Pour over the salad mixture and toss together.
Cut the avocado half lengthwise, remove the pit, and peel avocado halves. Slice into thin wedges.
Arrange avocado slices on top of the salad and serve.
Nutrition Information and More
Serving size: 1½ cup
Total calories 78, total fat 5g, saturated fat 1g, carbohydrates 9g, protein 2g, fiber 4g, and sodium 222 mg
Recipe: https://eatfresh.org/recipe/salads/avocado-garden-salad#.X_UHl9hKiUk
Tasty Taco Rice Salad
Source: Arizona Health Zone
Servings: 8
Ingredients
1 pound of lean ground beef
1 ½ cup of instant brown rice, cooked
2 cups of water
1 cup of onion, chopped
1 tablespoon of chili powder
3 cups of tomatoes chopped
1 seeded jalapeño finely chopped
2 cups of spinach or romaine lettuce
1 ½ cup of low-fat cheese, shredded
Directions
Washing hands with soap and warm water.
Wash onion, tomatoes, jalapeño, and spinach or romaine lettuce before preparing.
Cook ground meat in a large skillet until brown (160℉). Drain off fat. Rinse meat with warm water to remove the grease.*
Add rice, water onion, and chili powder to meat in skillet.
Cover. Simmer over low heat about 15 minutes to cook rice.
Add tomatoes and jalapeño. Heat for 2-3 minutes.
Layer spinach or romaine lettuce, rice mixture and cheese on a plate.
Serve.
*Do not pour grease down the drain. Allow grease to harden, then place in the trash.
Recipe: https://www.azhealthzone.org/recipes/tasty-taco-rice-salad
Nutrition Facts (Per Serving)
Serving size 1 ½ cups
Calories 191, carbohydrate 19g, protein 18.8g, total fat 4.5g, saturated fat 2g, trans fat 0g, cholesterol 35 mg, fiber 2g, total sugars 3g, sodium, 260mg, calcium 110mg, folate 30 mcg, iron, 1.75 mg, calories from fat 22%.
Share your favorite recipe with us!
Enjoy!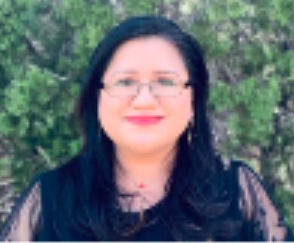 Paula Solano is a Master in Public Health student at Baylor University, certified Community Health Worker, an intern at the Texas A&M AgriLife Extension Service. A Waco native, she is passionate about serving her community, particularly underserved and underrepresented citizens.
The Act Locally Waco blog publishes posts with a connection to these aspirations for Waco. If you are interested in writing for the Act Locally Waco Blog, please email Ferrell Foster at [email protected].
—
Due to the continued spread of COVID-19 and the challenges it poses to communities across Texas, Texas A&M AgriLife Extension and many others continue to practice public health recommendations. Whether we are communicating online or face-to-face know that program content will always be research-backed to help individuals navigate decisions for themselves and their families. For information on resources, ideas, and programs for yourself and family visit Texas A&M AgriLife's HUB.
USDA is an equal opportunity provider and employer. This material was funded by USDA's Supplemental Nutrition Assistance Program. To learn more about SNAP or to apply for benefits, visit www.yourtexasbenefits.com
References:
Arizona Health Zone (2021) Tasty Taco Rice Salad. Retrieved from: https://www.azhealthzone.org/recipes/tasty-taco-rice-salad
Eat Fresh (2021) Avocado Garden Salad. Retrieved from: https://eatfresh.org/recipe/salads/avocado-garden-salad#.X_UHl9hKiUk
Fruits and Veggies (2021) Leaf Lettuce. Retrieved from: https://fruitsandveggies.org/fruits-and-veggies/leaf-lettuce/
University of Illinois Extension (2021) Watch Your Garden Grow. Retrieved from: https://web.extension.illinois.edu/veggies/lettuce.cfm
(Visited 135 times, 1 visits today)