Highlander Restart puts former MCC students back on graduation track
By MCC Marketing & Communications
McLennan Community College is celebrating the success of students in the inaugural semester of the school's newly launched debt-forgiveness program, the Highlander Restart Program. This new initiative aims to assist and provide resources for those former students who owe MCC money, want to re-enroll, and wish to complete a degree or certificate at MCC.
The program, which began in spring 2021, celebrates 97 returning students currently enrolled who have paid more than $38,000 in outstanding balances to the College. Nine students in the program who are now eligible to graduate this summer or fall semester.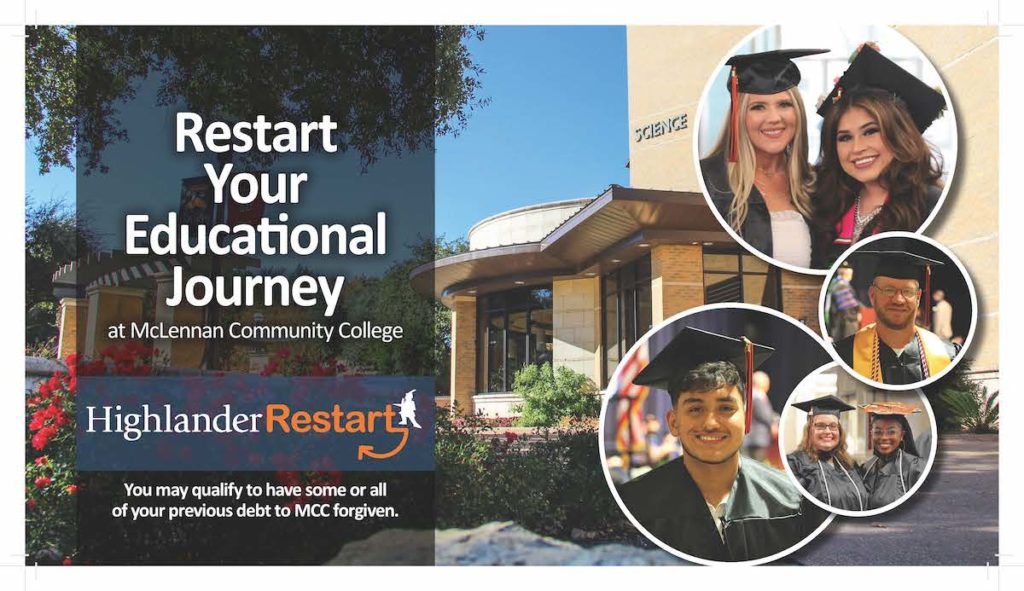 To participate, students must be in good academic standing and not have been enrolled the previous year. Students owing $500 or less are eligible to enroll immediately with no payment due. Students with balances greater than $500 must make payments to lower the balance to $500 before becoming eligible to enroll.
Once enrolled in the program, students are responsible for the current enrollment cost, unless eligible for financial aid, and must take a minimum of six credit hours per semester while maintaining a 2.0 GPA on any new coursework. Additionally, students will complete financial literacy training and be matched with one of MCC's success coaches to help guide them through to graduation.
The College is reaching out to an additional 5,600 former students that are eligible to benefit from the Restart Program in hopes of encouraging them to continue their education and earn their credentials. Former students interested in joining the program should complete the Highlander Restart Program form at engage.mclennan.edu/register/restart and a MCC representative will contact them.
For more information about the Highlander Restart program, visit mclennan.edu/restart.
The Act Locally Waco blog publishes posts with a connection to these aspirations for Waco. If you are interested in writing for the Act Locally Waco Blog, please email Ferrell Foster at [email protected].