MCC campus gets new Watson Arbor; ceremony Jan. 11
By Lisa Elliott
The McLennan Community College Foundation will be joined Tuesday, Jan. 11, by MCC and community leaders to mark the opening of a new outdoor gathering space on the MCC campus. The Greta and Murray Watson, Jr., Arbor will open with a ribbon cutting ceremony at 1:30 p.m. beside the Enrollment Services Center. The ceremony will conclude with hot chocolate and cookies, and the public is invited.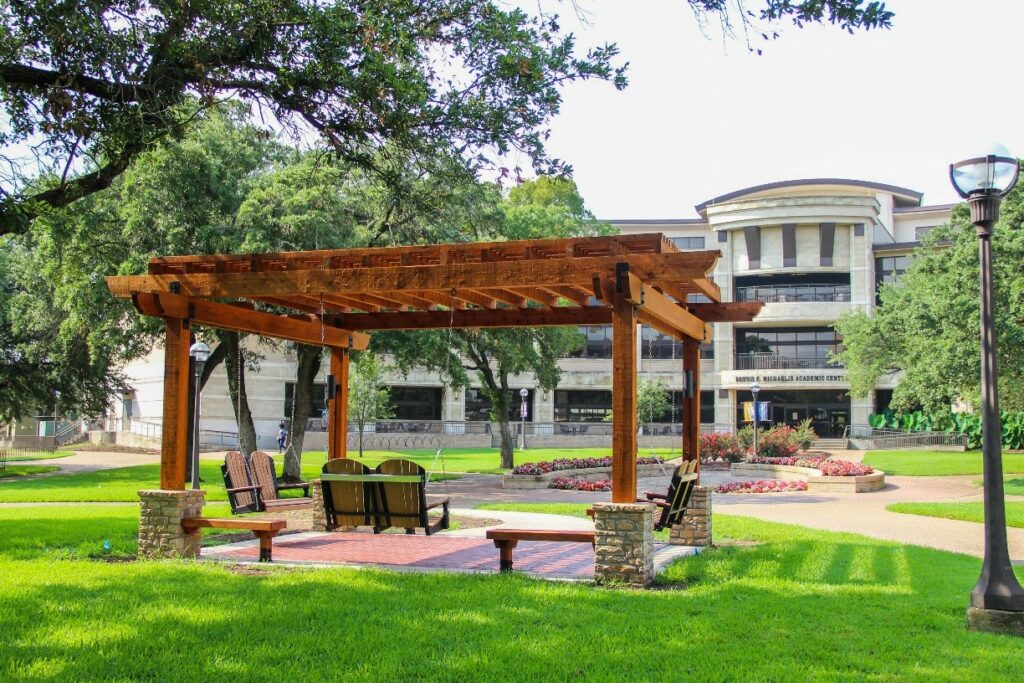 The Watson Arbor project was conceived and funded through the generosity of Brazos Higher Education Service Corp., the student loan financing company founded by Murray Watson, Jr., in 1975. Among other gifts, the company and the Watson family have funded more than $579,000 in endowed scholarships through the MCC Foundation to support the McLennan Presidential Scholars program.
To honor its founder's lifelong support of higher education, Brazos and the Watson family wished to create an outdoor space where students, faculty and staff at the college could gather. The company's generosity means no college funds were expended for this beautiful campus enhancement.
Watson was a lawyer, rancher, politician, and philanthropist who had a passion for serving others. He was elected to the Texas State House of Representatives at age 24, shortly after graduating from Baylor Law School. He represented Central Texas in the Texas House until 1963, when he was elected to the Texas Senate, where he served until 1973. 
As senator, Watson carried many important pieces of legislation, but he was especially proud of helping create what is now Texas State Technical College (TSTC), and he was a strong advocate for establishing MCC in 1965. Watson passed away in 2018, and his wife, Greta, continues to lead the family's Mart-based operations, including a cattle company and Watson Feed Store. Their daughter, Missy Larson, also serves on the MCC Foundation Board of Directors. 
"We are so grateful to our friends at Brazos Higher Education Service Corporation and the Watson family for their generous donations to our campus and student scholarships. This space will provide an area where our students are able to relax, study and find tranquility in their busy schedules," said MCC President Johnette McKown. "This is the perfect tribute to the Watson family that cares so deeply about students and their success."
The MCC Foundation raises public and private support to fund scholarships, faculty and staff professional development and capital projects at the college. To learn more, visit www.mclennan.edu/foundation or contact Executive Director Kim Patterson at 254-299-8606 or [email protected].
The Act Locally Waco blog publishes posts with a connection to these aspirations for Waco. If you are interested in writing for the Act Locally Waco Blog, please email the ALW team — [email protected].