By Katy Durham
After days of rain, the skies over Panther Stadium cleared just in time for 630 Midway High School seniors to walk across the stage and receive their much-anticipated diplomas.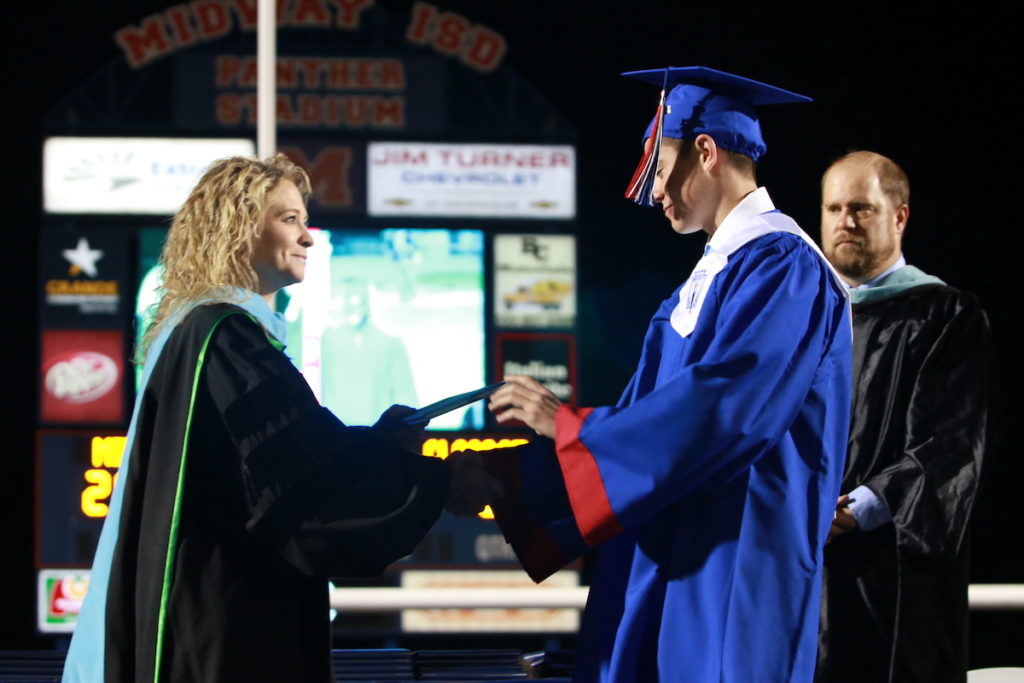 Family members, friends, teachers, and administrators were eager to share in the excitement of recognizing the Class of 2021 as they crossed the finish line and graduated high school on the evening of Friday, May 28.
"These students have been dedicated and persisted through tough times," Midway High School Principal Alison Smith said. "I have enjoyed watching them grow to become strong young adults that are ready to take on the world."
After Midway ISD was able to hold in-person classes and keep its doors open throughout the entire school year, many of the students who spoke during the ceremony expressed how meaningful it was to gather as a class one final time in celebration of their achievement and the past 13 years of hard work.
"Tonight is a fantastic evening to have the entire Class of 2021 back together for this finale of their high school careers," Smith said. "We just thought that the Class of 2020 would be the only group affected by the worldwide pandemic, but I truly feel like the Class of 2021 has persevered through much more."
After an unpredictable year, the dedication and determination displayed by this year's group of graduating seniors was highlighted in multiple speeches.
"Life has thrown so much at us so quickly," Midway High School Valedictorian David Park said as he addressed his classmates. "But that diploma isn't just validation of your hard work and efforts. It's also a tremendous testament to your character."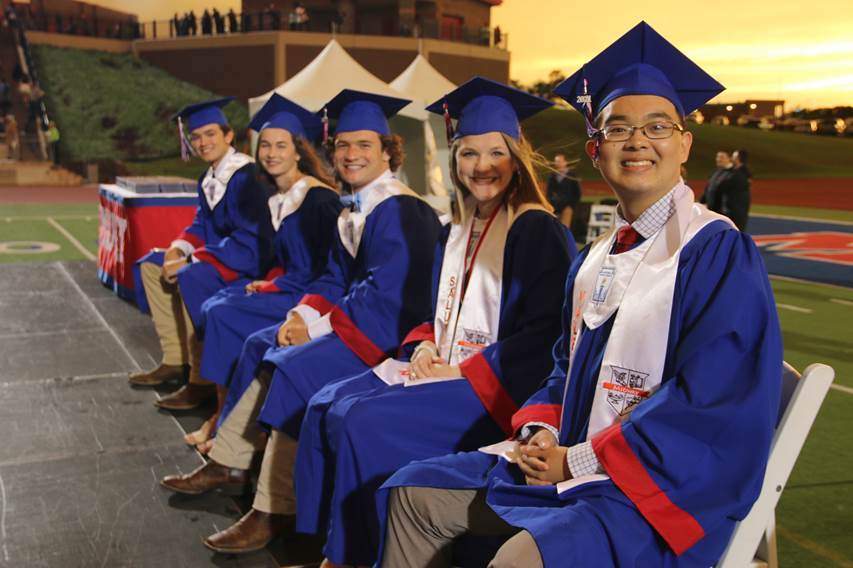 Midway High School Salutatorian Avery Hammond also reflected on how navigating high school through a pandemic was no small feat.
"As a class, we learned to be flexible, to be resilient, and to appreciate each moment spent together," Hammond said. "Although this was not the senior year we expected, it most definitely was a senior year worthwhile."
Midway ISD Superintendent Dr. George Kazanas noted in his speech that when the Class of 2021 first began high school, no one had any idea they would have to walk through such a historical event during some of their most formative years.
"But I think because of the pandemic, the class of 2021 is more prepared for life than any class that came before them," Kazanas said. "You are more encouraging, more imaginative, compassionate, and more resilient. This journey has grown and stretched you, and you will not be defined by COVID-19, but you will be known for what you gained from it."
There was also no shortage of gratitude from the student speakers, who each took time on behalf of their class to express appreciation for the faculty and staff at Midway who supported them throughout their education.
"As we prepare to leave, let us take a moment to remember what Midway has given us," fifth-ranked graduating senior Walker Pierce said. "From the custodians, to the administrators, to everyone in between, these people have spent their lives in dedication to us and our future success."
"Our administrators, counselors, teachers, custodians, and guardians have worked harder than ever to accommodate both in-person and virtual students this year," Park said.
The graduation ceremony concluded with a fireworks display in celebration of Midway High School's newest graduates and their well-deserved success.
"This senior class has provided Panther Nation with so many reasons to be proud," Smith said.
Katy Durham is a senior journalism student at Baylor University and a communications intern for Midway ISD.
The Act Locally Waco blog publishes posts with a connection to these aspirations for Waco. If you are interested in writing for the Act Locally Waco Blog, please email Ferrell Foster at [email protected].