By Andrea Zimmerman
It's not news to anyone that foster care is in crisis. It seems we've become accustomed to this reality and even somewhat apathetic to it, probably because it is so overwhelming and simultaneously kept behind the doors of state offices.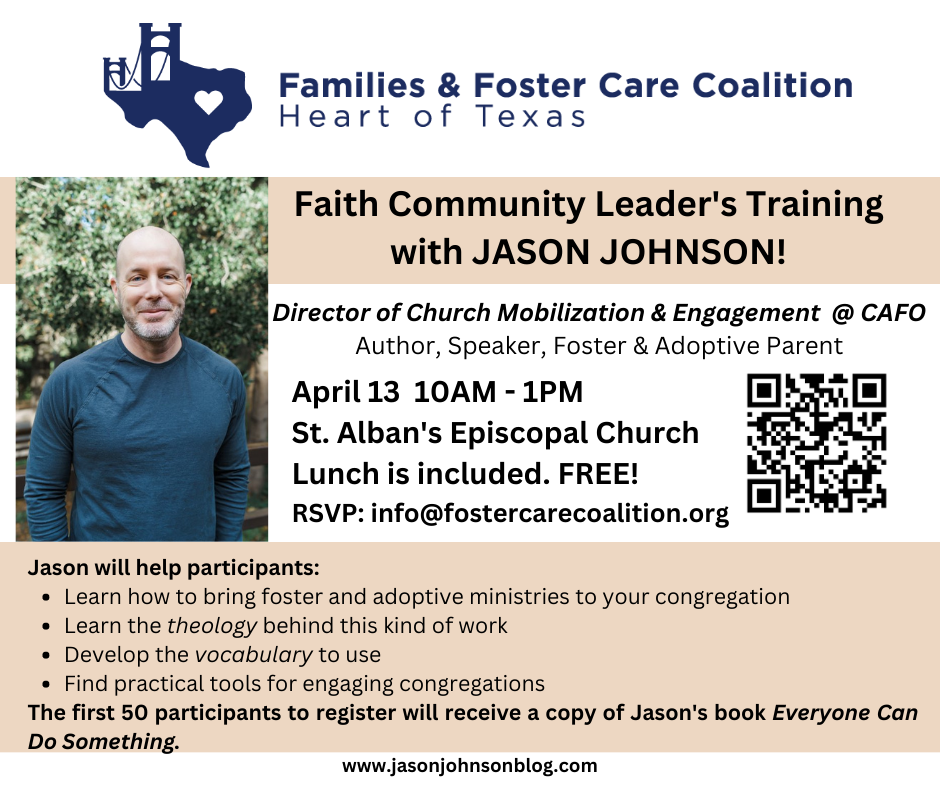 The State of Texas is changing this and has mandated that local communities confront the crisis among vulnerable families in their own communities by privatizing foster care with what is called Community Based Care. Under this model, CPS will handle investigations and removals, then a private agency will handle placements and case management.
Consequently, without the state's placement network, children will no longer be sent to other communities with more resources and more foster homes. If you are asking, "Wait, we send children away?" The answer is "yes." We send away A LOT of children and youth due to a lack of kinship support, foster homes, youth homes, and resources for complex needs.
In fact, of the approximately 450 children and youth whose cases originated in McLennan County, half are sent to other areas. Under Community Based Care, this will no longer be possible and our local community is expected to increase our capacity in every way to care for these children.
While this is a stunning and overwhelming change, if our community rises to this occasion and works together to care for our own children, keeping children close to home is proven to provide better long-term outcomes for both the child and the family of origin.
Keeping children and youth in their own communities means they remain close to their family of origin; they may stay in the same school and faith community and can maintain consistency in medical resources, not to mention their social structure. Older youth retain employment, schooling, and their support system. Proximity supports reunification efforts and enables the foster or kinship parent to provide support to the family of origin, as well.
This is a tall order for our community. We have a network of support in foster care, but we are stretched thin and have limited resources. We need help! We need more human and financial resources to make this work.
This doesn't happen overnight, but the Families and Foster Care Coalition began efforts about a year ago to gather our resources and assess the landscape for this change. The needs are great, and we are working hard to increase capacity in our community.
One area that would help is the involvement of the faith community. While becoming a foster parent is a rare and unique call, becoming involved in the supportive work of foster care is a way the faith community could help in this crisis.
Kingwood Methodist Church, just outside Houston, shared a beautiful story of their work among youth in foster care in their community (watch or listen here). In that story, you can hear about Jason Johnson, who helped prepare their congregation for this work.
Jason will come to our Waco community April 13 to lead a faith congregation leader's training workshop. This session will help equip leaders in the faith community with practical tools for starting the work of foster care in their congregations. This event is free, and childcare and lunch are provided. RSVP here.
This training workshop is the first step in preparing for this change headed our way. We would love for you to join us!
For more information about the Families and Foster Coalition, please visit:
Website: fostercarecoalition.org
Email: [email protected]
Find us on Facebook: Families and Foster Care Coalition
Find us on Instagram: ffcc_heartoftx
Andrea Zimmerman is coordinator of the Waco Families & Foster Care Coalition.
By Andrea Zimmerman
Tuesday morning, Feb. 16, the winter storm had brought life in Waco to a halt. With our calendars suddenly empty, yet still being a goal-driven parent, I was in the middle of a Marvel Avengers Movie Marathon with our sons when my husband, Aaron, got a call.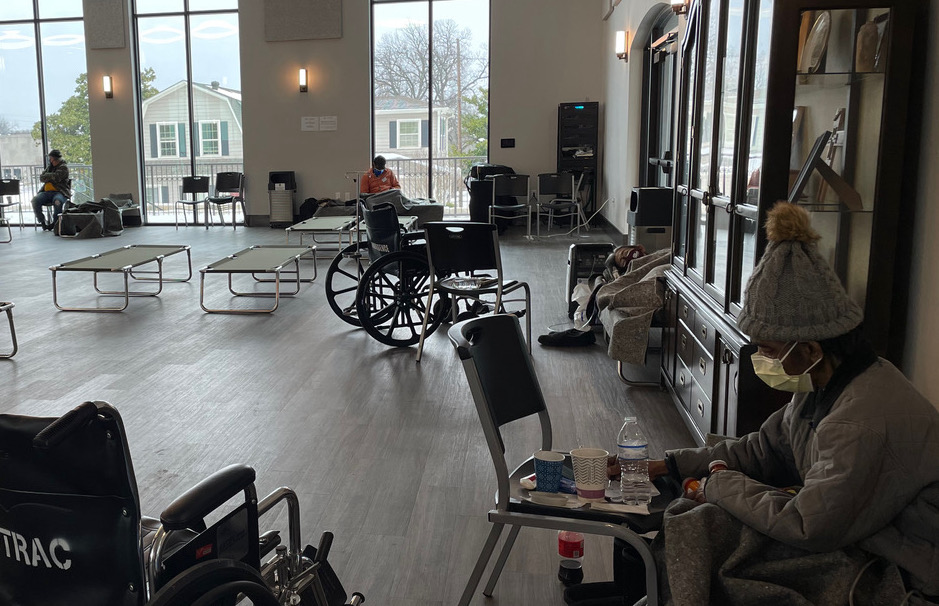 Aaron is rector (senior pastor) of St. Alban's Episcopal Church. The city was calling to take him up on his offer to open up the church's new Parish Hall (what some churches call a fellowship hall) as a warming center. We had zero experience with this type of emergency but were glad to put our resources to use for the community. The church still had power and water, and since we live near the church, we could safely get there on foot.
For us, like every other Wacoan, experiencing negative temperatures and an ice/snow/ice sandwich was dumbfounding and surreal. Couple that with the loss of power, heat, and water by so many, it created a real crisis for everyone. This was especially true for the most vulnerable in our community, many of whom depend on electricity for medical devices they need to live.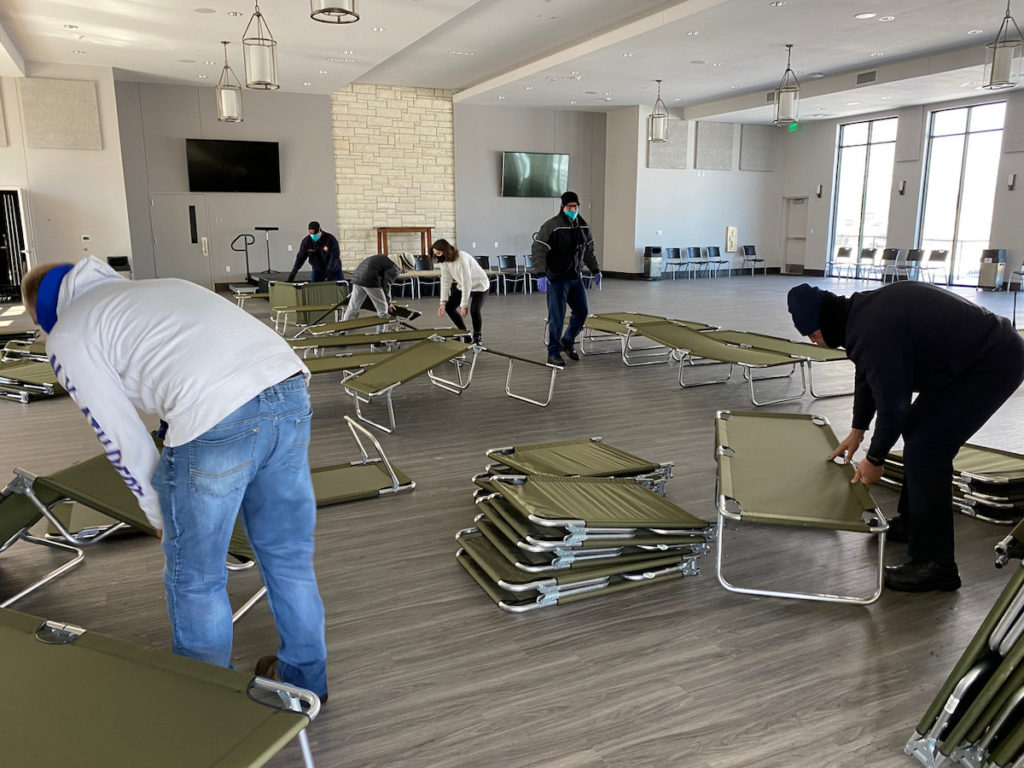 Our family rushed to the church to arrange the space and prepare for the City of Waco to deliver cots and blankets. Our kids shoveled snow with the snow shovels we brought from our years living in Pennsylvania. I started coordinating the whole endeavor.
Our social media (@stalbanswaco) got the word out that the space would be available. Then we started calling people to help; this effort was led by our associate rector, the Rev. Neal McGowan. We knew it would be challenging to find volunteers who could (1) get to the church, and (2) who were vaccinated against or who had active COVID-19 antibodies. We would soon see God provide.
While doing all that, we were hit with the reality that we hadn't used this space in the church since Shrove Tuesday (aka Fat Tuesday, aka Mardi Gras) 2020. The kitchen was bare. Supplies were minimal. So we had to quickly figure out how to turn snacks from the Youth Room into enough food to feed our anticipated guests.
It was not lost on us that it was in fact Shrove Tuesday 2021, the one-year anniversary of our grand opening of this new, beautiful, 5,000-square-foot space. We had intended to use the space to serve the congregation and community with lectures, seminars, events, and large gatherings, but had shut down due to the pandemic. Now, the space was coming back online, but in a new and surprising way as a warming center.
As we opened our doors and guests arrived, it was clear St. Alban's was equipped to serve the specific needs of our guests. Our first volunteer, who showed up out of the blue, was Elizabeth "Liz" Ligawa. Aaron had gotten to know Liz, a medical social worker and faith-based community organizer, through working together on the COVID-19 crisis. I was happy for the help, but at first I didn't think we needed so much expertise. Well, it turns out we did, but I'll get to that in a minute.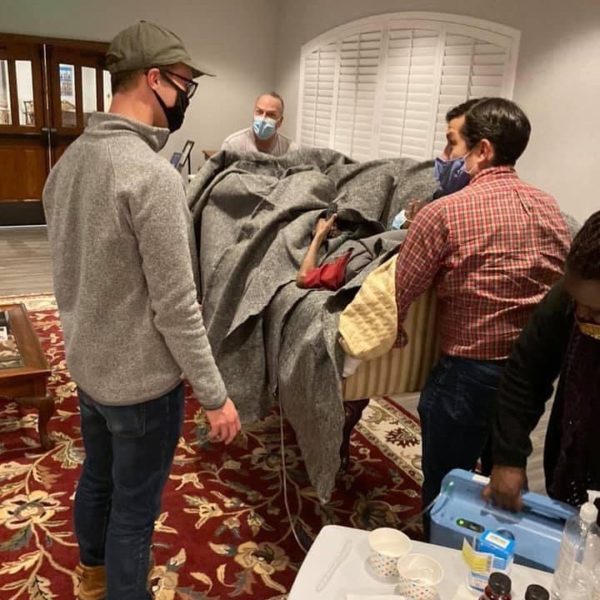 As we began to welcome guests, it became clear that some needed more than just a place to stay warm. For example, one extended family included a mom two days away from giving birth. They needed a way to keep warm while staying isolated and COVID-safe. We were so pleased (and so were they!) to place them in Higgins Parlor, a beautiful "living room" type space named for our founding minister. Here they had a private restroom and could isolate safely.
Many churches, but especially Episcopal churches, concern themselves with feeding their guests. Our congregation's life consists of pancake suppers, Lenten soup dinners, parish picnics and potlucks, newcomers' wine-and-cheese parties, and big all-church catered dinners — and of course, that holy meal of bread and wine every Sunday.
For me personally, when I'm hosting an event, I am especially concerned with feeding my guests. So our limited food options at the church presented quite the conundrum for me. Additionally, as a church, we were committed to loving these folks (and volunteers) with hot meals.
Enter Corey McEntyre of Milo All Day and Danielle Young of Revival Eastside Eatery, who both reached out to us to donate prepared food. Between these two angels, we were able to not only serve every guest and volunteer for four days, we were able to send every guest home with food to cover at least a day, maybe two, of meals (remember, power was out and stores were empty at this point). We somehow managed to still have soup left when we closed the center, so our volunteers delivered it to elderly neighbors.
Perhaps the most stunning piece of this experience was the way we were able to serve some guests with unique needs. With power and water out across town, one of our local hospitals could not discharge patients to their power-less homes since they depended on oxygen and required wheelchairs. Not only did we have space available to host them, I knew we could find the right medically-trained volunteers.
Thanks to the many people who said "yes" to our calls — and were brave enough to drive through the tundra — we were able to provide around-the-clock care from a combination of nurses, doctors, and healthcare professionals from our church and community. Thanks to the direction of Liz Ligawa, who was at this point our resident medical social worker, we did full assessments of each guest and were able to connect them with their regular medical services (home health, hospice, family, etc.). We were also able to secure oxygen so they could be transported home. When it became clear that power wouldn't be restored to one of our guest's homes for some time, we were able to get this guest into a skilled nursing facility who could meet their needs better than we could.
Thanks to volunteers with four-wheel drive, we were able to send teams to check on the power and water situations at our guests' homes. (We figured sending our guests to do the checking themselves — "wheelchairs and oxygen on ice" — was a bad idea). This also helped us connect with neighbors and assist them in this crisis.
I can't end this without telling a couple stories of ways the Waco community stepped up to meet specific needs.
The first story relates to Mr. T, one of our guests, who mentioned to a volunteer that he really liked cereal. We didn't have any cereal, so this volunteer made it her mission to find some. But she couldn't find milk because there was no milk in Waco at this point. Well, not even 30 minutes later, the city showed up with a huge donation from Coca-Cola that included a milk drink perfect for cereal. So we sent this now-beloved guest home with milk, cereal, and a bunch of other food to get him situated until he could get to the store.
The next story is about water. We were quickly running out of bottled water and with the looming possibility of a boil order, we were concerned we would not have clean water for our guests. While I was mentally cycling through options, a volunteer texted she was headed to the store and could she pick something up for us? "Water!" I said. She went to Mission Waco's Jubilee Market, which graciously allowed her to purchase more than the ration. When she went to pay for the water and other supplies, the credit card machine was down and she was short on cash. Jubilee Market gave her a gift card to cover the rest of the supplies. Even with this water from Jubilee, we realized we would need more. At that moment, in walks a parishioner with several cases of water donated by the Robinson Fire Department. Not only did this meet the current needs at the warming center, this allowed us to send water home with every guest.

Last story: flowers. Flowers? Yes. We are Episcopalians. We are flower people. We are Easter people. We do the fancy things. And to my surprise, on day two, some of our parishioners arrived with huge crates of beautiful flowers donated by H-E-B (where we usually get our Altar Flowers). They arranged and placed flowers all over the Parish Hall, bathrooms, kitchen, and anywhere with a flat surface. What an expression of God's lavish love! Also, it helped freshen the air because we are on day "too many" of not having showered due to the water crisis. When the center closed, volunteers wrapped up the bouquets and delivered them to neighbors around the church.
Wacoans, I could go on and on with stories about how your community met the specific needs of your neighbors in this time of crisis, and we were just one of the facilities serving last week. I think we all agree that this unwelcome historic weather event could have been the straw to break our already weary backs. And yes, we are still weary because we are still in multiple crises. But let's take a break and rejoice in what just happened in our community.
Take heart that some of our most vulnerable residents did not return home to freeze. On the contrary, they had wonderful care including hot drinks and gourmet meals. Not to mention, compassionate care from some of the finest medical professionals in town. Let's be thankful we have excellent leadership in Waco, leadership that sees the community through such an unprecedented time. Well done, friends. Well done.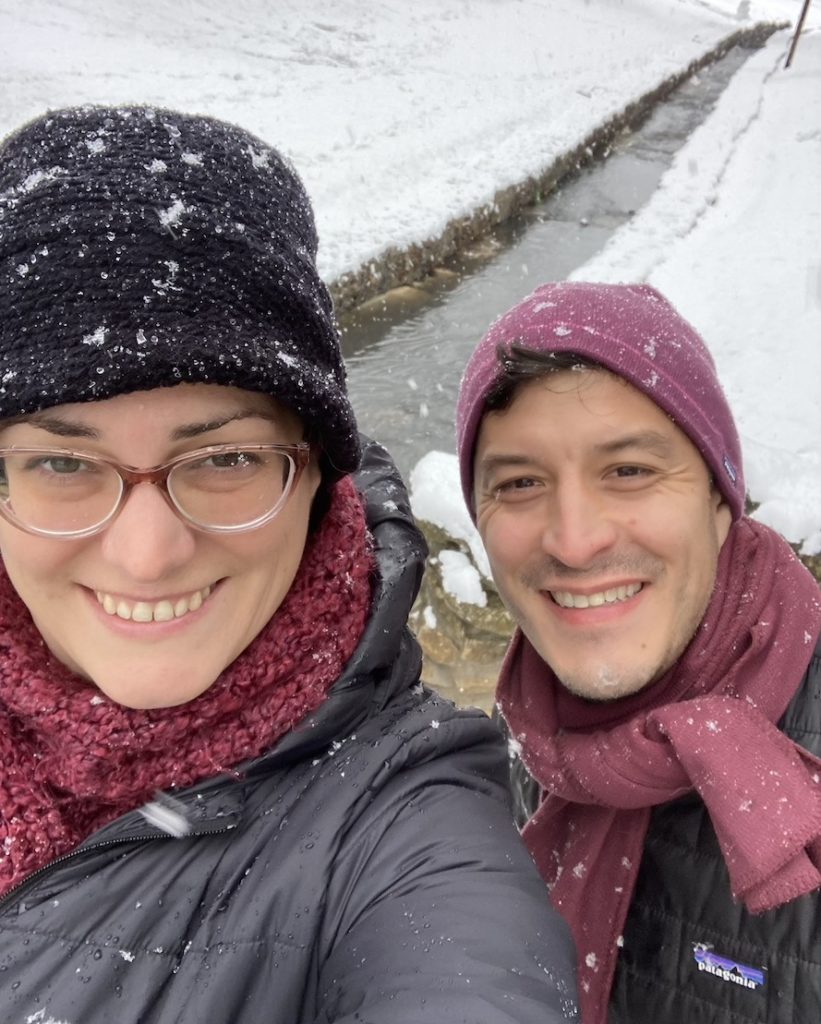 Andrea Zimmerman is a native Michigander, educated in New York City and has lived in Kazakhstan, Boston, Pittsburgh, Houston, and now Waco for nearly eight years. She has worked in the fashion, nonprofit, and churchy arenas. During non-COVID times, she works as a full time 4th & 5th grade tutor focusing on STAAR readiness at Provident Heights Elementary School.
Special thanks to volunteers from St. Alban's membership and staff:
Sarah Aynesworth
Anna Beaudry
Troy Beaudry
Abel Castro
Stephanie Drum
Emily Edwards
Austin England
Susie Farley
Katherine Goodwin
Johnson Hagood
Vanessa Handy
Kenn Harding
Alan Jones
Stewart Kelly
Tracy Kelly
Michael Larsen
Kara Leslie
Missy Lowder
Neal McGowan
Darren Metting
Holden Miller
Sue Parrigin
Jeff Raimondo
Angela Tekell
Jhonas Theill
Sue Townsend
Meghan Watkins
Christopher Williamson
Andy Wisely
John Wood
Aaron Zimmerman
Abigail Zimmerman
Andrea Zimmerman
Athan Zimmerman
August Zimmerman
Special thanks to Waco/McLennan County Community Members & Organizations:
Michael Attas
Linda Bostwick
Anna Clark-Martinez
Emma Clark-Martinez
Coca-Cola
Elesha Coffman
Lily Coffman
Ryan Dirker, Asst. Emergency Mgt. Coordinator, City of Waco
Amanda Harman
Clint Harp
Kelly Harp
H-E-B Floral Department
M'Lissa Howen
Elizabeth Ligawa, MSW, Central Texas Interfaith
Corey McEntyre, Milo All Day Restaurant
Andy McSwain
Chris McSwain
Lee Pahimeyer
Robinson Fire Dept
Noah Sutton
Waco Fire Department
Waco Transit
Melissa Wray
Danielle and Travis Young, Revival Eastside Eatery
The Act Locally Waco blog publishes posts with a connection to these aspirations for Waco. If you are interested in writing for the Act Locally Waco Blog, please email Ferrell Foster at [email protected].