By Ferrell Foster
Five Waco civic, health, and school leaders Wednesday encouraged the people of Greater Waco to think of their neighbors and to be careful how they are involved in gatherings and celebrate the Labor Day weekend. They also stressed the importance of getting a flu shot.
With the holiday coming and football season upon us, Mayor Kyle Deaver asked residents to do these activities "smartly and safely" so the community can remain open. "Take care of yourself and take care of each other." He made the comments during the weekly City of Waco News Conference related to the COVID-19 pandemic.
Jerry Maze, executive director for Education Service Center Region 12, noted, "What happens in the community shows up in the schools," and that can be both good and bad. "If everyone works together and makes good decisions, we get better outcomes."
Dr. Brian Becker, of Ascension Providence Hospital, called special attention to the holiday weekend, noting that following standard safety procedures is important for our public health and to our neighbors.
Dr. Marc Elieson, of Baylor Scott & White-HIllcrest, also spoke to the importance of wearing face masks, distancing, and proper hand hygiene. "Be wise," he said.
A number of questions were asked about schools and Baylor. For students, "it's so much more about what's happening off campus," Mayor Deaver said. "We know this is hard; it's trying for everyone, … but it's the way we keep schools open and having football" and other activities.
Dr. Jackson Griggs, of the Family Health Center, praised the efforts of Baylor University to test and then isolate students exposed to COVID-19. "I'm impressed with efforts by Baylor to mitigate the risk."
Current hospitalizations are down some, but the hospital representatives said their in-patient numbers usually lag behind case counts by about a week. And case counts have been rising in McLennan County.
The current "Effective Reproduction Rate" for McLennan County is 1.07, Mayor Deaver said. Anything above 1 means the disease is expanding, not contracting. The Rt is a measure of contagiousness or how many people one COVID-19 person infects.
In his closing remarks, Dr. Griggs highlighted the importance of bringing down the positivity rate. In recent weeks that rate has hovered just under 15% in McLennan County, which is above the state rate. More testing helps identify people with COVID-19 and also lowers the positivity rate. "Anyone with subtle symptoms needs to come in and be tested," Dr. Griggs said. The first step is to contact your primary care physician.
The head of Family Health Center also emphasized the importance of flu vaccinations. "We need to keep flu rates down this season," Dr. Griggs said. There's a lot we don't know about flu and COVID-19 infections in the same person. "Flu vaccines are imperative."
It is especially important to promote the flu vaccines in "communities of color" because they have been particularly hard hit by COVID-19 and have "historically lower vaccination rates."
The news conference is aired at 1:30 p.m. each Wednesday at WCCC-TV for the public to view.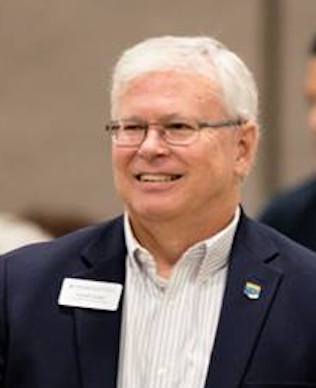 Ferrell Foster is senior content specialist for care and communication for Prosper Waco. He also serves on the Act Locally Waco Board of Directors and helps the website with blog posts related to health, education, financial security, and equity.