By James Karney
Let's go!
Batter up!
We're tak-ing the af-ter-noon off!
It's a beau-ti-ful day for a ball game, for a ball game to-day
The fans are out to get a ticket or two
From Wal-la, Wash-ing-ton to Kal-a-ma-zoo
– It's A Beautiful Day For A Ball Game by Harry Simone
Spring is here and baseball opening day pitches are being thrown out from the Big Leagues to Little League.
In the Waco area hundreds of youth participate in Little League Baseball and Softball learning playing skills, teamwork, sportsmanship and character. I'd like to share with you about a division of Little League you probably did not know existed.
Challenger Little League provides the opportunity for children with physical, intellectual and developmental disabilities to play Little League baseball. During the April and May season, 125 area children play on a specially outfitted field with solid surface base paths at the Lake Air Fields with dedicated coaches and buddies guiding them. No matter the ability or skill level, "everyone plays!"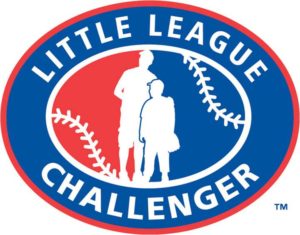 This year Challenger Little League in Waco celebrates its 25th season with children and teens from age 5 to 18 playing on ten teams. Challenger baseball came to Waco in 1990 as one of the first locations in Texas with 34 children participating that year.
The kids have a great time just being kids playing ball and for parents it's a little bit of normalcy just sitting in the bleachers with other parents watching their children play Little League baseball like any other parent.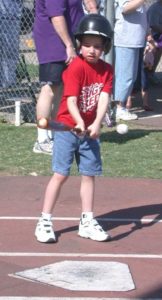 My son Jamie has played in Challenger since 2004 and I've been a coach since 2009. It's been a great experience for both of us. When Jamie first played he'd hit the ball, run down to first base and then keep running straight down the right field line all the way to the outfield fence. Over the years his skill level has increased and he now hits a pretty mean line drive. I look forward to April and May, getting out my glove from high school and playing with the kids.
Challenger would not be possible without dedicated volunteers who manage league operations, coach, serve as buddies or team and league sponsors. Lupe Rosas, Don Deatherage and Michelle McCollum have worked with Waco's Challenger League from its beginnings in 1990. Others like Coleen Ostrom and Pepper Jones make things run smoothly every year arranging for uniforms, volunteer buddies, fundraisers and more. Each of the ten Challenger teams has two or three coaches. Many of the coaches, like in other Little League divisions, are parents who want to share their love of baseball and sports with their son or daughter.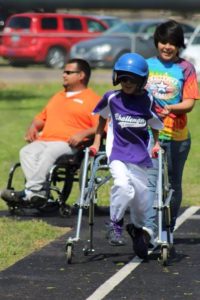 At every game you will also find buddies for the players. Buddies play a vital role in the game by being paired up with a player to provide them assistance they might need from pushing a wheel chair, putting on a batting helmet, keeping them focused on the game (and not watching airplanes flying overhead.) and most importantly encouragement.
Some buddies volunteer for the season while others come out for a game or two. These buddies are frequently from other Little League teams or high school baseball and softball teams. Last season members of the Baylor Lady Bear's Softball team were buddies at one of our games. The buddies also allow parents a period of respite to sit in the stands, visit with other parents and cheer on their little sluggers.
Team sponsors are another part that makes Challenger Little League possible by providing funding to help underwrite costs. For the 2015 season team sponsors are:

The Don Deatherage Challenger Field is located near the City of Waco's Cobbs Recycling Center by Lake Air Fields 4 & 5. Games are played Tuesday and Thursday evenings at 6pm and 7pm and on Saturday morning's beginning at 9am. Opening day games are this Saturday, April 18. (Facebook: Challenger Little League in Waco.)
Come on out some evening or Saturday morning and cheer on these great athletes!
---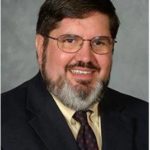 This Act Locally Waco blog post is by James Karney. James worked in a library beginning in his sophomore year of high school and after a more than thirty year library career recently retired as Director of the Waco-McLennan County Library. He's currently taking a sabbatical working on projects around the house, catching up on reading and doing research on Texas statesman Coke Stevenson. He has been married to the super amazing and talented Anita Karney for 20 years and their son Jamie is a junior at Midway High School.

If you would like to write a post for the Act Locally Waco blog, please contact Ashley Thornton by email at [email protected] .