By Rae Jefferson
Less than a year after publicly announcing plans to construct new headquarters, Waco Family Medicine broke ground Thursday, Oct. 20, on a new clinical site that will warmly welcome all people in the Heart of Texas regardless of income or insurance status.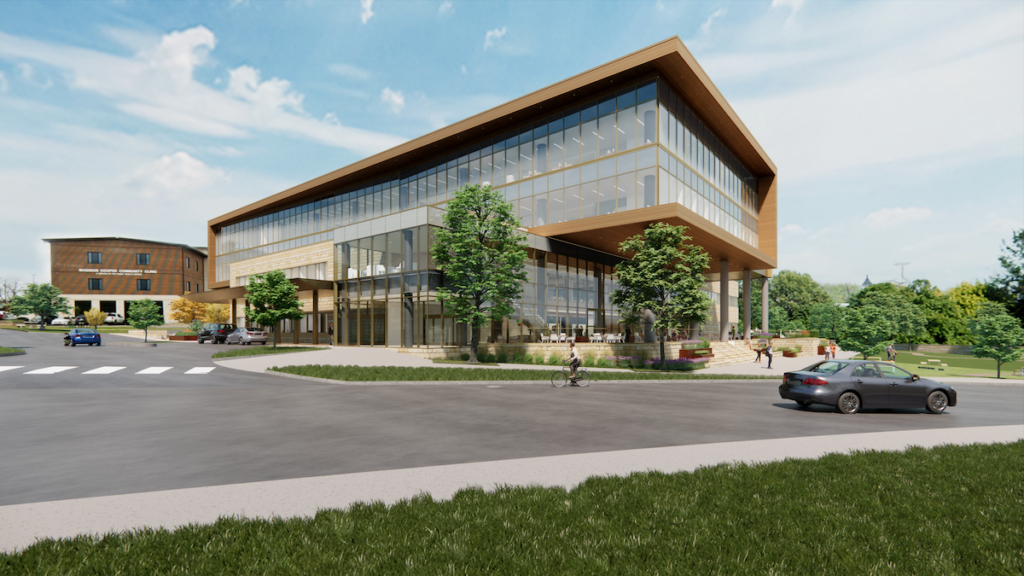 The clinic is at 1600 Providence Dr. Guests included WFM staff, local officials, community leaders, and enthusiastic benefactors who support accessible, high-quality healthcare in McLennan and Bell counties. 
The speaker lineup included special guests Chip and Joanna Gaines, who are generous supporters of the campaign to fund the new site. They contributed to the project in honor of former WFM physician and faculty member Dr. Tim McCall and wife, Janice. 
"Waco Family Medicine has been here to meet the needs of our community and the families here in Waco for over 50 years," said Chip and Joanna Gaines. "We're proud and grateful for the level of care and compassion the doctors and staff have offered and expressed during the past five decades. Thank you, Waco Family Medicine, and also a thanks to Tim and Janice McCall for all of their selfless work in serving Waco Family Medicine and, now, the children of Northern Uganda."
More than 50 years ago, the residency program at WFM was born out of cross-sector collaboration. County officials, business leaders, and local medical providers sought to train new family physicians to alleviate a provider shortage and meet overwhelming medical need within the community. Today, the 15-site Community Health Center provides high-quality medical, dental, and mental health care to more than 60,000 patients each year. Additionally, the clinic's family medicine residency program is in the top 2% of programs in the country, with hundreds of applicants vying for 12 openings each year.
"Multiple generations of local physicians and community members built Waco Family Medicine into an excellent center for primary care and a national academic family medicine leader," said Dr. Jackson Griggs, CEO. "Building on that success, our new facility will inspire enduring generations of patients and health professionals and will anchor Waco Family Medicine's efforts to achieve community thriving through whole-person, compassionate, comprehensive primary care."
The new $61 million facility will further expand WFM's capacity to care for patients, improve the healthcare team experience, and advance education and research in primary care. Construction will occur in phases to minimize disruptions to the adjacent WFM-Central location that the new building will eventually replace. Project completion is estimated for the summer of 2024.
Innovation is central to the blueprint of the coming site, with features like a state-of-the-art fitness center, teaching kitchen, and community garden intended to improve patient health in spaces other than an exam room. The first floor will also include a community marketplace with representatives from different social service agencies and nonprofits on site to assist patients with needs beyond healthcare.
"We are building this facility with a vision toward the future," Griggs said. "In the decades to come, primary care will transform the American 'sick care' system into a true health care system, and Waco Family Medicine will be leading the way with interprofessional teams promoting wellness, integration of mental and oral health, and key services for non-medical drivers of health."
Rae Jefferson is communications director at Waco Family Medicine, a Federally Qualified Health Center providing affordable, high-quality medical, dental, and behavioral health care in McLennan and Bell counties. She has a bachelor's degree in Journalism and is pursuing her master's in journalism, PR and new media at Baylor University.
By Ferrell Foster
Waco may be on the verge of greatness. This thought came to me this morning as I reflected on two true things — our town seems to be facing the reality of its high poverty rate, and we also seem to be taking the arts seriously.
It may seem odd to tie these two things together, so let me try.

No city can be great when such a high percentage of its population lives in poverty. There is all kinds of data to prove this point, but you can also drive into certain parts of town and convince the other side of your brain of this truth.
The poor will always be with us, as someone famous once said, but that did not prevent him from caring deeply and working on behalf of the poor. That guy's name was Jesus, and people are still talking about him, even worshipping him, 2,000 years later.
So, yes, there will always be people who live in poverty, but that doesn't mean the rest of us shouldn't work our tails off helping as many as we can. We help them in the short term by dealing with basic needs (food and shelter), but the most important help comes in the form of education and job training — things related to earning a liveable wage. A minimum wage job cannot support anyone adequately unless they are living with someone else.
And, by the way, our very best schools should be in our very poorest neighborhoods. That's where it is most needed. But, in Texas, we have the opposite. The best schools are usually in wealthier neighborhoods. Education takes money, even though some don't like to admit it. Those same people often pay more for housing or private schools for that very reason — it takes money to educate children while parents are working elsewhere.
The other side of this coin is promotion of the arts. This is not often understood as intuitively as the other. We are so enmeshed in a capitalist society that we can easily think business and money-making are the most important parts of building a community. Business and money-making are essential, but addressing poverty and promoting the arts is equally important.
Why the arts? This sector is much like the spiritual sector (of which we already have great strength). Both promote a connection to truth and concerns beyond oneself, and when we connect to deeper Realities we generally become more attuned to the people around us, or we should. Sometimes American religion can be very self-centered (as in "my" salvation) and undermine broader concern, but Christianity and other religions lift love of neighbor to equal footing with love of self. Self-esteem is good (you are created in the image of God), but neighbor-esteem is just as important (they are created in that same image).
More than 100 years ago, Evelyn Underhill understood the connection between spirituality and art. Artists, she said, are "aware of a more vivid and more beautiful world" than other people. They are "always driven by their love and enthusiasm" to express before others "those deeper significances of form, sound, rhythm, which they have been able to apprehend."
Artists can do this because "they taste deeper and deeper truths, make ever closer unions with the Real. For them, the duty of creation is tightly bound up with the gift of love," Underhill wrote.
This is why we need artists, just as surely as we need preachers. They help us to connect with the broader realities that many of us identify as God, while others identify it in other ways. This makes, or should make us, better neighbors. And better neighbors make better towns.
And, by the way, the creativity of the artistic mindset can be financially profitable, as well. For proof of this look no further than our very own Joanna Gaines. Joanna's creativity with Chip's business sense as built something important that is benefiting many.
Almost 30 years ago, the band Jars of Clay recorded a song titled "The Art in Me," which included these lyrics:
"Sculpting every move
You compose a symphony
And you plead to everyone
See the art in me
See the art in me
See the art in me."
(Songwriters: Charlie Lowell / Dan Haseltine / Matthew Ryan Bronleewe / Stephen Daniel Mason)
May we see the art in each other and work to help each other, both in our struggles and in our art.
Ferrell Foster is senior specialist for care & communication with Prosper Waco. He is also on the Board of Directors of Act Locally Waco and a regular contributor to the blog.
The Act Locally Waco blog publishes posts with a connection to these aspirations for Waco. If you are interested in writing for the Act Locally Waco Blog, please email the ALW team — [email protected].
By Ferrell Foster
My post the other day about The Silos brought to my attention a 2014 Waco Tribune-Herald story by J.B. Smith about those now famous silos. (Thank you, Ashley Bean Thornton.)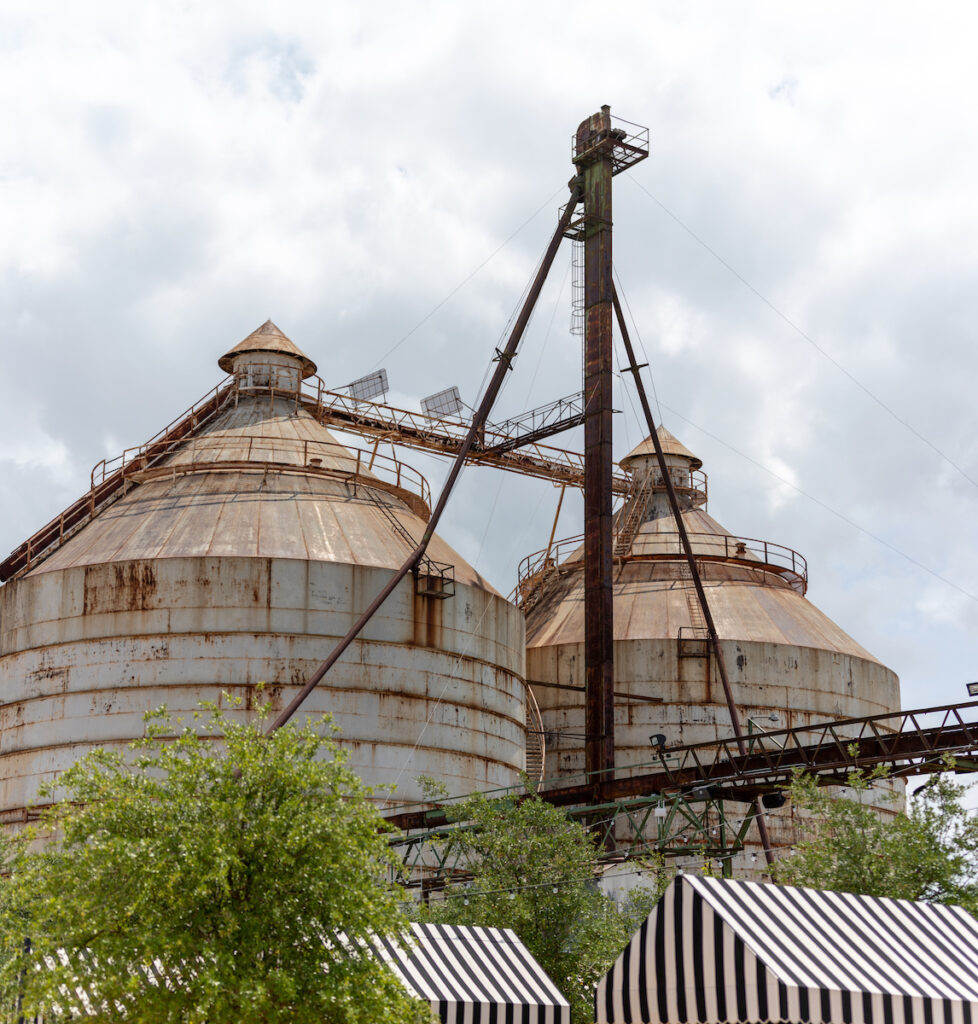 It seems that seven years ago this month there was some real uncertainty about the silos' paint job, or lack of one. The Waco Downtown Development Corp. had originally given the go ahead for the Chip and Joanna Gaines project but with the understanding that the silos would be painted.
That rebuke of rust went to the Tax Increment Financing Zone board in October 2014. Chip (may I be so familiar) was not giving up on his rust. He told the board the silos "are impeccable and fashionable and interesting as they are," the Trib reported.
The TIF board punted the aesthetic question back to the DDC, which led to a tour of the site guided by Waco's First Couple (that being the Gaineses). DDC Chair Willard Still was skeptical going in. An hour later, he was convinced.
"We believe their plan will be a substantial improvement that the community will embrace," the Trib reported Still saying. "They have a very sensible plan, and we embraced it.
"I have to give credit to Joanna Gaines. She has good taste, and that's a proven product."
Truer words have not been said. If Joanna walked into my home and said, "Ferrell, your favorite reading chair has got to go," I would hesitate big time. She might reply, "I know you love that chair, but what if we got you a new chair that is better for your back, is loved by readers everywhere, and will make your study look like the most wonderful place in the world." I would buckle quickly; it would be Joanna talking.
There are some people in town who are not big fans of the downtown boom fueled by Magnolia, but I'm not one of them. Not all development is good, but this one, I think, has been good for Waco.
We might wonder what would have happened if a paint job had been required and the Gaineses had pulled out the paint sprayers or hired professionals. We will never know, but I'm sticking with Joanne when it comes to good taste. She is the one-woman show (sorry Chip) that almost single-handedled revived the popularity of shiplap.
I'm thankful for the Gaineses and The Silos this Thanksgiving season. Just imagine this: What if they had done their thing in Austin or Temple or Hillsboro? We would be so jealous, and jealousy is not good for the soul. So may we all have a very Magnolia Thanksgiving — full of good taste all around, and I'm not just talking about style.
Ferrell Foster is senior specialist for care and communication with Prosper Waco.
The Act Locally Waco blog publishes posts with a connection to these aspirations for Waco. If you are interested in writing for the Act Locally Waco Blog, please email Ferrell Foster.