By Natalie Galindo
The Waco Convention Center is turning 50 years old in 2022. A come-and-go reception will be held 3-6 p.m. Jan. 26, in the center's Brazos Ballroom. Remarks and a retrospective of the center's history will take place at 4 p.m. The public is invited. Light refreshments will be served.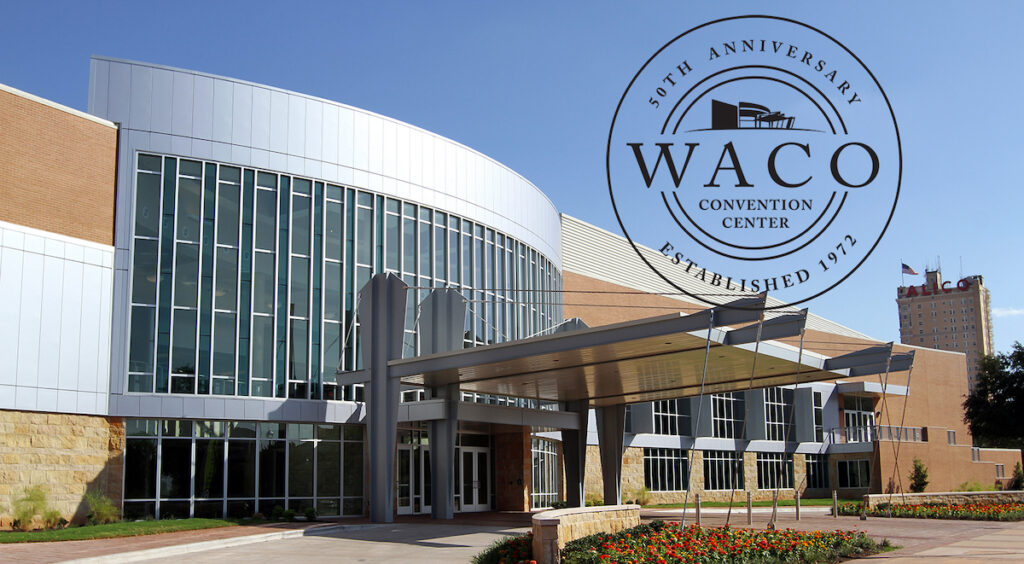 The convention center's original grand opening celebration took place in January 1972 and featured a week's worth of entertainment, with top headliner Peter Nero. The original building, consisting of a much smaller footprint and cost almost $2.6 million to build.
In 1988, McLennan Hall, Bosque Theater, and DeCordova Rooms were added to accommodate larger events, at a cost of $1.2 million.
The building enjoyed a $17-million top to bottom renovation in 2012, which added a new wraparound foyer for McLennan Hall, more lobby space, escalators, and more.
"The Waco Convention Center has been the place for so many Wacoans to make memories over the years," said Dan Quandt, Waco's interim conventions and tourism director. "Weddings, graduation ceremonies, quinceañeras, dances, and of course conventions have all been held here. These events become part of our lifelong memories. We look forward to serving Waco for the next fifty years and beyond."
The public is invited to share their memories through photos of events held at the Waco Convention Center over the years, for possible inclusion in the slide show. Please visit wacocc.com/share-your-memories or drop them by in person at the Waco Convention Center, 100 Washington Avenue. Offices are on the right inside the main doors. For more information, contact Carla Pendergraft, (254) 750-5806.
The Waco Convention Center is a department of the City of Waco.
The Act Locally Waco blog publishes posts with a connection to these aspirations for Waco. If you are interested in writing for the Act Locally Waco Blog, please email the ALW team — [email protected].