By Natalie Galindo
The Waco Convention Center is turning 50 years old in 2022. A come-and-go reception will be held 3-6 p.m. Jan. 26, in the center's Brazos Ballroom. Remarks and a retrospective of the center's history will take place at 4 p.m. The public is invited. Light refreshments will be served.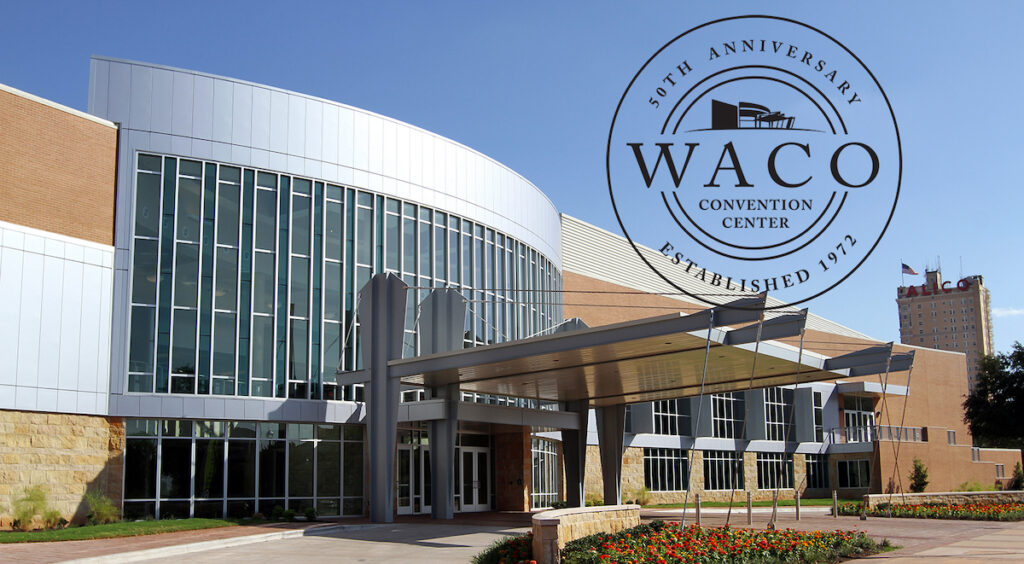 The convention center's original grand opening celebration took place in January 1972 and featured a week's worth of entertainment, with top headliner Peter Nero. The original building, consisting of a much smaller footprint and cost almost $2.6 million to build.
In 1988, McLennan Hall, Bosque Theater, and DeCordova Rooms were added to accommodate larger events, at a cost of $1.2 million.
The building enjoyed a $17-million top to bottom renovation in 2012, which added a new wraparound foyer for McLennan Hall, more lobby space, escalators, and more.
"The Waco Convention Center has been the place for so many Wacoans to make memories over the years," said Dan Quandt, Waco's interim conventions and tourism director. "Weddings, graduation ceremonies, quinceañeras, dances, and of course conventions have all been held here. These events become part of our lifelong memories. We look forward to serving Waco for the next fifty years and beyond."
The public is invited to share their memories through photos of events held at the Waco Convention Center over the years, for possible inclusion in the slide show. Please visit wacocc.com/share-your-memories or drop them by in person at the Waco Convention Center, 100 Washington Avenue. Offices are on the right inside the main doors. For more information, contact Carla Pendergraft, (254) 750-5806.
The Waco Convention Center is a department of the City of Waco.
The Act Locally Waco blog publishes posts with a connection to these aspirations for Waco. If you are interested in writing for the Act Locally Waco Blog, please email the ALW team — [email protected].
The City of Waco is pleased to announce three organizational updates: the selection of Monica Sedelmeier as director of communications and marketing, promotion of Kent George to director of economic development, and placement of Dan Quandt as interim director of conventions and tourism.
Sedelmeier will join the City in mid-December in the communications and marketing role (formerly municipal information). Most recently, she worked as chief marketing and quality officer for a healthcare system in Iowa. She brings prior experience from Houston ISD and Rice University. Sedelmeier holds a bachelor's degree in business and marketing, as well as a master's in business administration.
George was promoted at the beginning of November. He joined the City in 2018 as an economic development manager. He has more than 18 years of experience in local government, as well as prior experience in the private sector. George holds a bachelor's degree in business. Throughout his tenure with the City, George has worked on some of Waco's largest economic development projects to date, including the Marriott AC Hotel, the Riverfront Development, Cottonwood Creek Marketplace, and many industrial projects.
The City worked with SGR to locate and contract with an interim conventions and tourism director. Quandt, a 38-year veteran CVB director, joined the City of Waco Nov. 8. Quandt most recently served as senior vice president of the Amarillo Convention and Visitors Council for the Amarillo Chamber of Commerce. He is also a past chairman of the board for the Texas Association of Convention and Visitors Bureaus and has served as a member of the board of directors for the Texas Travel Industry Association.
Waco City Manager Bradley Ford said: "I am excited to announce the selection of these three individuals for key leadership roles within our organization. Monica brings expertise in both communications and marketing along with strengths in strategic planning and change management, which will be crucial as we look to grow our Communications and Marketing team. The work our Municipal Information team produces is excellent, and we will look to Monica to build upon that team as we implement our strategic communications plan. Kent has worked on many exciting and innovative projects in his time here in Waco. I look forward to the work he will continue to accomplish leading the City's Economic Development team, including the creation of the City's new economic development strategic plan. I am thankful we were able to bring Dan on to lead the Conventions and Tourism team in this interim period as we evaluate the Director position posting and the industry market. The experience he brings from the travel and tourism sector is invaluable."
The Act Locally Waco blog publishes posts with a connection to these aspirations for Waco. If you are interested in writing for the Act Locally Waco Blog, please email Ferrell Foster.