By Deneece Ferrales
One-quarter of Waco residents did not see a physician for any type of routine services in 2018, the last year for which such data is available. Data from the City Health Dashboard indicates many residents do not have a primary care physician or a "medical home."
To help more Wacoans access care, Prosper Waco's Access to Healthcare Working Group has planned an event, "Christmas on Memorial," 4-7 p.m. Tuesday, Dec. 7, at the Family of Faith Worship Center, 4112 Memorial Dr. The event is a partnership between the church, McLennan County Indigent Health Care, and other organizations involved with the working group. (More details below.)
The lack of access to primary health care is particularly prevalent in certain Waco ZIP codes that include many lower income and Black and Hispanic residents. The problem not only puts residents at risk but also taxes the healthcare delivery system because the lack of regular healthcare often leads to undiagnosed problems that grow bigger. This leads to urgent care, including trips to the emergency room.
The following graph illustrates the percentage of Waco/ McLennan County residents who have seen a primary care physician within a year and the bullets underneath give the percentages for the most affected ZIP codes.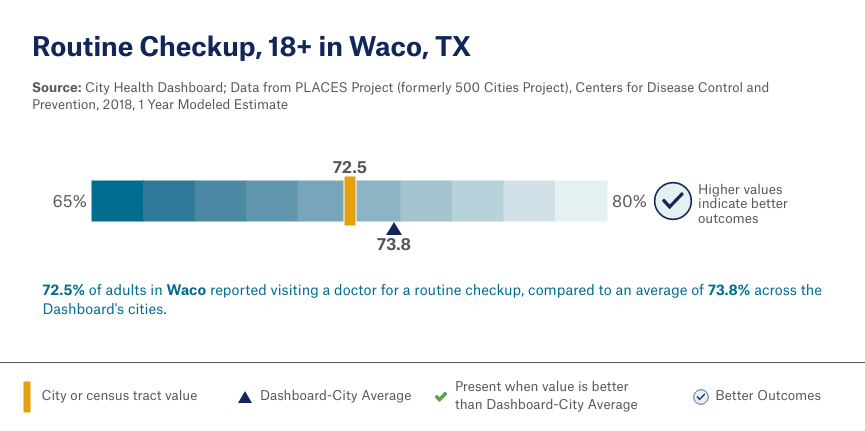 When broken down by ZIP code and census tract, the problem becomes more glaring.
76701, Track #1: only 66.6% of adults had a routine checkup in the past year
76705, Track #33: only 65.9% of adults had a routine checkup in the past year
76706, Track #2: only 66.5% of adults had a routine checkup in the past year
76798, Track #3: only 66.3% of adults had a routine checkup in the past year
Participants in "Christmas on Memorial" will have access to the following:
Groceries for their families;
Health screening from Ascension;
Behavioral health screening from Heart of Texas Region MHMR,
A COVID vaccine;
Buy and wrap Christmas presents for kids at a reduced cost;
Be entered into a drawing for prizes, including kids' bicycles;
Apply for health insurance and/or health benefits;
Talk to a number of health agencies and providers about healthcare options and benefits; and
A visit with Santa or play time in an on-site bounce house, along with an assortment of other kids' activities.
The event is being held to help our community connect with healthcare resources. This event was planned by the Access to Healthcare Working Group, which is co-chaired by Heather Travers of McLennan County Indigent Healthcare and Deneece Ferrales of Prosper Waco.
For more information about this event or to sign up for a table at the event, please contact [email protected] or [email protected]. Flyers are available for distribution.
If you would like more information about the work of the Access to Healthcare Working Group, you please contact co-chairs Heather Travers or me at the emails above.
Deneece Ferrales, Ph.D., is director of health initiatives with Prosper Waco.
The Act Locally Waco blog publishes posts with a connection to these aspirations for Waco. If you are interested in writing for the Act Locally Waco Blog, please email Ferrell Foster.