By Meilana Charles
(Note: This post is a part of "Dine on 3," a new initiative through Prairie View A&M University Cooperative Extension Program. Dine on 3 will use social media outlets to encourage family units to prepare and share home cooked meals more regularly. The initiative's objectives are to encourage home cooked family meal consumption more frequently and to communicate family life balance ideas and easy recipes monthly primarily through social media outlets. For more information contact Meilana Charles, Extension Agent-McLennan County, Prairie View A&M University-Cooperative Extension Program at 254.757.5180 or [email protected]. )
The winter holiday season is in full swing, but with the average person gaining one pound during this time of the year it's important to stick to normal eating habits. This may be difficult with all of the seasonal foods prepared during this time of the year. Here are some tips to staying healthy during the holidays:
To achieve healthy cooking during the holidays, modifying recipes may be necessary. To reduce fats consumption prepare meat dishes by grilling or roasting instead of frying. To add, cut visible fat and drain additional fat from meat after preparing. Also, skim fat from drippings used to prepare gravies and sauces. When preparing baked goods, use fruit purees such as applesauce instead of oil. Also prepare those baked good with 100% whole wheat flour instead of enriched flour or purchase baked good made from 100% whole grain ingredients. Lastly, use low-sodium broths when preparing dressing and stuffing.
Now that the meal is prepared and ready to be eaten try to prepare your plate similarly to the USDA's MyPlate food group recommendations. Use a smaller plate and eat slowly. Consume fried foods, sauces, gravies, creamy dips and sweets in moderation. To avoid second helpings move away from the table or food area when done eating.
Many people attending holiday parties find it difficult to stay on their regular health plans but it is doable. At parties, make the primary objective socializing. Try consuming small portions and limit second helpings. If this seems difficult avoid hovering around the food area. Also consider eating a light snack two hours prior to arriving or volunteer to bring a healthy dish.
In all, remember that winter holidays are an opportunity to celebrate year-end accomplishments and interact with friends and families, not a reason to overeat. Avoid emphasizing food during celebrations. Even if that may be difficult to achieve, having modified, healthy food options can benefit all in attendance and go a long way toward starting a new year healthy and happy.
---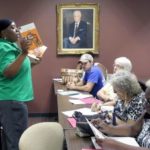 This Act Locally Waco blog post was written by Meilana Charles. Meilana is a Family and Consumer Sciences Extension Agent at Cooperative Extension Program at Prairie View A&M University. Meilana's priority areas for providing educational resources to McLennan County are general nutrition, money management and parenting. She has a M.S. in Child Development from Texas Woman's University and is a certified Human Development and Family Studies professional through American Association of Family and Consumer Sciences.
The Act Locally Waco blog publishes posts with a connection to these aspirations for Waco. If you are interested in writing for the Act Locally Waco Blog, please email [email protected] for more information.