By Rae Jefferson
Less than a year after publicly announcing plans to construct new headquarters, Waco Family Medicine broke ground Thursday, Oct. 20, on a new clinical site that will warmly welcome all people in the Heart of Texas regardless of income or insurance status.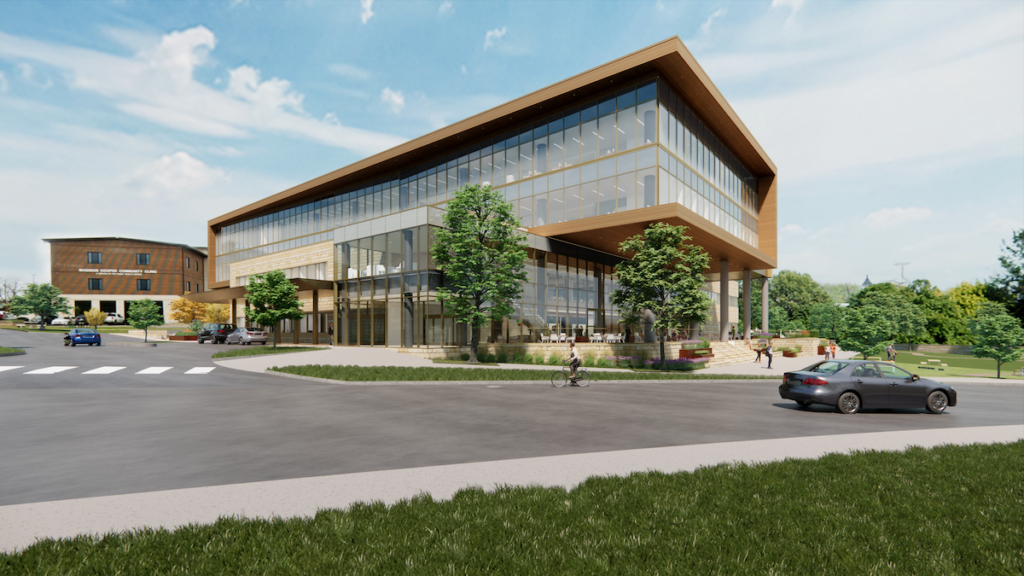 The clinic is at 1600 Providence Dr. Guests included WFM staff, local officials, community leaders, and enthusiastic benefactors who support accessible, high-quality healthcare in McLennan and Bell counties. 
The speaker lineup included special guests Chip and Joanna Gaines, who are generous supporters of the campaign to fund the new site. They contributed to the project in honor of former WFM physician and faculty member Dr. Tim McCall and wife, Janice. 
"Waco Family Medicine has been here to meet the needs of our community and the families here in Waco for over 50 years," said Chip and Joanna Gaines. "We're proud and grateful for the level of care and compassion the doctors and staff have offered and expressed during the past five decades. Thank you, Waco Family Medicine, and also a thanks to Tim and Janice McCall for all of their selfless work in serving Waco Family Medicine and, now, the children of Northern Uganda."
More than 50 years ago, the residency program at WFM was born out of cross-sector collaboration. County officials, business leaders, and local medical providers sought to train new family physicians to alleviate a provider shortage and meet overwhelming medical need within the community. Today, the 15-site Community Health Center provides high-quality medical, dental, and mental health care to more than 60,000 patients each year. Additionally, the clinic's family medicine residency program is in the top 2% of programs in the country, with hundreds of applicants vying for 12 openings each year.
"Multiple generations of local physicians and community members built Waco Family Medicine into an excellent center for primary care and a national academic family medicine leader," said Dr. Jackson Griggs, CEO. "Building on that success, our new facility will inspire enduring generations of patients and health professionals and will anchor Waco Family Medicine's efforts to achieve community thriving through whole-person, compassionate, comprehensive primary care."
The new $61 million facility will further expand WFM's capacity to care for patients, improve the healthcare team experience, and advance education and research in primary care. Construction will occur in phases to minimize disruptions to the adjacent WFM-Central location that the new building will eventually replace. Project completion is estimated for the summer of 2024.
Innovation is central to the blueprint of the coming site, with features like a state-of-the-art fitness center, teaching kitchen, and community garden intended to improve patient health in spaces other than an exam room. The first floor will also include a community marketplace with representatives from different social service agencies and nonprofits on site to assist patients with needs beyond healthcare.
"We are building this facility with a vision toward the future," Griggs said. "In the decades to come, primary care will transform the American 'sick care' system into a true health care system, and Waco Family Medicine will be leading the way with interprofessional teams promoting wellness, integration of mental and oral health, and key services for non-medical drivers of health."
Rae Jefferson is communications director at Waco Family Medicine, a Federally Qualified Health Center providing affordable, high-quality medical, dental, and behavioral health care in McLennan and Bell counties. She has a bachelor's degree in Journalism and is pursuing her master's in journalism, PR and new media at Baylor University.

By Ferrell Foster
Five Waco civic, health, and school leaders Wednesday encouraged the people of Greater Waco to think of their neighbors and to be careful how they are involved in gatherings and celebrate the Labor Day weekend. They also stressed the importance of getting a flu shot.
With the holiday coming and football season upon us, Mayor Kyle Deaver asked residents to do these activities "smartly and safely" so the community can remain open. "Take care of yourself and take care of each other." He made the comments during the weekly City of Waco News Conference related to the COVID-19 pandemic.
Jerry Maze, executive director for Education Service Center Region 12, noted, "What happens in the community shows up in the schools," and that can be both good and bad. "If everyone works together and makes good decisions, we get better outcomes."
Dr. Brian Becker, of Ascension Providence Hospital, called special attention to the holiday weekend, noting that following standard safety procedures is important for our public health and to our neighbors.
Dr. Marc Elieson, of Baylor Scott & White-HIllcrest, also spoke to the importance of wearing face masks, distancing, and proper hand hygiene. "Be wise," he said.
A number of questions were asked about schools and Baylor. For students, "it's so much more about what's happening off campus," Mayor Deaver said. "We know this is hard; it's trying for everyone, … but it's the way we keep schools open and having football" and other activities.
Dr. Jackson Griggs, of the Family Health Center, praised the efforts of Baylor University to test and then isolate students exposed to COVID-19. "I'm impressed with efforts by Baylor to mitigate the risk."
Current hospitalizations are down some, but the hospital representatives said their in-patient numbers usually lag behind case counts by about a week. And case counts have been rising in McLennan County.
The current "Effective Reproduction Rate" for McLennan County is 1.07, Mayor Deaver said. Anything above 1 means the disease is expanding, not contracting. The Rt is a measure of contagiousness or how many people one COVID-19 person infects.
In his closing remarks, Dr. Griggs highlighted the importance of bringing down the positivity rate. In recent weeks that rate has hovered just under 15% in McLennan County, which is above the state rate. More testing helps identify people with COVID-19 and also lowers the positivity rate. "Anyone with subtle symptoms needs to come in and be tested," Dr. Griggs said. The first step is to contact your primary care physician.
The head of Family Health Center also emphasized the importance of flu vaccinations. "We need to keep flu rates down this season," Dr. Griggs said. There's a lot we don't know about flu and COVID-19 infections in the same person. "Flu vaccines are imperative."
It is especially important to promote the flu vaccines in "communities of color" because they have been particularly hard hit by COVID-19 and have "historically lower vaccination rates."
The news conference is aired at 1:30 p.m. each Wednesday at WCCC-TV for the public to view.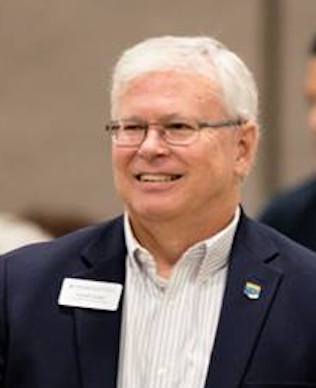 Ferrell Foster is senior content specialist for care and communication for Prosper Waco. He also serves on the Act Locally Waco Board of Directors and helps the website with blog posts related to health, education, financial security, and equity.