By Katie Johnson
Every year, over 1.2 million students in the United States drop out of high school, and about 14% of high school freshmen fail to graduate on time, according to the National Center for Education Statistics. In hopes of redirecting this trend, Education Service Center Region 12 implements three grants in Connally and La Vega, Waco, and Killeen ISDs. These three Upward Bound grants have been awarded a continuation, providing $297,600 per year per grant for the next five years to aid Central Texas high school students.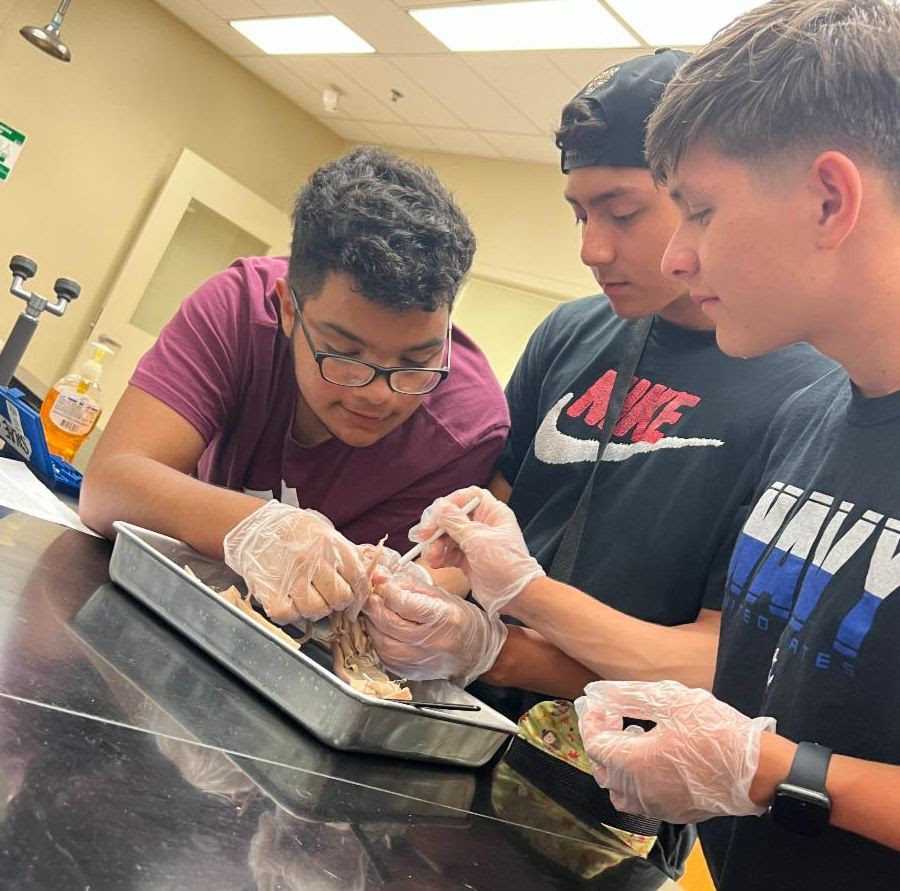 Funded by the U.S. Department of Education, Upward Bound is an innovative program aimed at closing the gap and increasing the academic achievement levels of first-generation and economically disadvantaged students to succeed in high school, post-secondary education, and beyond.
"One of the most gratifying elements of this program is to have our Upward Bound alumni come back and work with our current participants as an ESC Region 12 Intermittent employee," says Tammy Horner, ESC Region 12 Upward Bound project director. "Their presence in working as tutors, instructors and chaperones, while they continue on their own post-secondary education path is an encouragement to our students as they see that college can become a reality."
Upward Bound supports participants in their preparation for college entrance and offers opportunities to succeed in their precollege performance and ultimately in their higher education pursuits. Projects offer academic instruction in mathematics, laboratory sciences, composition, literature, and foreign languages.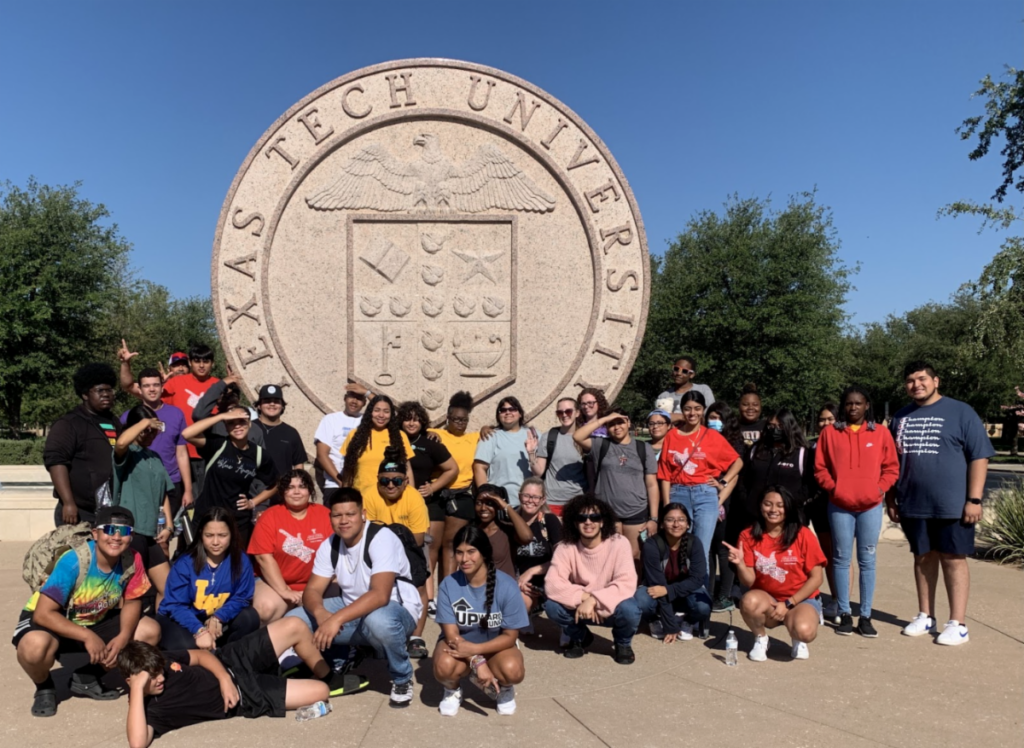 ESC Region 12's Upward Bound program constitutes three separate grants as each contributes to helping high school students in different cities. One grant serves students at Connally and La Vega high schools. The second grant supports Waco and University high schools. The last grant is geared toward students at Killeen and Pathways high schools in Killeen ISD, and Richard Milburn Academy, a Killeen charter school.
The Upward Bound programs at ESC Region 12, which began in the fall of 2012, assist up to 60 students each year, per grant. Students are selected through an application and interview process, where report cards, transcripts, and teacher recommendations are evaluated. Once accepted into the Upward Bound program, rising ninth through eleventh-grade students are tracked through high school and six years beyond graduation to ensure completion of post-secondary education.
Since parent involvement is one of the driving factors behind overall student success, the participants' parents also receive support during their child's high school career and college application process. This aid and involvement includes informational meetings, financial aid and scholarship information and counseling, college requirement counseling, and financial planning.
Kick-off celebrations for each Upward Bound program is Sept. 24. Upward Bound Waco will meet at ESC Region 12, 9 a.m. to 3 p.m. Upward Bound Killeen will meet at Killeen High School, 9 a.m. to 3 p.m. Upward Bound Connally and La Vega will meet at Connally High School, 9 a.m. to 3 p.m. 
For more information on the Upward Bound program, please visit esc12.net/upwardbound.
Katie Johnson is graphic design & communications specialist with Education Service Center Region 12.
By Jennifer Marshall-Higgins
The transition from high school to beyond can be challenging for any student. For students with disabilities this step can feel overwhelming without the proper support and resources.
Disabilities a range of challenges from dyslexia to language processing disorders to dysgraphia.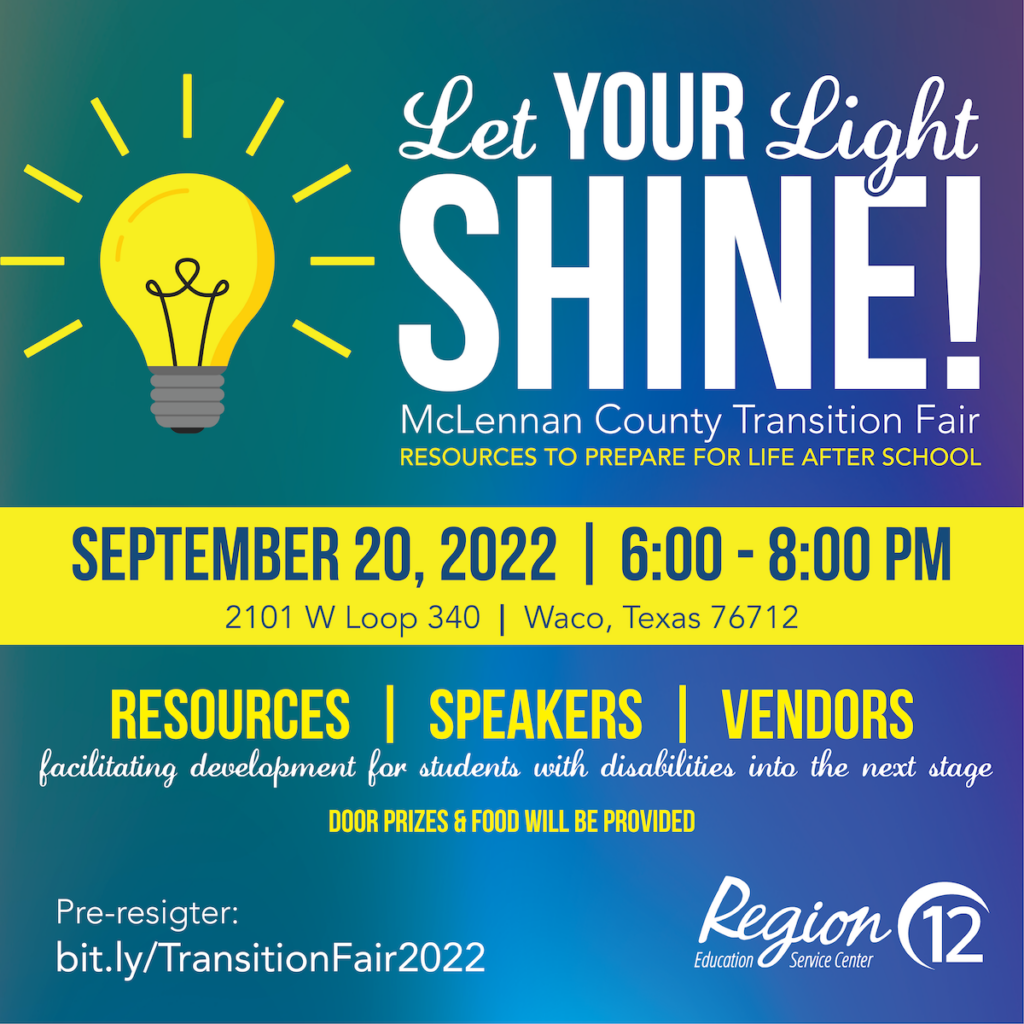 According to the National Center for Education Statistics, about 33% of all students identify as having a disability that adversely affects their performance in the classroom. That's more than 7 million students. Education Service Center Region 12 and partners will host a Transition Fair for students (grades 8-12) with disabilities 6-8 pm, Sept 20.
Without support, access to resources and guidance on advocating for oneself, it can be challenging to navigate a world that may feel inaccessible for students with a disability, be it a physical, intellectual, or learning disability. The Transition Fair's theme is "Let your Light Shine" as it aims to bridge the gap between high school and life after school for students of all abilities. The goal is to ease the apprehension of students and their families.
Participants will learn about community resources to support their transition, career and college opportunities, training opportunities, options for independent living, guardianship and alternatives, and how to apply for certain benefits.
"Our goal is to connect students, families and school staff with service providers to facilitate success for students once they graduate from high school–something that will impact their quality of life and how they can contribute to society," said Monica Johnson, education specialist for ESC Region 12.
The free event will take place from 6-8 p.m. on Sept. 20 at 2101 W Loop 340 in Waco. Participants are encouraged to pre-register at bit.ly/TransitionFair2022.
The event will include several partners, including Heart of Texas Behavioral Health Network, which provides accessible, caring and responsive support services to individuals and families coping with mental illness, intellectual and developmental disabilities, developmental delays, and emotional conflict. Additional partners include Texas Parent to Parent, Texas Workforce Commission, Communities in Schools, Heart of Central Texas Independent Living Center (HOCTIL), and Texas Able, all dedicated to the prosperity of Texas students with disabilities and their families.
Agencies on-site during the event are as follows:
ARC of McLennan County
Baylor Accommodations
BCBSTX, STAR Kids
Burgett Law Firm, PLLC Estate Planning Law Firm
Communities In Schools
Communities In Schools of the Heart of Texas – Workforce Program 
Focus Behavioral Associates
Heart of Texas Behavioral Health Network
HOCTIL
Oceans Behavioral Hospital
Sandy Hardy-Smith, Imagine Enterprises
Superior Health Plan
Texas Able
Texas Parent to Parent
Texas STAR Plus
Texas Workforce Solutions
Texas Workforce Solutions – Vocation Rehabilitation Services
United Health Care Dental Services
Waco Mayor's Committee for People with Disabilities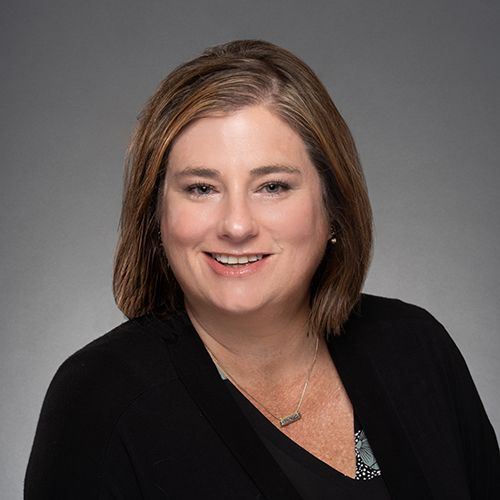 Jennifer Marshall-Higgins is director of customer & marketing support with Education Service Center Region 12. ESC Region 12 helps schools save money and leverage resources into the classroom. One of 20 regional service centers statewide, ESC Region 12 offers training and expert assistance to educators and school personnel to increase student achievement. ESC Region 12 offers effective, economical programs and services through professional development, expert assistance, direct services and alternative educator certification. Based in Waco, ESC Region 12 serves 77 school districts, 10 charters and private/parochial schools in Bell, Bosque, Coryell, Falls, Freestone, Hamilton, Hill, Lampasas, Limestone, McLennan, Mills and Navarro counties.
From a release by Jennifer Marshall-Higgins
Out of 77 school districts across the 12-county education service area of Region 12, two outstanding educators have been selected for the top teaching award — the 2022 Region 12 Teachers of the Year. Krystle Moos of Midway High School is Secondary Teacher of the Year. James Cook of Cedar Valley Elementary in Killeen ISD is Elementary Teacher of the Year.

"We are extremely proud of these remarkable educators," said Jerry Maze, Ed.D., executive director of ESC Region 12. "The time and energy they dedicate to their students, their peers, and the profession is truly an inspiration for others to follow."
Krystle Moos has been teaching for 12 years, currently serving as a chemistry teacher at Midway High. She is also a professional learning community leader anda science fair and science UIL coach. Before joining the Midway Panthers in 2012, she was a teacher for Waco ISD.
"Mrs. Moos is unsurpassed in enthusiasm and motivation," said Midway ISD Superintendent Dr. George Kazanas. "She is magnetic; the AP Chemistry program has tripled and flourished as students continue to flock to her classroom and excel in AP testing. Beyond academics, Mrs. Moos takes a sincere interest in connecting with each student. I could not ask for more from any educator. She is so deserving of this honor!"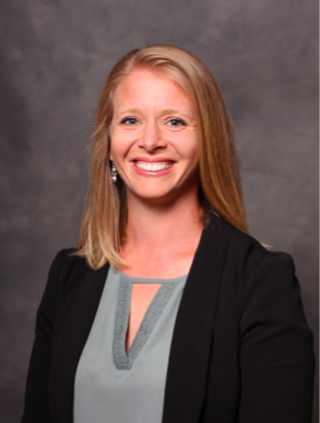 The daughter of a science educator, Moos began with a passion for uncovering the science in the world around her. She brings this passion into the classroom through hands-on lab experiments and lessons while building students' confidence in working through complex concepts.
Inspired by her growth mindset, Moos emphasizes learning as a life-long process to master difficult topics. She encourages student growth through productive struggle and uses this principle to guide her chemistry lessons.
Moos creates and uses a positive environment to build relationships with students, help them celebrate small successes, and feel the support necessary to work through assignments. Knowing that students have different learning styles, she provides multiple opportunities to demonstrate learning, emphasizing understanding processes rather than only having correct answers.
Through these instruction practices, she sees students gain a deeper understanding of the content, motivation increase to solve problems — driving an increase in assessment scores, student engagement, and excitement.
Much to the credit of Moos, enrollment in advanced-placement chemistry has tripled over four years, with ongoing student-to-student mentorship that extends after high school. AP chemistry is now more diverse than ever before while maintaining AP exam scores above the global and Texas averages.
The impact she sees through her mentoring and student leadership in STEM and science activities encourages Midway students to keep pushing boundaries within each lesson to continue to inspire students in realizing their full potential.
Moos's classroom culture encourages scientific inquiry and builds scientific interest, often transcending the classroom, crossing over to other subjects and programs. One example includes a program for students at the high school to mentor intermediate students to develop projects based on science-related issues.
Another example of her efforts to expand effectiveness across classes and grades includes her role in the growth of the district's Advancement Via Individual Determination (AVID) program for high-achieving students from groups underrepresented in college. Moos learned that the program provides benefits for all students in every classroom and worked with the team to develop lesson formats for teachers to use in science classes that would benefit all students. This includes coaching science teachers in strategies, such as developing problem-solving journals and incorporating gallery walks of laboratory reports connecting, writing, collaboration, and reading in the laboratory investigations.
Moos is also a teacher leader for APTeach and works on the National Board for Professional Teaching Standards certification process. From leading worldwide professional development sessions to hosting pre-service teachers in the classroom, she hopes to inspire current and future education leaders and foster a classroom that embraces diversity in learning by celebrating the productive struggle for students.
Moos holds a bachelor's degree in biology from Hartwick College and teacher certification in science. She is married to Scott Moos, an engineer at L3. They have three children.
As Region 12 Teachers of the Year, Cook and Moos will serve as nominees for Texas Teacher of the Year, which TASA will announce in mid-August. Also, the Region 12 Superintendent of the Year is Dr. Brandon Hubbard, Superintendent of Chilton ISD.
Jennifer Marshall-Higgins is director of customer & marketing services for the Region 12 Education Service Center.
The Act Locally Waco blog publishes posts with a connection to these aspirations for Waco. If you are interested in writing for the Act Locally Waco Blog, please email Ferrell Foster at [email protected].