By Kiera Collins
Y.E.S. (Youth Empowerment Services) is a Medicaid waiver program. The purpose of Y.E.S. is to keep at-risk youth who are in danger of out of home placement or inpatient psychiatric treatment in the home with the family unit. I am a behavior specialist at Klaras Center for Families. As a behavior specialist, I tutor and mentor my assigned clients, many of whom participate in the Y.E.S. program.
The Y.E.S. program is 12 months long. In those 12 months we work on school issues, learning deficits, vital skills, goal setting, seeking natural supports, communication skills, coping mechanisms, safety plans, and many specially designed undertakings that will benefit the family unit as a whole. Our goal is to empower the family and give them a better foundation to build upon.
These goals are accomplished by providing community based services for the child and parent. Some of those services include art therapy, equine therapy, recreational therapy, adaptive aides, community living specialists, and family support specialists.
I have been able to make community contacts with Angie Veracruz from Central Texas Artists Collective (CTAC), Cherie Hudson at The Cutting Edge Salon and Spa, William McKeever at D20 prints, and Brazos Books. Ms. Veracruz provides our clients with bi-weekly art sessions. Ms. Hudson provided four deserving parents with donated services to promote self-care. Mr. McKeever provided wood block t-shirt printing sessions, and Brazos Books offered a discount on the books we purchased. We have also received donated books from Half Price Books and I ran a successful book drive with Usborne books.
We have been able to provide better services, activities, and support to our clients at Klaras Center for Families in part due to the Y.E.S. waiver program and in part due to the community support that we have received. It is important to encourage our clients by showing them that they have a team of people that want them to succeed. In 12 months we can transform a life and give a family hope for the future.
---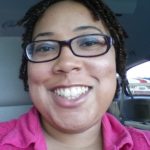 Kiera Collins, born and raised in New Orleans, La., is a behavior specialist at Klaras Center for Families. She is a lover of words and all things weird. She is a writer, poet, and artist that spends her days thinking creatively and outside the box. Follow her blog: www.lessonsattheranch.wordpress.com .
The Act Locally Waco blog publishes posts with a connection to these aspirations for Waco. If you are interested in writing for the Act Locally Waco Blog, please email [email protected] for more information.