By Alicia Pesina
I have been the instructor for El Ballet Folklorico Las Estrellas de Waco for 16 years. Ballet Folklorico is a traditional Mexican dance which highlights local culture from various regions and states in Mexico. The costumes, styles of dance, and music vary from state to state.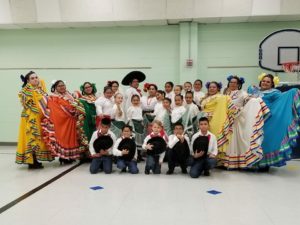 Our group was organized in October 1998 to help promote Mexican Culture in the Waco Area. We began with one group comprised of four young ladies; we have now grown into three groups ranging from the age of seven and up. Some members of our older group have been dancing for more than 25 years.
My mom, Mary Lou Pesina, has been the organizer, dressmaker, director, recruiter, dress fluffer, and so much more. She coordinates every performance and manages all members of the group. Mary Lou Pesina is the one who wanted to start the group. With hard work and determination, she has made the group what it is today.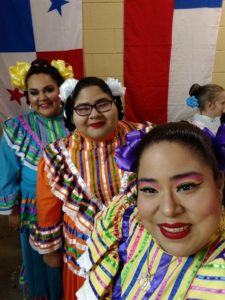 When we first began our group, we would often go to workshops in Corpus Christi. These workshops included Maestros (instructors) brought from Mexico to teach songs from their native state. They would also include a seminar which demonstrated the traditional costumes, hairpieces, and accessories needed for each State.
We sought out a local instructor several years after the group was established. We met Veronica De La Rosa while she was attending Baylor University. She was able to help us in so many ways. Her mother had organized a Folklorico group in Seguin, Texas. Veronica taught us various dances from all different states and shared her expertise in different Folklorico costumes and designs. She eventually became a part of our family! She married one of my cousins and they now have four beautiful children together.
All members are volunteers from our local community who have a passion for dancing. Our beginner group starts at age seven and we require no previous dancing experience. However, for the Intermediate (Ages 12-17) and Advanced Group (Ages 17-and up), we require previous dance experience. These beautiful dances are difficult and require challenging skirt work, footwork, and choreography. Our dances require hours of practice to perfect, we rehearse every week and also learn new songs every year.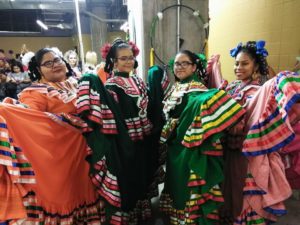 We have a yearly membership fee of $50. Each member is also responsible for purchasing Folklorico earrings and ballet shoes. Our group provides all costumes for our members free of charge. Our costumes are sewn by my mother or purchased from donations we receive from our performances and membership fees. As our group has grown, the costs of costumes have become a major expense.
We practice and perform eight months out of the year. We begin practicing in March and we start scheduling performances in April. Our performance schedule begins in April and our final performance is held at the Fiesta de La Raza at St. Francis Church. We love performing for all types of events around the Waco area. Sometimes I don't realize some people have never seen a Ballet Folklorico perform. It gives me a greater appreciation for our group and our ability to share these beautiful dances with the Waco community. One advantage of having a larger group is the ability for us to showcase the diversity of Mexico.
This group is a major labor of love, especially since everything is done on a volunteer basis. Most of our dancers and parents work full time. Parents usually rush from school to dance practice. Some students come from outside the Waco area, and some families have multiple children in each group. I teach dance class after work for 3 hours back to back, and at times, it is very overwhelming. What pushes us each day is our passion for dance and the love for our group.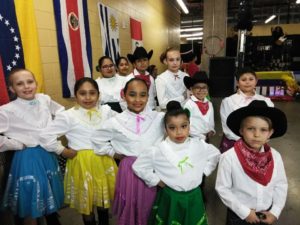 This group is our second family. I love all my students as if they were my own. I've taught members in school, seen them graduate, go on to college, get married and now have families of their own. I've watched families grow and I'm always so happy to hear, "As soon as my baby is old enough, we are putting her in the group with her brother/ sister!" We are much more than a group, we are a Folklorico family.
Our main goal is to share our culture with everyone. We have to remember and represent our culture and we hope to inspire those around us. We are a country of immigrants and we can share the love and beauty of our Mexican heritage through Ballet Folklorico. This year we celebrate 20 years of dancing for Waco and the surrounding areas.
When people recognize and appreciate the work we put into the group, it makes us feel proud. I have to thank my dancers, parents, and all of our supporters for encouraging us each year. We appreciate the members who take time away from their families help us entertain and share our beautiful culture. I must specifically thank my mother for continuously encouraging me to dance and teach others. I have been dancing Ballet Folklorico for 24 years and I hope to continue this tradition for many years to come.
---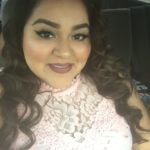 Born and raised in Waco, Texas, Alicia Pesina has been the instructor for Las Estrellas de Waco Ballet Folklorico for 16 years. Interested in scheduling a performance? Contact Mary Lou Pesina at 254-855-1759. Facebook page: Ballet Folklorico Estrellas de Waco.
Whether it's playing trumpet in the "Friday Band" at MCC, or riding with the Waco Knight Riders, or an afternoon playing with the Waco Disc Golf Association, one of the wonderful things about Waco is that there are lots of ways to find community here. Where do you find community in Waco? Would you be interested in writing about it? If so, let us know. Email [email protected]. If you have an idea for a post. You could be seeing your own picture on this page!