The Mayborn Museum announces its new status as a Smithsonian Affiliate. The museum joins a network of more than 200 Smithsonian Affiliates in the United States, Puerto Rico, and Panama. The Mayborn will now be the Central Texas connection to the Smithsonian and its many resources. This recognition makes The Mayborn Museum one of 13 Smithsonian Affiliates in Texas and the only one in Central Texas.

"Smithsonian Affiliates are collaborators on many Smithsonian strategic priorities, adding local content, context, and expertise to help tell a fuller story," said Myriam Springuel, director of Smithsonian Institution Traveling Exhibition Service and Smithsonian Affiliations. "Including the Mayborn in our Affiliate network provides greater access to the rich history and culture of Central Texas and we look forward to creating experiences that align those stories with national initiatives at the Smithsonian." 
Smithsonian Affiliates represent the diversity of America's museum community and serve all audiences. As a Smithsonian Affiliate, the Mayborn will have the opportunity to collaborate on unique, public programs and workshops, professional development opportunities, co-develop youth programs, host traveling exhibitions, borrow artifacts, and co-host public lectures by Smithsonian scholars. 
As part of the first phase of collaboration, the Mayborn is bringing the Smithsonian's Earth Optimism Youth Action and Leadership Program to Waco. The initiative works with local schools to empower young people to act on environmental issues. With support from the Smithsonian, the Mayborn will develop young people's leadership skills with the goal of inspiring climate-literate leaders in Central Texas. Earth Optimism Youth Action and Leadership for Sustainable Communities is funded in part by a Jeff Bezos gift to the National Air and Space Museum.
"Our partnership with the Smithsonian will facilitate new exhibits and programs for our visitors that will inspire a deeper understanding of our world and how it can be changed for the better," said Charlie Walter, executive director of the Mayborn.
By Cindee Millard
Baylor University's Mayborn Museum Complex will host a community dialogue Oct. 2 titled, "Human Genome Editing: Framing Our Biological Future." The dialogue is part of a three-year research project funded by the National Institutes of Health.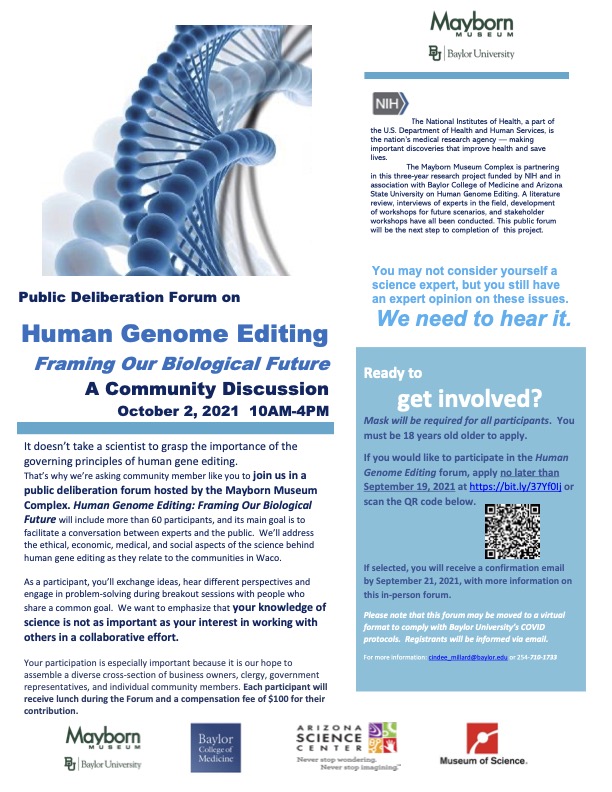 Arizona Science Center, Baylor College of Medicine, and Boston Museum of Science chose Mayborn to host, facilitate, and participate in the dialogue at the museum, 1300 S. University Parks Dr., beginning at 10 a.m.
Forum participants will include people from Central Texas. The goal is to create conversations between experts and community members that both will find valuable and informative. During this citizen dialogue we will take part in discussions that will solicit input that will be used to feed into global negotiations about our futures with human genome editing.
We are looking for individuals with a variety of backgrounds and viewpoints representing the diversity of our community. No prior knowledge is required. There are no incorrect answers and every viewpoint is welcome.
Interested persons may apply no later than Sept. 19 and will receive notification if accepted to be a part of this day long community forum. Those selected will receive lunch and a $100 gift card for participation in this project. Masks will be required for all participants. You must be at least 18 years old to apply.
Apply online at https://www.surveymonkey.com/r/HGE-Waco. If selected, you will receive a confirmation email by Sept. 21, with more information.
Please note that this forum may be moved to a virtual format to comply with Baylor University's COVID protocols. Registrants will be informed via email.
NIH, a part of the U.S. Department of Health and Human Services, is the nation's medical research agency — making important discoveries that improve health and save lives. This project on Human Genome Editing has completed a literature review, interviewed experts in the field, developed workshops for future scenarios, and conducted stakeholder workshops. The public forum will be the next step to completion of this project.
The Mayborn Museum, Baylor University, and Waco were chosen because of their central location, non-metropolitan cross section of the U.S. population, their association with public deliberation initiatives, and their experience in gathering diverse community voices in public forums. Only two other locations in the United States have been funded to participate: Boston Museum of Science and Arizona Science Center.
The Mayborn Museum will benefit from this collaboration by receiving national visibility and by helping to add to the fulfillment of their strategic plan goal of building relationships with communities that represent a diversity of backgrounds, ages, and cultures to increase accessibility and relevance.
For more information: [email protected] or 254-710-1733.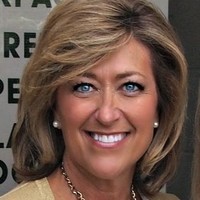 Cindee Millard, a native Wacoan and Baylor University graduate, is public & community engagement manager for Mayborn Museum Complex. For more than 10 years Cindee has worked with nonprofits and community organizations collaborating in projects and programs to provide relevant museum programming to diverse audiences. Millard lives in Waco with her husband, Mike.
The Act Locally Waco blog publishes posts with a connection to these aspirations for Waco. If you are interested in writing for the Act Locally Waco Blog, please email Ferrell Foster at [email protected].