March is National Reading Month, a whole month designated to encouraging Americans – and by extension Wacoans – to read! The Act Locally Waco blog is beating the drum for National Reading Month by hosting a blog series throughout the month of March, called "Books Matter." Every day throughout March we will be sharing a post about a Waco resident and a book that matters to him/her. Thank you to students from the Baylor Department of Journalism, Public Relations and New Media and professor Amber Adamson for help with this fun project. To read all the blog posts so far, click here.
By Grace Shaw
Savanna Cabrera, a student at McLennan Community College, said she believes the Nancy Drew series has impacted feminine culture today.
Cabrera said she struggled with reading growing up. When she found the Nancy Drew series, it sparked a love of reading and helped her out of her weakness.
When she was in the library one day in middle school, she found one book in the series and decided to read it. She began reading many in the series. This series motivated her to love reading and gain perspective on social constructs of societal expectations of women.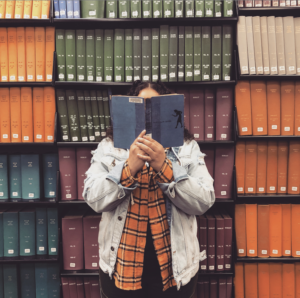 The Nancy Drew series taught Cabrera to break cultural gender stereotypes and to be "daring and courageous."
The Nancy Drew series has influenced many women to be valiant and bold, to go out of their comfort zones, Cabrera said.
"This series is really empowering. The author truly broke the boundary for young girls," Cabrera said. "She broke all the cultural stereotypes for what people thought a girl should be…She has inspired me to be confident in myself, be brave and daring."
Cabrera said the protagonist in the series, Nancy Drew, taught her to be confident in middle school. It taught her to let go of her insecurities and be proud of her strengths. This series has been one that has impacted her life and who she is today. Nancy Drew has been a role model that empowered Cabrera to believe in herself.