By Kelly Palmer
The Ultimate Waco Gift Guide. Y'all asked for a citywide holiday gift guide featuring beloved small businesses, so you know I had to deliver!
This year's edition is an Enneagram Gift Guide, and each type offers three gift ideas featuring small businesses owned and operated by our neighbors. Price points are from $10 to $100, so you can find something for everyone on your list. All of the businesses highlighted here are locally owned, and the majority are also owned by women and/or people of color, with a few social enterprises, as well. Let's #shopwaco and #shoplocal this holiday season.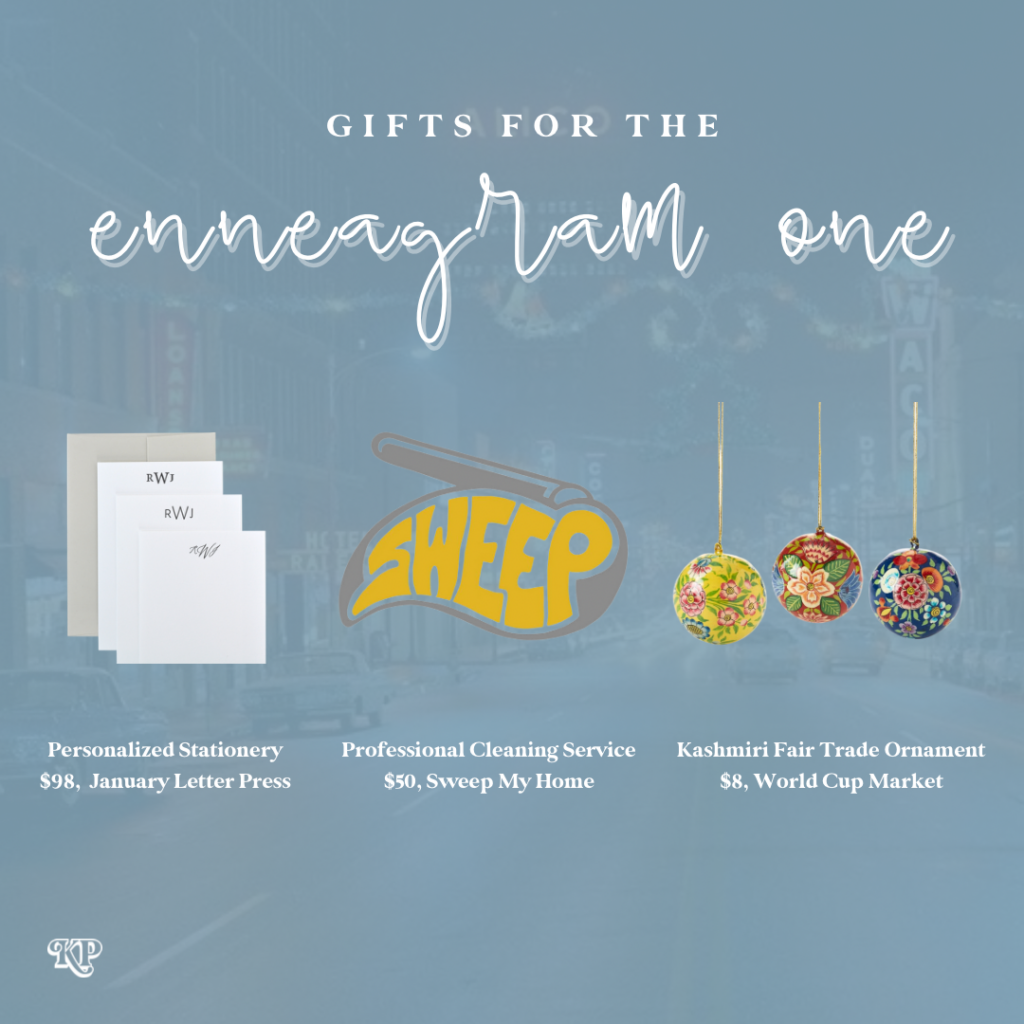 Gifts for the Enneagram 1: The Reformer
Enneagram Ones are conscientious and ethical, with a strong sense of right and wrong. They are teachers, crusaders, and advocates for change: always striving to improve things, but afraid of making a mistake. Well-organized, orderly, and fastidious, they try to maintain high standards.
Custom stationary from January Letter Press makes a great gift in helping them stay organized and professional looking.

Keeping a clean and organized home is hard, especially during the holidays, but a cleaning from SWEEP will sweep them off their feet! This is an especially good present if their love language is Acts of Service.

An Enneagram One also strives to have a perfect tree and decorations from World Cup Cafe and Fair Trade Market are a great way to achieve that.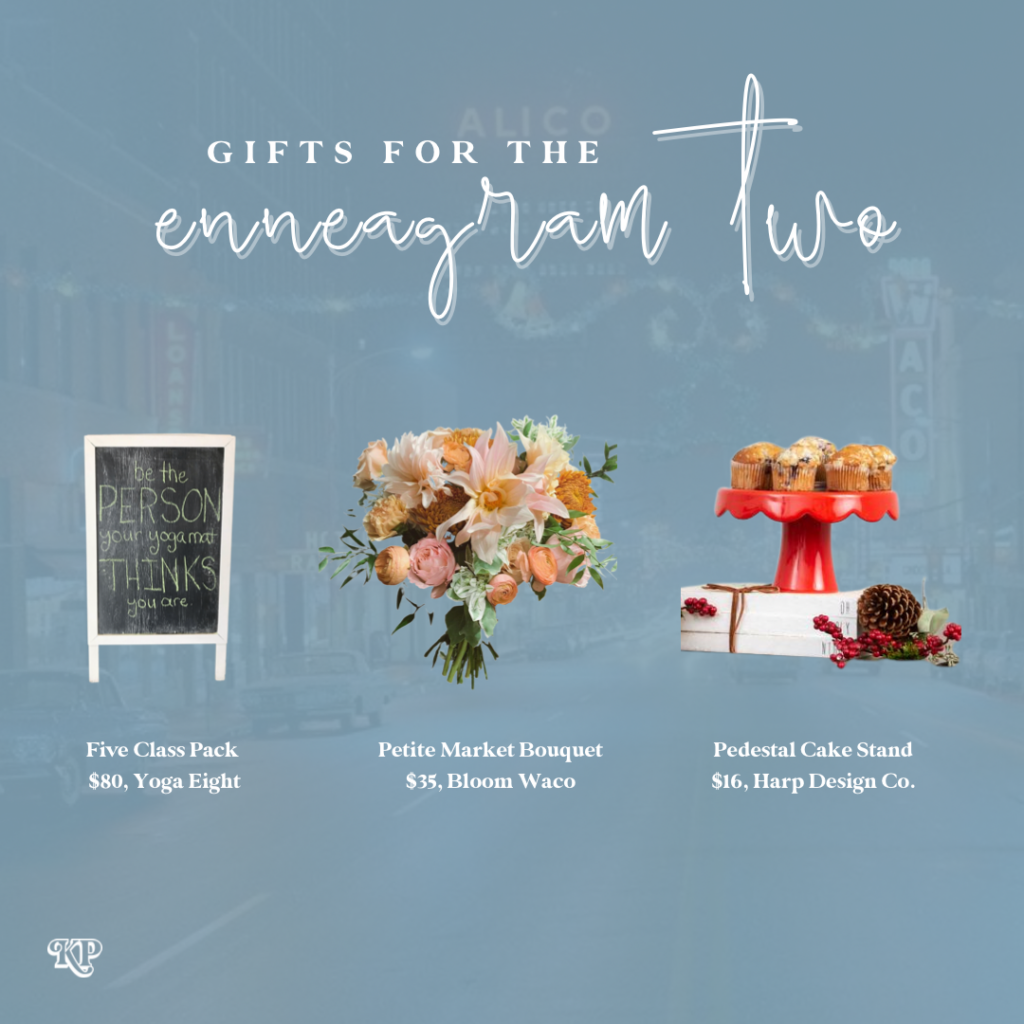 Gifts for the Enneagram 2: The Helper
Enneagram Twos are empathetic, sincere, and warm-hearted. They are friendly, generous, and self-sacrificing, but can also be sentimental, flattering, and people-pleasing. They are well-meaning and driven to be close to others, but can slip into doing things for others in order to be needed. 

A Five Pack of classes from Yoga8 can help them take care of themselves instead of focusing on helping others. Since they are so used to caring for others it will mean a lot to them that you are helping them care for themselves.

A bouquet from Bloom Waco will also remind them how good it feels to be cared for and will be a lovely gift that is about them.

Since an Enneagram Two takes joy in helping others, they will love having a nice piece that makes it easier for them to celebrate themselves and others. This cake stand from Harper Design Co takes the cake on cake stands. This is an especially good present if their love language is Quality Time.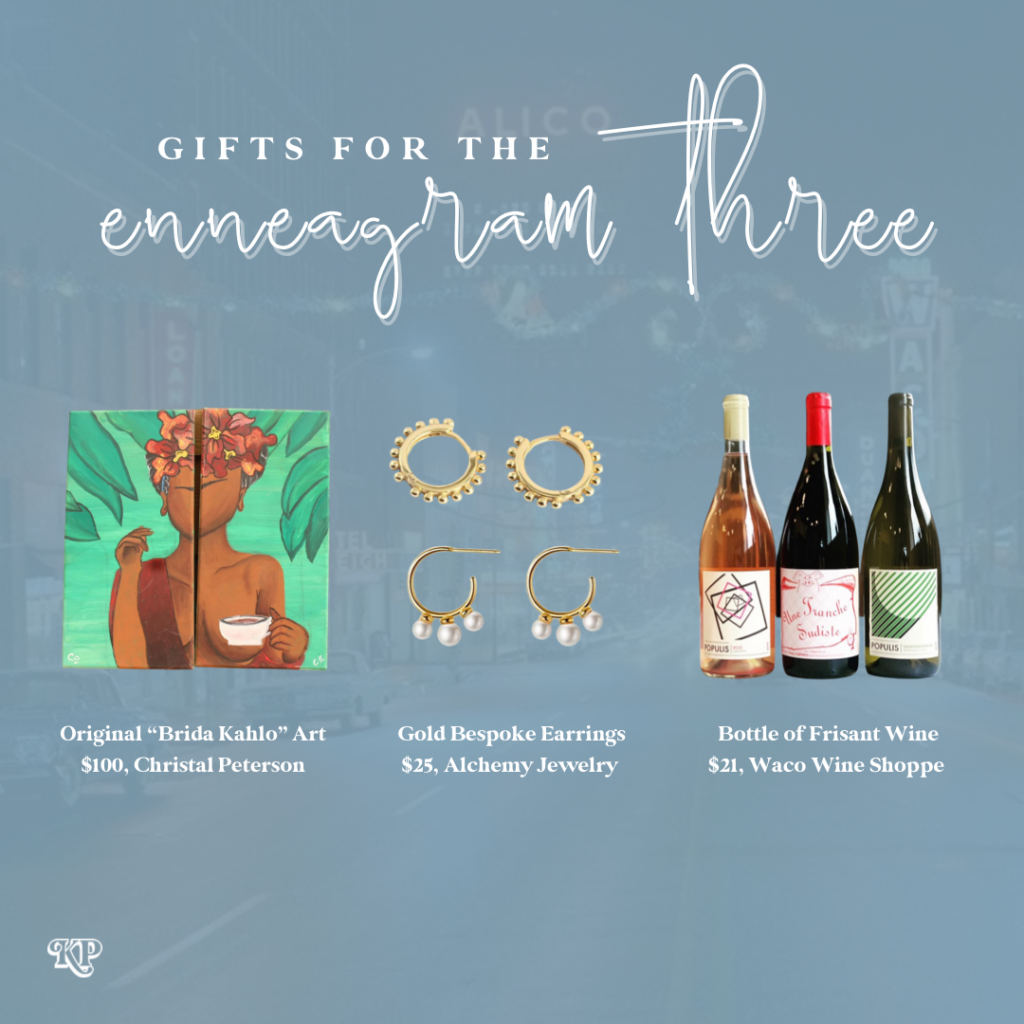 Gifts for the Type 3 Enneagram: The Achiever

Enneagram Threes are self-assured, attractive, and charming. Ambitious, competent, and energetic, they can also be status-conscious and highly driven for advancement. They are diplomatic and poised, but can also be overly concerned with their image and what others think of them.

A unique piece of art from local artist Christal Peterson will help any Type Three make sure their home or office stands out.

Alchemy Jewelry House features sterling silver and gold plated pieces that will ensure your Type Three is impressing everyone around them.

A bottle of Frisant Wine from Waco Wine Shoppe will be a great way for your Type Three to impress their guests at their next dinner or party.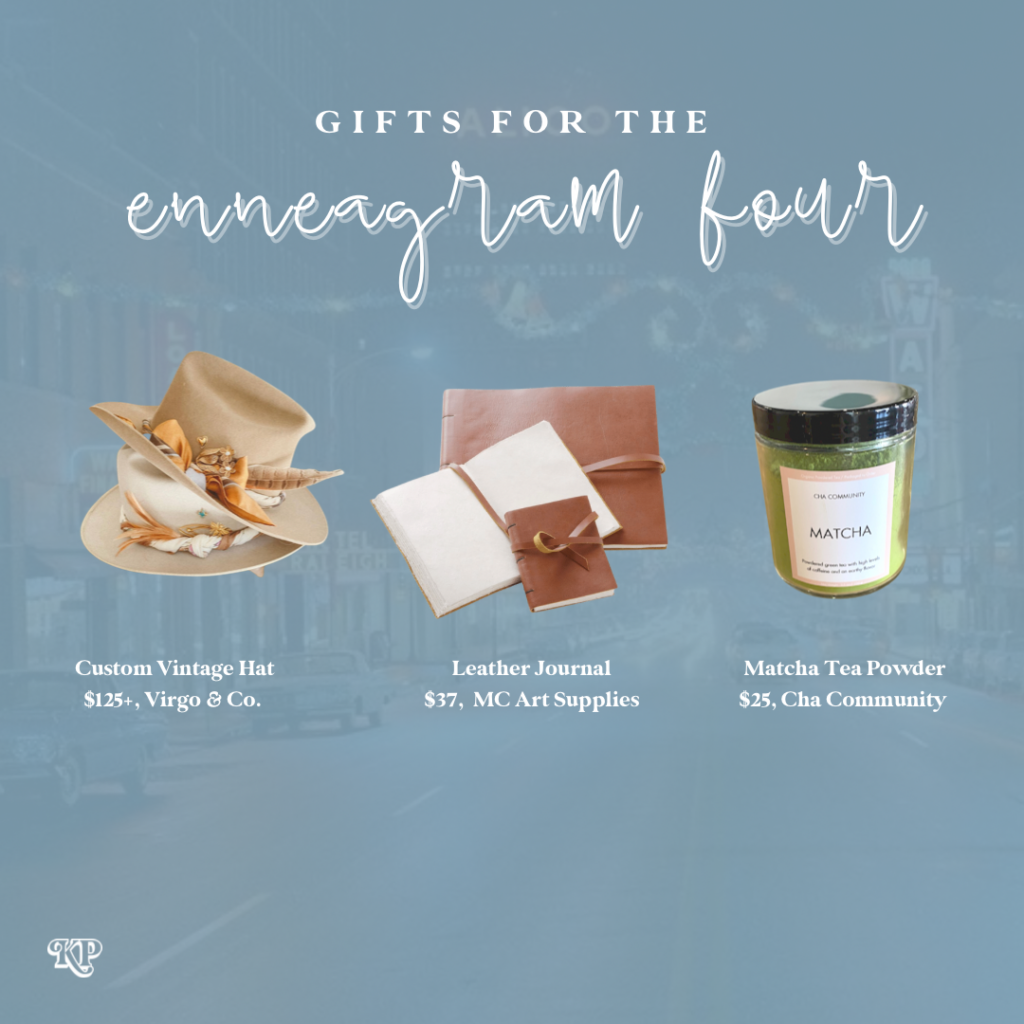 Gifts for Type 4 Enneagram: The Individualist

Type Fours want to express themselves and their individuality, to create and surround themselves with beauty.

A Custom Hat from Virgo & Co is a one-of-a-kind piece that will make them feel seen.
Leather Journals from MC Art Supplies are the perfect way to give your Type Four their main character moment. Are they writing a novel or a grocery list? Who cares? They look cool doing it.

Bring out your inner Cha-rista with Matcha powder from Cha Community and let your Type Four custom make their drinks exactly the way they like them. (Formerly known as Waco Cha).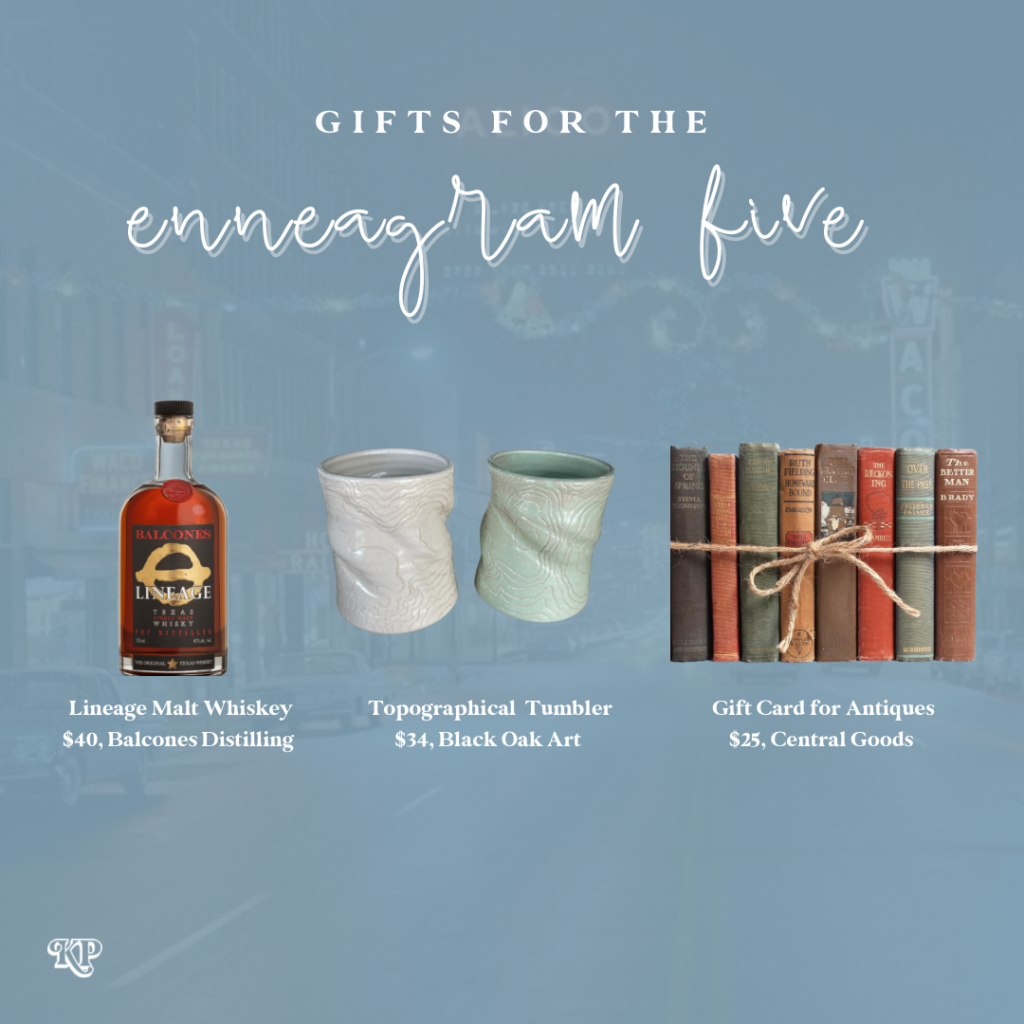 Gifts for Type 5 Enneagram: The Investigator

Enneagram Fives are alert, insightful, and curious. Type Fives want to possess knowledge, to understand the environment, to have everything figured out. They are able to concentrate and focus on developing complex ideas and skills. Independent, innovative, and inventive, at their best they are visionary pioneers, often ahead of their time, and able to see the world in an entirely new way.

A bottle of Malt Whiskey from Balcones Distilling will get their curiosity and creativity flowing.

Topographical Tumblers from Black Oak Art are unique, interesting pieces of art that will spark joy.

A trip to Central Goods will be like a trip to Disney for Enneagram Fives.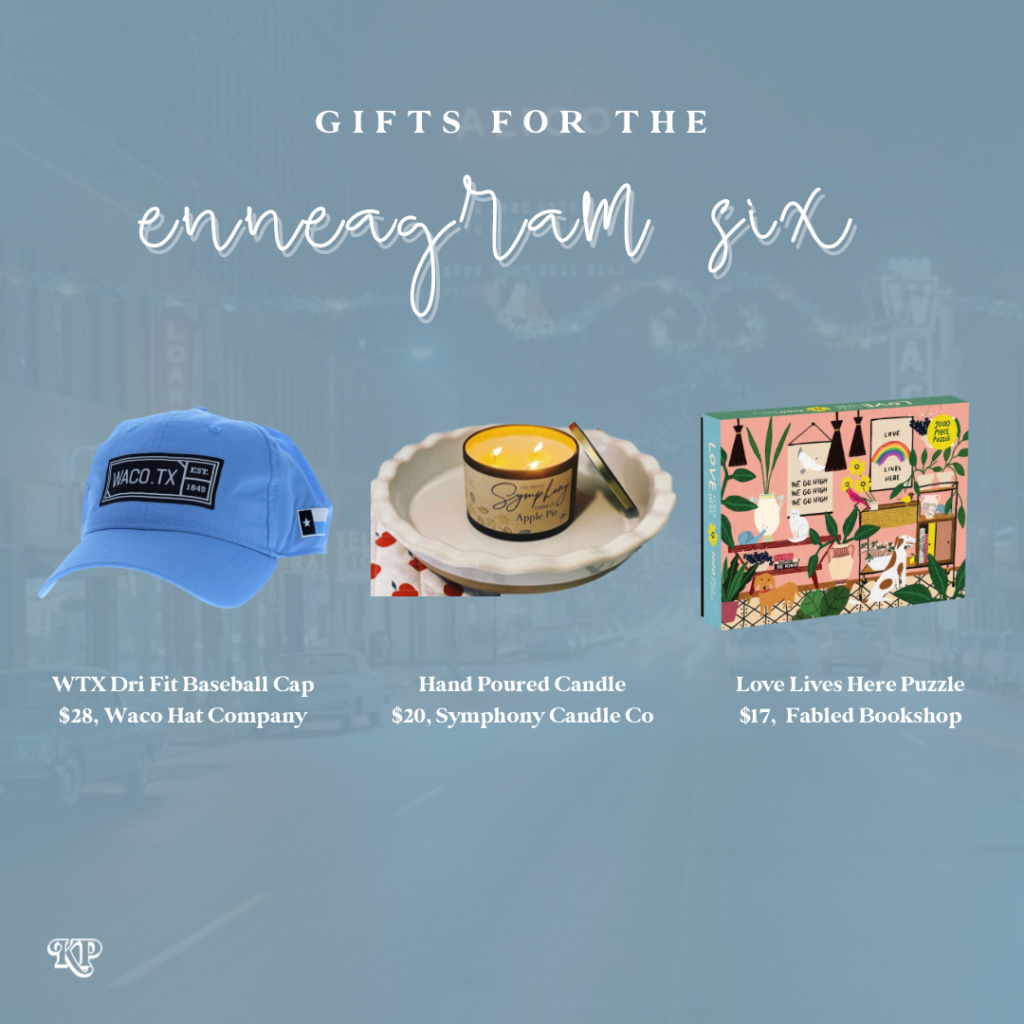 Gifts for Type 6 Enneagram: The Loyalist
The committed, security-oriented type. Sixes are reliable, hard-working, responsible, and trustworthy. Excellent "troubleshooters," they foresee problems and foster cooperation. Type Sixes want to have security, to feel supported by others, to have certitude and reassurance, to test the attitudes of others toward them, to fight against anxiety and insecurity.
A Waco Hat from Waco Hat Company will help them show off their hometown pride!
Type Sixes can be overthinkers and a hand-poured candle from Symphony Candle Co will help them relax and live in the moment!

Type Sixes love to solve problems and this puzzle from Fabled Bookshop will speak to their inner problem solver while in a way where they can relax and have fun.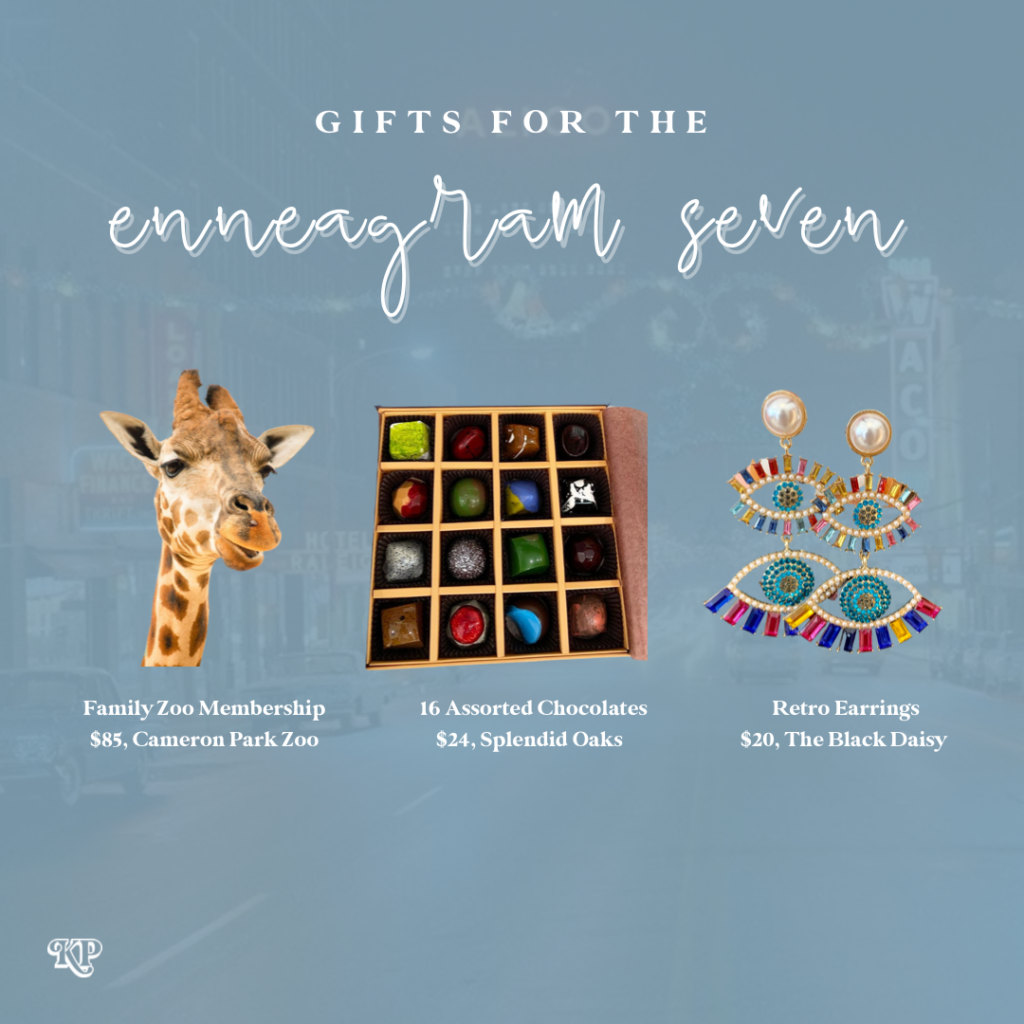 Gifts for Enneagram Type 7: The Enthusiast
Enneagram Sevens are extroverted, optimistic, versatile, and spontaneous. Playful, high-spirited, and practical. They want to have fun and fear missing out on things that will be fun.

A Family Cameron Park Zoo membership is the perfect activity for Enneagram Sevens because it is fun and interactive. With a membership they can easily go anytime they feel like being spontaneous because there's not a lot of planning involved.

Life is like a box of chocolate and these chocolates from Splendid Oaks will be a fun way for your type Seven to enjoy delicious chocolate in a way that feels like a mini adventure.

These retro earrings from The Black Daisy will make any outfit more fun!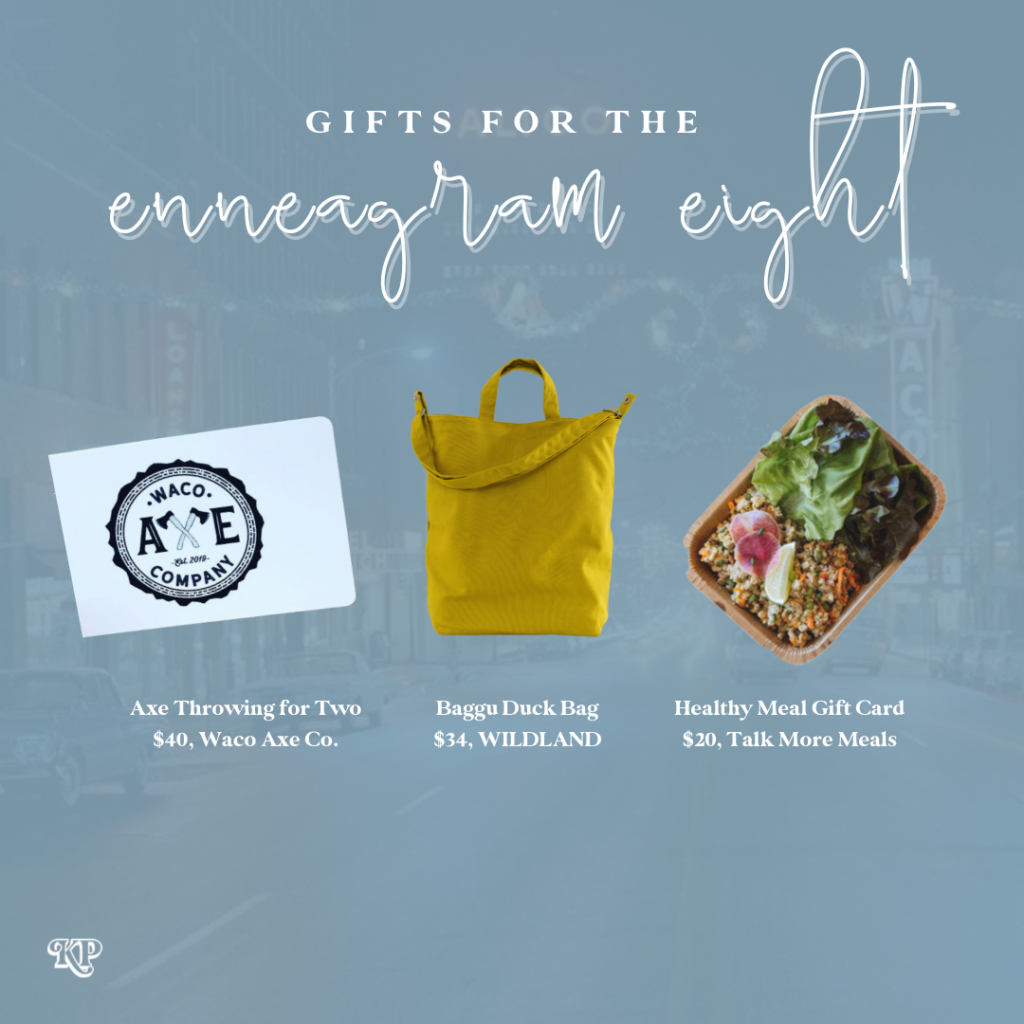 Gifts for Type 8: The Challenger
Enneagram Eights are self-confident, strong, and assertive. Protective, resourceful, straight-talking, and decisive. Type Eights want to be self-reliant, to prove their strength and resist weakness, to be important in their world, to dominate the environment, and to stay in control of their situation.
Axe Throwing at Waco Axe Company is the perfect way to demonstrate strength and control in a way that's fun for everyone.
This bag from Wildland will help your Enneagram Eight keep everything together and under control in the most fashionable way.
Meal Prepping is so good for you but it can be extremely time consuming and overwhelming. Help your Enneagram Eight take control of their health and make sure they're easting well to stay strong. This is an especially good present if their love language is Acts of Service.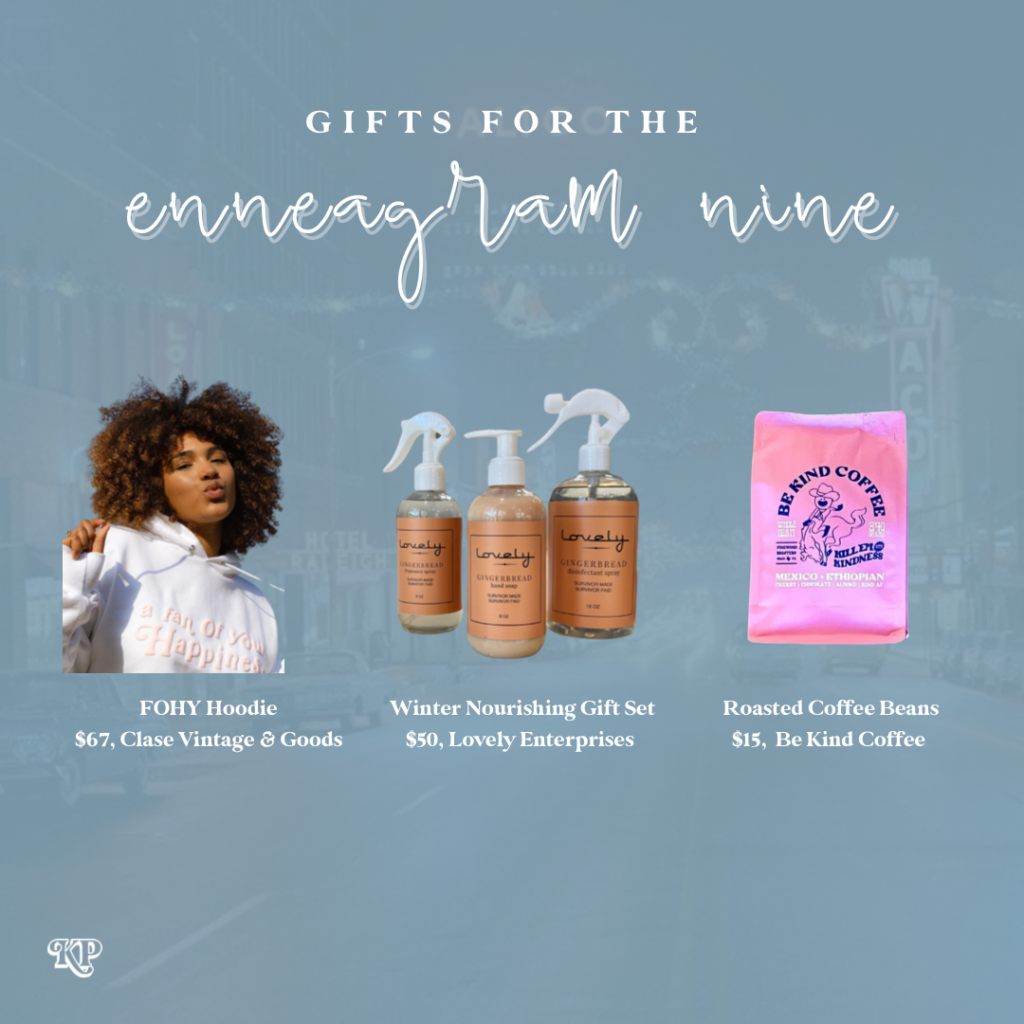 Gifts for Enneagram Type 9: The Peacemaker
Enneagram Nines are accepting, trusting, and stable. They are usually creative, optimistic, and supportive, but can also be too willing to go along with others to keep the peace. They want everything to go smoothly and be without conflict. At their Best: indomitable and all-embracing, they are able to bring people together and heal conflicts.
This hoodie from Clasé Vintage Goods is the perfect way to make everyone know their deepest desire is to see everyone happy!
The Winter Nourishing Gift Set from Lovely Enterprises is the perfect way to show your Enneagram Type 9 that you understand their desires of bringing peace by supporting a great local nonprofit that supports women who are survivors of abuse.

Coffee from Be Kind Coffee is the best way for your Enneagram 9 to start their morning off on the right foot and to remind them above all to just be kind.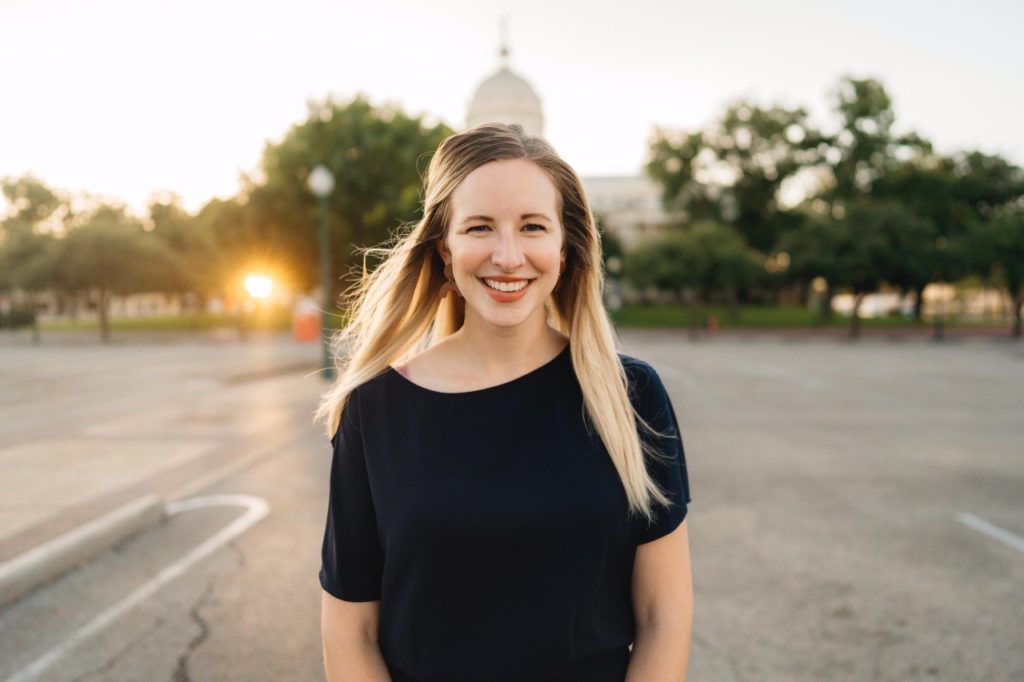 Kelly Palmer is a licensed social worker, educator, and member of the Waco City Council.
The Act Locally Waco blog publishes posts with a connection to these aspirations for Waco. If you are interested in writing for the Act Locally Waco Blog, please email Ferrell Foster.