By Donna McKethan
Each year, Americans celebrate Groundhog Day on February 2. For the past 131 years, we've had a day celebrating a rodent! Time to upgrade our celebration!
February 2 is also National Job Shadowing Day. Championed by national organizations, state organizations and our local Heart of Texas P-20 Council, National Job Shadowing Day provides students a unique peek into careers. It's a great way for them to learn from people already in the work place, to get some perspective about life in the work world, and to get a true feel for the career they plan to pursue in the future.
Shadowing experiences provide several advantages students. Students are able to observe firsthand the occupational duties and expectations of their career choice. This experience provides students an information base to assist in career decisions that are more compatible with their personal interests and skills. Other benefits include:
increased motivation to excel in school;
broadened understanding of requirements of a specific occupation in the "real" world;
increased self-confidence in working with adults and in job interviews;
improved positive self-image;
a chance to develop leadership skills.
Recently Waco High Academy of Health Science students took part in a job-shadowing experience provided by Baylor Scott and White Hospital. The experience was enjoyed by both the hospital staff and the students. I'll let the students speak for themselves about what they learned:
Marilyn Rangel: I shadowed two nurses at Baylor Scott and White Hospital. I got first-hand experience at what they do on a day-to-day basis in Pediatrics. I really loved the experience! I am really grateful I got a chance to experience something like this.
Hallie Morgan: At Baylor Scott & White I had the chance to shadow a nurse manager in the 5 South floor. While I was shadowing, we checked on the nurses and how they were doing. We also checked on patients because they were short-handed that day. This experience really meant a lot to me because I got to see that there are other jobs in a hospital besides being a nurse or doctor.
Yenesia Carpio: At Baylor Scott & White, I learned many interesting things. I shadowed in the Radiology department. I got to see how a mammogram works. I even learned how long you would have to go to college to become a mammography tech. Shadowing at Baylor Scott & White was very helpful to me because it opened my eyes to more careers that I may want to do in the future.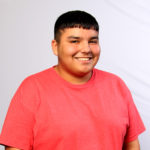 Kevin Sifuentez: I visited the Baylor Scott & White Medical Center and got to see the laboratory. It was very interesting. I got to see how they test for HIV and pregnancy. I also got to see where they put all the blood samples, including ones from Carter's blood drives. This experience meant a lot to me and I hope to get the chance to do it again soon.
Thomas Ramirez: When we arrived to Baylor Scott & White, we were taken to the auditorium for a short orientation. We each got our job-shadowing assignment. I was assigned to the NICU, where they take care of sick and premature babies. I shadowed a nurse who was taking care of a set of twins. While there, I learned about the many types of jobs in the NICU and got to watch them feed and bathe the infants.
Destiny Acevedo: At Hillcrest Baylor Scott & White, I shadowed Megan in the clinical nutrition department. I learned that there is a lot of math involved in nutrition. I thought it was just about food, but they watch every patient and plan what they eat according to their nutritional needs. They really care about the patients' health. This was a great experience, and I like it very much.
Just a few short hours are all it takes to open a window into the real world of work for students. Groundhog Job Shadow Day can be an important first step in providing students with the knowledge and skills they will need to achieve their dreams. Special thanks to Baylor Scott and White, The Heart of Texas P-20 Council and Waco High School Academy of Health Science for making this day possible. If you are interested in hosting students for a shadowing experience at your work place, contact me at [email protected].
In the words of Punxsutawney Phil, "BE the shadow!" and everyone will benefit.
---

Donna McKethan is the Career and Technology Director at Waco ISD. She has 33 years in education, the last 15 with WISD Career and Technology. She is currently the President of The Career and Technology Association of Texas. She is a WISD graduate with a BS in Home Economics Education from Baylor University and an MS of Education from Tarleton State University. She is currently enrolled in the Doctorial Program in Educational Leadership at Tarleton State University.
The Act Locally Waco blog publishes posts with a connection to these aspirations for Waco. If you are interested in writing for the Act Locally Waco Blog, please email [email protected] for more information.