By Rae Jefferson
More than 100 pediatric patients at one Waco Family Medicine location opened presents this Christmas thanks to the generosity of donors, including local school children.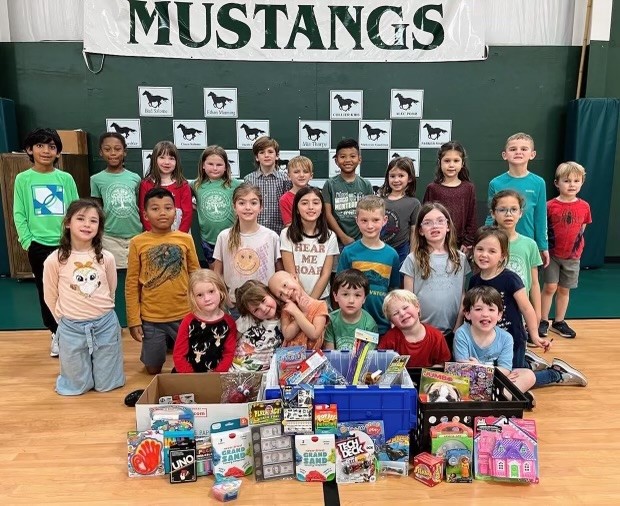 Students at Waco Montessori School, clinic staff, and other supporters contributed to a toy drive for patients at WFM's Martin Luther King, Jr., clinic. WFM serves many patients at or below the U.S. Federal Poverty Guideline.
"Many of the children in our area do not have a Christmas," said Shelly Barry, a licensed vocational nurse at the clinic. "Not because the parents don't want to but simply because they do not have the means."
The second annual toy drive included gifts like Hot Wheels, card games, and books. So many gifts were collected that many young patients received two presents during their visits to the clinic in December.
Dr. Floyd Barry, a pediatric physician at the clinic, said the mission of the toy drive was personal.
"When I was young, there was no federal funding for us during this time of year, but the doctor's office and the church gave gifts," he said. "Now, when I give gifts, I still remember the feeling I had as a young child receiving those presents. It's visceral. I still feel that after almost 55 years."
Providing gifts to pediatric patients began last year when clinic staff purchased items on their own. Barry said the clinic decided to expand the drive this year to include friends and family of staff. Waco Montessori School caught wind of the drive and wanted to contribute. In a newsletter, school officials said the drive was an exercise in teaching students "the importance of contributing to our community." Some students even spent their own money to purchase gifts. 
The clinic staff said they are beyond thankful for the efforts of donors, especially the youngest ones. "We were overwhelmed with gratitude that Waco Montessori School would be adopting us as the drop off for their toy drive," Barry said. "We had no idea the outpouring of support we would receive. I was in awe of the number of toys they provided. We had children — and parents — become emotional when handed the gifts."
Waco Family Medicine is a Federally Qualified Health Center providing medical, dental, behavioral health, and community health care at 15 locations across McLennan and Bell counties. The nonprofit also provides graduate medical education through WFM Institute and serves as a clinical training site for medical residency students, dental students, physician assistants, nurse practitioners, clinical social workers, pharmacy students, medical technicians, and allied health caregivers. WFM was established in 1970 to address a shortage of doctors, lack of access to primary healthcare, and economic development issues.
Rae Jefferson is communications director at Waco Family Medicine.