Brave Young Voices ~ Empowering Youth through Art
by Jenuine Poetess  
In June of this year, I was met with an opportunity to submit a proposal to present at the 10th Annual Strengthening Youth and Families Conference in San Marcos, Texas. I eagerly perused the prompts for possible workshops and break-out sessions and began to formulate an outline. Within several weeks I submitted my proposal for consideration. It was a brave move on my part; this conference looked like a pretty big deal and I have never presented in such a setting before. For better or worse I decided that at the very least, the process would be informative and shaping for me. I was thrilled when I received word two months later that my proposal had been accepted and I was invited to be among the talented and dynamic conference presenters.
Earlier this month I made the trip to San Marcos and with my "First Timer" name badge I boldly went where I had never gone before with confidence and courage. My workshop? How Art Transforms Youth and Their Communities. My attendees? Counselors, teachers, social workers, mentors, therapists, pastors, probation officers, foster parents, principals, juvenile justice professionals, case managers, and parents. I relished the opportunity to share my passion, experience, and resources with professional colleagues to inspire and affirm ideas for engaging youth in creative practices.
Across the span of my life I have served the generations next in a myriad of roles including: camp counselor, mentor, church youth leader, foster mother, supervisor/manager, teacher, trainer, therapist (mental health), sister, artist, poet, community organizer, and collaborator. I have worked with youth within systems and institutions such as education, corrections, and churches. I have built relationships through community spaces and projects. I have sat in the deepest dark of night to comfort young ones in the throes of nightmares—both imagined and real. I have walked with the vulnerable through their most harrowing traumas and have witnessed the profound liberation of their healing victories. I have wept over my own limitations and the haunting questions of, "have I done/am I doing enough?" In every setting and role, art has played a vital role in fostering the powerfully transformative relationships I have had the honor and privilege of building with so many extraordinary youth over the last two decades.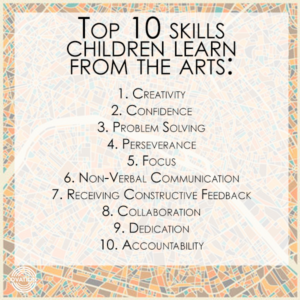 I came across the infographic to the right along with a corresponding article in the Washington Post as I was doing research for my presentation. I used this as a foundation and categorized the 10 skills into four key components of empowered youth development:
Coping Skills
Self-Awareness
Resilience Training
Empathy Building
The Top 10 Skills and my four categories fall in line with a guide released in the 1990s by the Search Institute on the 40 Developmental Assets which they found vital to nurturing a thriving youth. These 40 components are comprised of both internal and external qualities necessary to shape a young person into an individual who has a strong sense of self, a vision for their purpose, and a desire to contribute in meaningful ways to their communities and the world beyond them. Again and again, research and practice has shown that youth who engage in consistent creative outlets through school or community arts programming have greater opportunity to cultivate the skills that will foster their flourishing.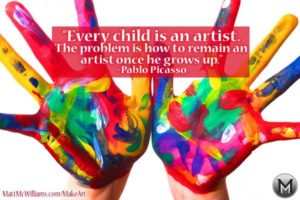 This past summer, I was invited to facilitate a writing circle workshop with students at La Vega High School during their after-summer-school program. Four young women and I met weekly for four weeks writing and sharing together. Inside the circle they were given prompts to write about—any genre—and every week I was humbled and awe-struck at the strength, courage, and creativity of these brave young voices. Whether through poetry, sci-fi fan fiction, personal reflections, or stories, these girls worked through issues of identity, self-esteem, healing, peer pressure, future goals, relationships, loss, and struggle. They learned how to find their own voice, amidst the cacophony of voices in their lives—parents, teachers, friends, media—and how to turn up the volume truly listening to who they are becoming.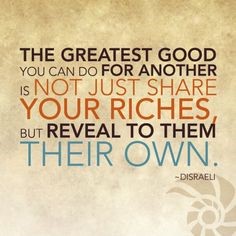 I watched as these young women became more confident in their own words. I relished seeing a light glow from within as they began to trust that they have a story to tell the world and that their unique story matters so much. Though our time together this summer was short, it is my deepest hope that the seeds of creative expression through the written and spoken-word arts continue to grow and bloom within them, for an individual empowered to know and share their story is an unstoppable force for transformation.
"I'm inspired!…now what?"
If you or an organization with which you are affiliated is interested in starting or strengthening arts programming, I would be delighted to collaborate and consult with you. I have starter kits for writing circles and open mic venues as well as heaps of resources for visual, written, and spoken-word arts projects. I love engaging directly with youth as well as providing adults the tools and support to cultivate creative practice in youth. From printable color sheets to art therapy activities to event planning I am always eager to share what I have and know to expand the impact of arts and culture in and around Waco. Please contact me at: [email protected].
---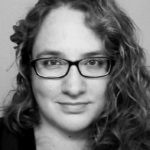 Jenuine Poetess is an artist, visionary, and community organizer. In 2010, she founded In the Words of Womyn (ITWOW), an international, grass-roots, written and spoken-word arts project with chapters throughout Los Angeles; Waco, TX; and Lebanon. ITWOW empowers womyn of all ages to give sound to our story and volume to our voice. Jenuine also co-hosts Nuestra Voz & Word Gallery, monthly open mic venues for poetry, music, spoken-word, story-telling, and more! You can contact her at: [email protected]. 
The Act Locally Waco blog publishes posts with a connection to these aspirations for Waco. If you are interested in writing for the Act Locally Waco Blog, please email [email protected] for more information.