The Goal is to Share: Thoughts on Philanthropy, One Semester In
by Andy Hogue and Ross Tarpley
In October 2013, I (Andy) sat outside Common Grounds one splendid fall morning with Lauren Wolter, the director of a new program called The Philanthropy Lab. Based in Fort Worth, The Philanthropy Lab was working with Harvard, Yale, Stanford, and a few other elite universities to do something innovative: to help students learn about philanthropy while they do philanthropy, to enable students to understand the social sector even as they contribute to it. Ms. Wolter met me in Waco to ask if Baylor might wish to apply to partner with them.
As she explained the program over coffee, I was spellbound; it was a fascinating concept. The idea belonged to Geoffrey Raynor, the founding partner of Fort Worth-based Q Investments, who ventured, as those in his profession are wont to do, on something promising but risky. A thoughtful and seasoned giver himself, Mr. Raynor wondered if our culture might bend toward generosity if the country's brightest young minds were afforded the chance to learn the skills of thoughtful giving—to research and understand public concerns, to assess the organizations daring to address those concerns, and to project the potential impact of philanthropic gifts, monetary and otherwise. All of this might be especially meaningful, Mr. Raynor ventured, if students could work with real money. And so, guided by his visionary leadership and innovative generosity, The Philanthropy Lab launched at the country's top schools.
Ms. Wolter explained in our meeting that the program looked different at every university. Some housed it in economics, some in education or public policy. Some closely scripted the giving process, while others left it wide open for the students to shape. Most gave globally; some gave locally. To apply, we at Baylor were to propose in detail our own philanthropy course and our own process for giving. What would we aim to do, and how? In partnership with my colleague, Dr. Wes Null, we began to sketch it out.
The Idea
Our choices, technically, were unlimited, though one thing felt clear: Baylor and Waco both depend on one another to flourish, and our philanthropy program ought to reflect that. What about a unique process forged with that in mind: one that was purely local, built on durable, lasting, meaningful partnerships with the city's nonprofit organizations; one that presented shared value to our students and our community, with local civic and nonprofit leaders giving knowledge and imagination and inspiration to our students, and our students in turn giving imagination, inspiration, and financial gifts back to our nonprofits; one that could afford collaboration between our best young minds and our best less-young minds to enrich life in our fair city? These were our hopes. This was our proposal. And lo and behold, they accepted it, granting us $100,000 to use in the first semester of the course (with more semesters still to come).
Buoyed by The Philanthropy Lab's approval, we recruited thirty of Baylor's best students from across disciplines and entered into a hopeful partnership with about 70 local nonprofit organizations. The terms were simply that these diverse organizations would open their doors, pitch ideas, lend expertise, and inspire imagination in our students about how, effectively, they might enrich the community with dollars and skills. In return, they became eligible for grant funding dependent upon the students' selection at the end of a lengthy due diligence process.
The Process
On the first day of class it became clear to me that I (Ross) was surrounded by other students with different majors, different backgrounds and experiences, different passions and desires, but who were all interested in working toward good. As Baylor students driven by strivings for Christ in us and around us, this became an opportunity not only to understand philanthropy but also to practice it intentionally, a chance to serve and love our neighbors in Waco while experiencing the transformative power of giving.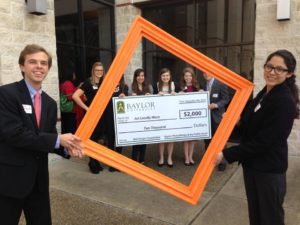 Five teams of six members were assigned a specific "subsector" of Waco nonprofits, from Health & Human Wellness; to Education & Mentoring; to Culture, Arts, & the Environment, among others. We quickly learned the participating organizations were only a small fraction of Waco's several hundred local nonprofits—an encouraging realization that while our town does have a lot of need, there are lots of hearts and hands at work to alleviate it. The remainder of our process involved weeks of research, interviews, guidance from executive directors of local Waco foundations, and the painstaking selection of the final recipients of our grants—a task that was unsurprisingly difficult when there are so many good things aimed at enriching our community and meeting its needs.
The (Transferable) Lessons
Our work and our learning over the course of the semester presented us with a startling realization: higher education is full of opportunities to learn about how to make money, how to handle it, how to get ahead and make one's way in the world. But there is surprisingly little about how to give—not just of one's money or in one's profession, which are important, but also of one's very self, which is more important.
Giving is complex, and there are many ways to do it. But as Richard Gunderman describes it, "the ultimate goal of philanthropy is not to reduce, prevent, or eliminate need. The ultimate goal of philanthropy is to promote sharing." And this is an important takeaway—that one of the greatest gifts any human being could ever share with us, or any of us could share with another, is assistance in becoming the best persons, families, institutions, and communities we are capable of being.
Our financial gifts did not eliminate need or "fix" our community's biggest concerns. They couldn't, and no amount of financial giving could. The profound lesson is that we all can share of ourselves toward those ends, and when we share of ourselves, at least two things happen: 1) we express our belief in someone else, which promotes hope; 2) we can invite someone to share back with us, which promotes community. Any place marked by hope and community is a place, we're convinced, with great potential for human flourishing. –– AH/RT
Whether you're new to this journey or far on down the way, here are a few very quick aids to challenge your thinking and enhance your giving.
Web tools:
Books:
A good Ted Talk:
---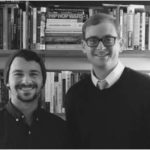 This Act Locally Waco blog post was written by Andy Hogue and Ross Tarpley. Andy has lived with his family in North Waco (with a brief excursion to the Pacific Northwest) since 2003. He is married to Tiffany, an attorney and Baylor administrator, and they have two girls, Anna (8) and Caroline (4). At Baylor Andy teaches courses on philanthropy, civic engagement, and a range of topics in American politics, particularly its intersections with religion and race. Ross, originally from Marshall, TX, is a senior Baylor Business Fellows major, studying Entrepreneurship and Religion. He loves singing, being at church, and healthy theological discussions. Upon graduation, Ross has no idea what he will do with his life, but options range from seminary, to teaching, to auditioning for a professional singing group.
The Act Locally Waco blog publishes posts with a connection to these aspirations for Waco. If you are interested in writing for the Act Locally Waco Blog, please email [email protected] for more information.