Silent Heroes: The Journey of Caregiving
by Sophia A. Strother
I struggled with this blog for weeks not really sure what I should discuss given so much that has transpired in my personal life and nationally that has had a profound effect on me. I wondered…should I discuss the dominant news on civil injustices against black men? The national spotlight on domestic violence in the sport and entertainment industry lately? Or my personal experience recently of losing my grandmother who played such a vital role in the woman I am today? So much to talk about and only a short space to do it in…
I finally settled on the life changing experience of deciding to take my grandmother into my household. I became her sole caregiver in January 2012. Millions of people across America have made this same decision, yet there has not been much attention or appreciation regarding the silent journey of heroism that such a decision renders.
Many know my story. I survived sexual abuse at the hands of my father, rape at the age of 14 which led to motherhood for me at 15. I also survived a mother who succumbed to drugs through my adolescence and adulthood. I've told this story through my book "Sophia: I'm Back."
Many also know that my grandmother, Vivienne "Mattie" Strother Adams, was my appointed angel in my life. She took me and my newborn son in when I was 15 and helped to set the foundation of the woman that I am today. It was a no brainer that when she became terminally ill with Vascular Dementia and Congestive Heart Failure I was going to be HER angel by making sure she was well taken care of. So at the height of my career I took in my grandmother, homeless mother and two younger brothers making ours a mighty household of 8….yes, I said 8 … and, I was the ripe old age of 32.
Over two years, as my grandmother's disease progressed, I resigned from my career with the State of Texas, withdrew from the public, and became lonely and desperate for resources and support. Unfortunately, offers of support were far and few between. If I found a support group it was only held once a month. My grandmother didn't have Medicaid, so I only received 20 minutes of aid three times a week; everything else had to be paid out of pocket. I realized in that time that caregivers are grossly overlooked. Other people underestimate the grueling emotional toll caring for your loved one has on your own psyche.
I considered myself to be strong and forward thinking, but toward the end of my grandmother's life this past November I found myself weakened and without purpose. I'm hoping more caregivers find the strength to reach out to one another. I also hope helping organizations realize that once a month isn't sufficient to give emotional and mental release for caregivers.
I have a new found respect and bond with others that took the same journey as I did through caregiving.
Here are some tips that worked for me:
Take time daily to step away — Whether it was 30 minutes to sit on the porch, or time to read a book. I had to make time for myself to clear my mind from the daily chores of caregiving.
Reach out to others when feeling down — I used to feel guilty that I was sad about giving up my career or a large portion of my social life, however, reaching out to friends, former coworkers and community colleagues really helped. They kept me laughing and talking, and allowed me to vent.
Seek out community resources. — There are several support groups in the community and they work. You need to talk to others who can truly understand. Also you might learn tips or new ways of caring for your loved one.
Know your limits. — I had to accept I couldn't physically do everything and it was okay to ask for help. Take advantage of volunteers who are willing to help or low-cost agencies that can also aid.
Know that YOU ARE A BLESSING! — Even if you don't get a pat on the back, you are a blessing to your loved one and it's a blessing to be able to have the heart and means to care for them. Some of our loved ones mentally start to leave us, but try to remember the good times you had with them or how they were there for you and it helps ease you during the rough nights.
Act Locally Waco, thank you for having an outlet for the community to share and connect. I hope if you are in a similar situation and you are reading this that you will realize you're not alone. Reach out to others for help as you travel through this journey of caregiving. A piece of my soul left me on November 9th, but I wouldn't trade my experience and journey of caring for my grandmother…all the intimate time I had with her…now that she has gone to heaven, I appreciate that I didn't miss it. TO ALL MY FELLOW CAREGIVERS I'M PRAYING FOR YOU AND YOU'RE MY HERO!
---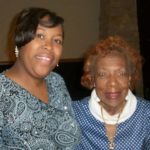 This Act Locally Waco blog post was written by Sophia A. Strother. Sophia is the CEO of Empowerment Driven by Knowledge Coalition & Trustworthy Consulting, a nonprofit community organization she founded. She has a master's degree in marketing and is a licensed childcare administrator. Strother has endured much in her life—from sexual abuse and drug-addicted parents to being homeless and pregnant at 15. As an adult, Strother has struggled with and overcome her past demons and built a life and career around helping others. She shares her story in her book, "Sophia I'm Back" which is available online at Amazon.com and other channels.
The Act Locally Waco blog publishes posts with a connection to these aspirations for Waco. If you are interested in writing for the Act Locally Waco Blog, please email [email protected] for more information.