But Some of Us are Brave: Alexis Christensen
(This post is one in a series on race titled "But Some of Us Are Brave." The series includes posts from a diverse group of writers from our community. It takes a considerable amount of transparency and vulnerability for the contributors to this series to pen these posts and voice their experiences. We appreciate their courage, and we hope their willingness to be brave will spark some authentic community conversation on this sensitive and important topic. We hope you will read these posts thoughtfully and join the conversation by responding honestly and respectfully, and by sharing them with your friends and acquaintances. — ABT )
Dear Fear,
Normally I start a letter by asking how you are, but I don't much care to ask how you are doing. Instead, I'll get right to it: you're really wreaking havoc in our communities and I'd like to see it stopped.
You are a bully. You like to push and prod. You coax us to think the worst about people, exaggerate stereotypes. A drop in the stomach when I see that man, that black man walking toward me. Fear, you urge us on.
Fear, you are not new to this job. No, your tactics were employed long ago to strip people of their identity, their pride, and their dignity. Slavery, Jim Crow, Segregation– I smell your stench in them all.
Your tactics have evolved. Even now, people are paralyzed from speaking or sharing because of you. Their words mangled and strangled because of your tight, tight grip.
Fear, you are not an excuse or cop out. We cannot blame you for the hate and enmity that exists between peoples. But you do cause us to pull away instead of drawing near to each other, which disables us from seeing the Beloved Community realized. We are then blind to the reality and beauty of each individual and the collective.
When we give you power, we allow you to destroy whole groups of people. Fear, you are no friend of mine.
But I know your secret. I know you flee at the first flicker of unity. You shrink back at the sight of common understanding. You groan under the weight of triumphant justice. And so, it's really clear isn't it? We can be victorious over you.
I'm saying goodbye. I have no time for you. You've ravaged too long the streets of Waco, the hearts of men and women, the dreams of little brown boys and girls.
I am a fool no longer.
I am joining hands with my sisters and brothers to dispel you. It takes more than some of us to be brave, I know that well. We need everyone to be brave so that our communities can be full of beautiful color and song again. We need to be brave so we can build and rebuild bridges long burned down.
Don't bother looking for me again, fear, because I'll be too busy walking free, hand in hand with my beloved community, working toward justice, peace and wholeness. And frankly, you're not invited.
Most sincerely,
Alexis
---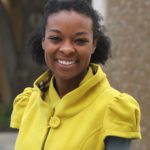 Alexis Christensen is a Community Organizer at Waco Community Development Corporation (Waco CDC).