By Crystal Hernandez
Hi. It's nice to meet you. We're the YMCA of Central Texas.
Many folks in Waco have never been formally introduced to the YMCA of Central Texas. First impressions or chatter among friends often portray the Y as just another gym, a place to don spandex, pound out a mile or two on the treadmill, knock out a couple of reps on the weights or swim a few laps.
When you join the Y, though, you belong to more than a gym although we do have a great gym. When you join the Y, you join a community. We're a gym with a mission — a mission to put Christian principles into practice through programs that build healthy spirit, mind and body for all. Our mission governs all we do. Here's how.
We are for you. We are for your neighbor. We are for your child. We are for the healthy and those struggling to reclaim their health. We are for those that love spandex and those who hate it. We are for everyone. At the Y, a supportive community and friendships are a big part of wellness. At every age and every activity level, you'll find people just like you looking to live a bit healthier.
If an expansive cardio and weight area are what you're looking for, we have it. Between our two branches (Doris Miller Family YMCA and Waco Family YMCA) we offer more than 100 land-based group exercise classes each week. If you're more of a water baby, we offer group exercise classes in our pools, too. (By the way, we have five pools). From Zumba® to yoga, from Insanity® to Aquatic Boot Camp, we have a class for everyone.
We don't stop there, though. We believe that everyone is entitled to better health, and we want to help. Here are some examples of some of our special programming that helps build up the health of our community:
LIVESTRONG® at the YMCA, a free 12-week program, helps adult cancer survivors reclaim their total health and find a community of support.
Our children's health is important, too. Kids ages 7-13 who are above their healthy body can enroll, along with their caregivers, in MEND (Mind, Exercise, Nutrition, Do it!). The dynamic and engaging curriculum of this free 10-week program guides kids toward healthier eating and a more active lifestyle.
The safe, low-impact exercises of Enhance®Fitness improve endurance, strength, balance and flexibility among those with arthritis.
The YMCA's Diabetes Prevention Program is a 12-month lifestyle behavior intervention that is part of the CDC-led National Diabetes Prevention Program. It helps those at high risk of developing type 2 diabetes adopt and maintain healthy lifestyles by eating healthier, increasing physical activity and losing a modest amount of weight to reduce their chances of developing the disease.
Our friendly, knowledgeable staff members are guided by our core values of caring, honesty, respect and responsibility. We're here to do more than help you reach your goals; we're here to build a relationship with you. If you're a gym rat, we'll cheer you on! If you're new to the fitness world, we'll take time to get to know you while guiding you in achieving your goals.
And do you want to know one of the most amazing things about the Y? It's for everyone! The generosity of others is at the core of our existence. It is only through the support of our volunteers and public and private donors that we are able to give back to the communities we serve. We offer financial assistance so that cost is not a barrier to anyone wanting better health. The Y is for community. The Y is for you. You should get to know us. We'd like to get to know you.
---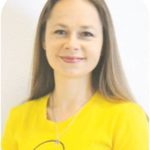 This Act Locally Waco blog post was written by Crystal Hernandez. Crystal is the Healthy Living Director for the Waco Family YMCA. She received her degree in Exercise Science and Health Promotion from the University of Memphis. She's blessed to be the mother of 3 beautiful children, Norah, Robbie and Sammie and she and husband, Shawn will be adding number 4 to the mix in less than a month. In her free time, she loves hitting the pavement and pounding out a good run.
The Act Locally Waco blog publishes posts with a connection to these aspirations for Waco. If you are interested in writing for the Act Locally Waco Blog, please email [email protected] for more information.