Art on Elm: East Waco's Neighborhood Arts Block Party
by Jenuine Poetess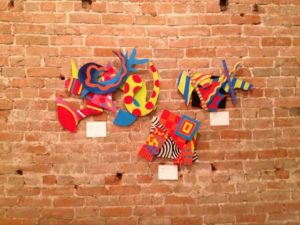 Since 2011, East Waco has partnered with NeighborWorks Waco to host an annual block party complete with music, visual art exhibit, artisan booths, and food vendors known as, Art on Elm. This celebration of community and creative expression was born out of a question of how to rekindle the sparks from a once-thriving area of Waco's Downtown. Consultants were brought in to evaluate the neighborhood, its history, and the needs of the community. Out of those conversations and brainstorms, Art on Elm was born.
Art on Elm features an exhibit of visual arts submitted by artists across many disciplines who are living and creating in Waco. On an outdoor stage musicians from around Central Texas set the tone for community celebration as the street, closed to vehicle traffic, fills with neighbors dancing, laughing, and singing together. The aroma of fresh food cooking wafts across the blocks from local food vendors creating a feast for all senses! (The last day to submit artwork, musical feature, food or artisan vendor is TODAY, March 11, 2015! Click here for details).
A key component of Art on Elm is empowering youth.  You people get involved both as volunteers…and as artists.  This event is an opportunity for neighbors from all across McLennan county, Central Texas, and even out-of-state to gather, celebrate the talent and value of creative expression and to be reminded of what rich resources Wacoans have to offer one another.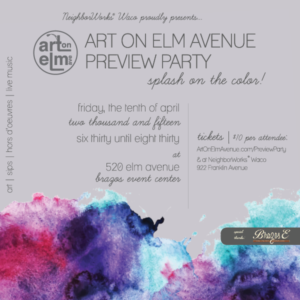 This year's event will be held on Saturday April 11, 2015 from 10am-3pm. The event is FREE and open to the public of all ages. You will want to bring cash for food and art purchases. If you're interested in a sneak peek at the art exhibit, join Art On Elm on Friday April 10th for the Splash of Color Preview Party. Click here for ticket information.
Get Involved in Art on Elm!
Calling volunteers of all ages for Art On Elm! Jobs could include children's activities, directing traffic, handing out flyers, working in the exhibition or helping with music. If you would like more information about being a volunteer please contact us at

[email protected]

.
Call for submissions (visual arts, vendors, musicians) ends TODAY MARCH 11, 2015!! Click here for guidelines to submit.
Come to the event on April 11, 2015 and bring your friends, family, and neighbors!
Upcoming Arts & Culture Events:
Waco Poets Society's Nuestra Voz/Our Voice hosts an Abilities & Mental Health Awareness and Solidarity Open Mic on Saturday March 14, 2015 at 7pm at the Art Forum of Waco (1826 Morrow Ave). This event is FREE ($3 suggested donation) and open to people of all ages, abilities, genres, languages, styles, identities, and cultures.
Waco Poets Society will host a Pop-up Writing Circle before open mic on the 14th, beginning at 6pm at the Art Forum. Prompt, paper, and pens will be available—come ready to write and discuss! This is a casual, affirming, collaborative, creative space.
In the Words of Womyn weekly writing circle continues on Mondays from 6-7:30pm at the Art Forum of Waco—open to all who live as and identify as womyn. This space is for the practice, discussion, and exploration of the written & spoken-word arts. All genre writers welcome!
BIRDS Exhibit will begin accepting submissions of art works across any discipline on March 27, 2015 for exhibit at the Art Forum of Waco from April 25th through June 13th. All ages, all media welcome! For more information please click here.
Waco McLennan Library is holding a Writing & Art Contest for young artists ages 5-17. Deadline March 20, 2015. Please click here for full submission guidelines. (every hero)
Have an arts and/or cultural event you'd like to share with the community or a project we should know about? Please contact Jenuine Poetess at [email protected].
(Photo credits: All photos courtesy of NeighborWorks Waco, used with permission)
---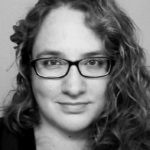 Jenuine Poetess is an artist, visionary, and community organizer. In 2010, she founded In the Words of Womyn (ITWOW), an international, grass-roots, written and spoken-word arts project with chapters throughout Los Angeles; Waco, TX; and Lebanon. ITWOW empowers womyn of all ages to give sound to our story and volume to our voice.HOT~ITWOW writing circle meets Mondays from 6-7:45pm at the Art Forum of Waco beginning February 2, 2015.  Jenuine also founded Waco Poets Society which sponsors a local open mic venue in Sanger Heights.  Meeting every 2nd & 4th Saturday at the Art Forum of Waco Nuestra Voz Open Mic invites community to share poems, songs, stories, spoken-word, and other creative expressions!  In 2015, Jenuine along with a number of other artists creating and residing in Waco, co-founded the Central Texas Artist Collective (click link to learn more and get involved).  You can contact her at: [email protected].
(Visited 21 times, 1 visits today)