Free "Careers In Retail" Program Provides Training for Mid-level jobs
By Kaylah Johnson
In just 4 months of employment, I have fallen in love with Goodwill. When most individuals think of Goodwill, they think of retail stores or maybe they find themselves humming Macklemore's song Thrift Shop. While our retail stores are well known for their bargains, it's our Mission Services efforts that really give me the warm fuzzies. Specifically, it's the Careers in Retail program that gives me a sense of fulfillment and allows me to achieve my personal mission of stimulating growth in my community by providing encouragement, guidance, and education to the individuals and organizations that reside within it.
Now here is the textbook description of Careers in Retail…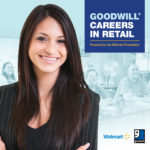 "Careers in Retail (CiR) is a no-cost program that prepares entry-level employees to move up to rewarding, higher-paying jobs and lasting careers in the retail, restaurant, and hospitality industries. This is achieved through remedial, soft skills, and occupational training that equips our clients with the necessary tools to turn their entry-level jobs into mid-level careers. This initiative is funded by the Walmart Foundation and executed by 8 select Goodwill's throughout the U.S. This initiative is built upon Heart of Texas Goodwill's 60 years of successful job training programs in our community."
Now here is the truth…
Careers in Retail is unique to this community. It's one of the most job placement intensive initiatives that I've encountered in my 15 year stay in Central Texas. The whole idea behind it is to help people see their potential for being successful and prepare them to step into greater roles in the restaurant, retail and hospitality industries. According to the most recent U.S Census, just over 30% of the Waco community lives in poverty. Many of those people are working jobs for $7.25 an hour in the restaurant, retail and hospitality industries – which equals about $15,000 in annual income before taxes. Surprisingly, these wages aren't just affecting one age range. The chart below shows the age ranges of our current CiR participants: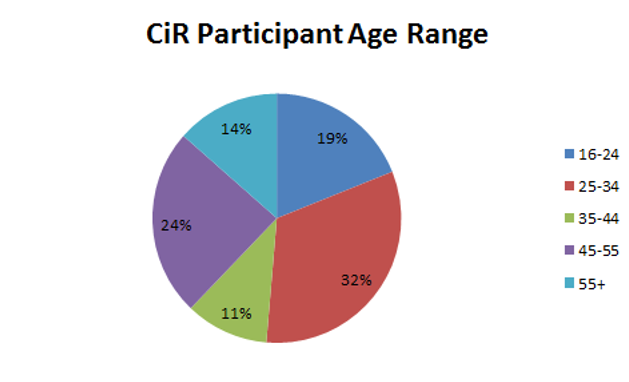 Additionally, our current participants come from a variety of racial and ethnic backgrounds. So what does this mean? In short, it means that ALL of this community needs the Careers in Retail program. There are some great jobs available in retail, restaurant, and hospitality, but not a large pool of qualified applicants. Our focus is to bridge that skills gap and move people into mid-level positions by providing them with the training and skills needed to be successful. Now that we've covered the what and the why, let's talk about the how.
It all begins with an application. CiR applications can be picked up from any of the four Goodwill Learning Centers (Killeen, Belton, Temple, or Waco) or found online on the Heart of Texas Goodwill website. Applications are then reviewed by CiR Specialists. Next we perform interviews and assessments for applicants to ensure that they are a good fit for the program. We look for motivated self-starters with industry background who have an immediate desire to move into a better position in retail, restaurant, or hospitality. Once accepted into the program, participants receive individualized skills training. Maybe they need a refresher using Microsoft Excel or they need some help with their interview skills? Either way, we provide that training to help them improve.
The highlight of this program is the training that we provide through the National Retail Federation (NRF). There are 3 major certifications provided through NRF: (1) Customer Service and Sales, (2) Advanced Customer Service and Sales, and (3) Retail Management. We require all participants to complete the Customer Service Essentials course. This course provides detailed training on the do's and don'ts of customer service while incorporating curriculum that assists with passing the Customer Service and Sales certification exam through NRF. Passing this course and the certification exam gives people the opportunity to add something new to their resume and develop the exceptional customer service skills that are needed to stand out with employers. The other two courses are optional and are assigned based on specific needs identified for each individual participant.
Once the participant has completed all of the skills training, we get them job ready! In collaboration with our Goodwill Learning Centers, we provide services for resume writing, cover letter writing, interview skills, job search & networking techniques, self-presentation, and much more. We also work with local employers to help place our participants into mid-level positions.
All of the services listed above are provided at no cost to our CiR participants so there is much more to gain than there is to lose. Our goal is to place over 100 people from this community into new careers in retail, restaurant, or hospitality. If you or someone you know may benefit from this program, please feel free to contact me: Kaylah Johnson, Program Manager for Careers in Retail at (254) 495-9415 or [email protected].
---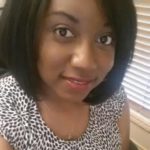 Kaylah Johnson is a business major with the heart of a social worker. She has won two awards for her dedicated volunteer work in Central Texas and continues to volunteer her time to a variety of local causes. She is currently set to graduate with her MBA with a concentration in Management & Leadership from Texas A&M University – Central Texas in May 2016. Her motto is "I don't know everything but I can learn anything" so in her spare time aside from spending time with family, Kaylah likes to read and watch anything that will broaden her skill set.
The Act Locally Waco blog publishes posts with a connection to these aspirations for Waco. If you are interested in writing for the Act Locally Waco Blog, please email [email protected] for more information.
(Visited 25 times, 1 visits today)