Don't Let Arthritis Keep You Down
By Crystal Hernandez
Arthritis pain can be excruciating – it doesn't have to be. We can help through EnhanceFitness®.
According to the Centers for Disease Control and Prevention, physical activity can reduce pain; improve function and emotional well-being in those suffering from arthritis. Programs, such as EnhanceFitness, have been approved by the CDC to help those with the disease.
EnhanceFitness is a 16-week program that meets three times each week. The curriculum helps participants to improve cardiovascular function, muscular strength and endurance, balance, range of motion and flexibility.
Instructors are able to work with all levels and abilities because both the cardiovascular and resistance training can be performed seated or standing. To alleviate the need to grasp weights with hands and fingers, which can be difficult and painful, wrist and ankle cuffs are used. These secure around the limbs and as the participant becomes stronger they can gradually increase the weight by ½ pound increments.
Assessments are performed at the start of the program and again at the end of the 16-week program. This allows participants to see the improvements that they've made in their fitness.
EnhanceFitness classes require registration and can hold 15-25 participants. Classes are held at both the Doris Miller Family YMCA and the Waco Family YMCA. It is free to YMCA members. For non-members it is $100 for the full 16 weeks. The next program will begin on April 4. For more information, contact Chronic Disease Prevention Specialist, Crystal Hernandez at 254-776-6612 or [email protected] .
---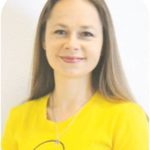 This Act Locally Waco blog post was written by Crystal Hernandez. Crystal is the Chronic Disease Specialist for the Waco Family YMCA. She received her degree in Exercise Science and Health Promotion from the University of Memphis. She and husband Shawn are blessed to be the parents of 4 beautiful children. In her free time, she loves hitting the pavement and pounding out a good run.
The Act Locally Waco blog publishes posts with a connection to these aspirations for Waco. If you are interested in writing for the Act Locally Waco Blog, please email [email protected] for more information.