Game Plan for Super Bowl 50: Are You Drinking or Are You Driving? This is NOT the time for an option play!
By Meilana Charles
The Super Bowl is America's most watched national sporting event. On Super Bowl 50 Sunday, Feb. 7, 2016, there will be lots of game day socializing that may include drinking. That's why the Cooperative Extension Program of Prairie View A&M University and Texas A&M AgriLife Extension Service "Watch UR BAC" program is urging football fans to call the play now: Drinking OR driving. If you plan on drinking on Super Bowl Sunday, designate a sober driver to get you home safely.
"Drunk driving is completely preventable," said Texas A&M AgriLife Extension Service agent Colleen Follen "All it takes is a little planning. We want fans to remember that it's a choice — drink or drive, but never do both. Law enforcement agencies will be out in large numbers to stop anyone who makes the dangerous decision to drive impaired."
According to the Texas Department of Transportation, 1,041 people were killed in drunk-driving crashes in 2014, accounting for 29 percent of the total motor vehicle traffic fatalities in Texas. Super Bowl Sunday is a risky day for drunk-driving crashes.The "Watch UR BAC" program advises that if you're attending a Super Bowl party or watching the game at a sports bar or restaurant:
Designate your sober driver, or plan another way to get home safely before the party begins.
If you don't have a designated driver, then ask a sober friend for a ride home; or call a cab, friend or relative to come and get you. If you are at a friend's house, stay the night.
Never let friends drive if they have had too much to drink.
If you're hosting a Super Bowl party:
Make sure all your guests have a non-drinking driver to take them home, or arrange for alternate transportation to see that they get home safely.
Serve plenty of food and non-alcoholic drinks at the party.
Host your party just like they do at the stadium. Stop serving alcohol at the end of the third quarter of the game, and begin serving coffee and dessert.
Take the keys away from anyone who has had too much to drink.
Remember, you can be held liable and prosecuted if someone you served ends up in a drunk- driving crash.
Cooperative Extension Program of Prairie View A&M University and Texas A&M AgriLife Extension Service's Watch UR BAC program is a free, statewide program to promote alcohol awareness, the dangers of impaired driving, and friends watching out for friends. Contact [email protected] for booking information.
---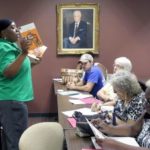 This Act Locally Waco blog post was written by Meilana Charles. Meilana is a Family and Consumer Sciences Extension Agent at Cooperative Extension Program at Prairie View A&M University. Meilana's priority areas for providing educational resources to McLennan County are general nutrition, money management and parenting. She has a M.S. in Child Development from Texas Woman's University and is a certified Human Development and Family Studies professional through American Association of Family and Consumer Sciences.
The Act Locally Waco blog publishes posts with a connection to these aspirations for Waco. If you are interested in writing for the Act Locally Waco Blog, please email [email protected] for more information.
(Visited 20 times, 1 visits today)