Youth Council Trip to Nashville a Terrific Experience!
By Sandra Arias
I've always had large ambitions of traveling to new places. When I first heard that I would be heading to Nashville, Tennessee for the National League of Cities Conference I knew that I was in for a great time.
For the past two years I have served on the Waco City Youth Council, an organization dedicated to helping the youth of Waco become more active in the community. Within this organization I have been a part of many wonderful projects such as fundraising for the Waco Humane Society and donating gifts to some of the five hundred foster children in McLennan County. Annually, the Waco City Youth Council, along with the Waco City Council, travels to the National League of Cities Conference. Delegates from across the country meet at this conference every year to discuss local issues, and hear from speakers who have made a great impact in their communities.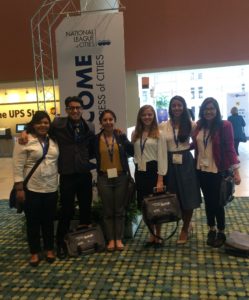 This year I, along with five other students from Waco, attended this conference as youth delegates. Never in my life had I left the state of Texas, let alone been on a plane, and for me to travel to the country music capital was inconceivable. There are not enough words to express the excitement I felt. Weeks prior to our departure my good friend and fellow delegate, Kristen Petree, and I spent our time planning everything we wanted to do when we landed in Nashville. However, to actually be in the city was a breathtaking experience.
On November 2, 2015 we departed for Nashville, Tennessee. As we landed in the grand city, it was very clear that it was a vibrant place filled with great energy. On our first day we made our way to the Music City Center, one of the largest convention centers in the country and got a first glimpse of the convention. Thousands of people gathered in this large building, spanning the length of five city blocks, for the sole purpose of finding ways to improve their city. We also met with several other youth delegates from all around the country. What was astounding to me was that so many of these young adults, like myself, cared very much about their community. One of the major highlights of this trip was hearing Vice President Joe Biden speak. In his speech he highlighted the importance of small businesses, and the vital necessity of city infrastructure to bring in companies that could provide jobs for our citizens. Within our small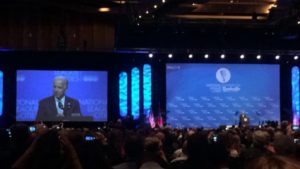 city of Waco, I believe that we truly embrace the words of Vice President Biden. In Waco, we embrace our small businesses with the hope that our citizens will prosper. We have also done well by providing the infrastructure needed to house large companies such as M&M Mars, which employs many people in the area.
During the rest of my stay in Nashville I enjoyed a variety of other things. Our group had plans to consult with various companies about their proposals for developing our city. We met with council member Alice Rodriguez on several occasions to discuss with her all that we had seen and heard. The Nashville youth delegates gave us a tour of the city and its historic sites. We were also treated to a private concert by some of Nashville's up and coming artists.
Overall, my journey to Nashville was spectacular. I was able to meet many great people who provided me an outsider's perspective of my wonderful city. I am very grateful to the Waco City Council, as well as the Waco City Youth Council for allowing me to attend this wonderful trip. In the end, I learned about many ways to improve my community, and I plan to employ what I learned to help our community prosper.
---
Do you know a young person who might be interested in Waco Youth Council? The Waco Youth Council's primary function is to provide the Waco City Council a teen perspective on issues facing the City, and to provide a voice for teens in the community. The group typically volunteers at functions such as the annual Feast of Sharing, Brazos River Cleanups, and at community center events such as Easter Egg Hunts and Halloween carnivals.  Applications are available from high school counselors, or by emailing Earl Stinnett at [email protected]. The deadline to apply is Thursday, April 21, 2016. <Youth Council Application> <Youth Council Information Sheet>
---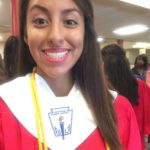 Sandra Arias is a senior at Waco High School, with plans to attend the University of Texas at Arlington this fall. She will major in science and exercise, and hopes to earn her Master's degree in athletic training. She is very involved in Waco High's student athletic training program, and has also been a part of Waco High's cross country, track, and Lady Lion soccer teams.
(Visited 18 times, 1 visits today)