A Sanger Heights Shout-Out
by Kristen Bulgrien
I live in Sanger Heights, and I love it. I moved to Waco three years ago as a graduate student at Baylor, and was pretty clueless about where to find housing in this town. Thankfully I had a roommate-to-be who did some great legwork for us (literally, she was in Waco, driving and walking around to different places while we communicated over email and skype), and we found ourselves in a great little house right in the middle of Sanger Heights.  Three years later, we have yet to leave.
So I'd like to dedicate this post to Sanger Heights, and all the things about it that are dear to me. I hope it will cause you to reflect on all the things you love about your little corner of town, and that it might inspire you to pay us a visit here in Sanger Heights.
Let's start at an obvious place: the food. You can grab a gyro at D's Mediterranean or some really delicious pancakes at World Cup Café. But you probably already knew that. My favorite little gem that you might not know about is the Paleteria La Nueva Michoacana at 1201 N. 25th. From popsicles to ice cream to horchata to strawberries and cream, this little ice cream shop has something for everyone. Bring cash for your treats, and don't worry – you can order in English or Spanish.
The next thing is a place I admittedly have a vested interest in – it's my church, Calvary Baptist, at 18th and Bosque. We'd love it if you joined us on a Sunday morning, but you can also plant veggies in the community garden, get your groove on at zumba (Tuesdays/Thursdays, 7 pm, $2), or sell your wares at our Community Yard Sale (next one is April 23).
Sanger Heights is also home to some great organizations doing great work. Mission Waco and Waco Community Development are full of people who love their community and are doing great work on its behalf. Building affordable homes, mentoring kids, providing jobs, even opening grocery stores and eradicating food deserts – these are just a few of the things they do.
Lastly, if you've never experienced Halloween on Colcord…well…you've never truly done Halloween. Where I grew up, if you wanted to trick-or-treat, you walked up front steps, knocked on doors, and waited patiently for the residents to come to the door with a candy bowl. That's not how this works. A section of the street gets closed off to motorists, and it is a heyday of kids, costumes, hot dogs, and candy. If you're handing out candy on Colcord, don't even think about going inside your house and waiting for kids to come, because you will never close your door. You might as well don a costume, grab your candy, and gird up your loins for the steady stream of trick-or-treaters on parade through your neighborhood. It is crazy, and it is so much fun.
So, there you have it, a quick ode to Sanger Heights. It is not at all comprehensive – there is so much more to love about this place! But I hope it brings you to our neck of the woods sooner rather than later. I hope it also gets you thinking – what is great about your neighborhood? What are the hidden gems? How can you share them with someone who may not know about them? I hope you take some time today to revel in this little Waco-town we call home.  It's a pretty beautiful place.
---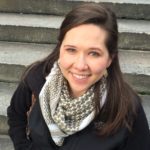 Kristen Bulgrien is a proud Pennsylvanian who can't decide how she feels about Texas as a whole, but really, really loves Waco. She moved to Waco in 2013 to pursue a Master's Degree in social work and is now the Director of Community Partnerships at Helping Hands Ministry in Belton, Texas. When she's not working, you can probably find her at the farmer's market, the dog park, or Lula Jane's.
The Act Locally Waco blog publishes posts with a connection to these aspirations for Waco. If you are interested in writing for the Act Locally Waco Blog, please email [email protected] for more information.
(Visited 31 times, 1 visits today)