Taking this show on the Road! Rising Sons 2016 Gulf Coast Tour
By George Eichenberg, bass player, Rising Sons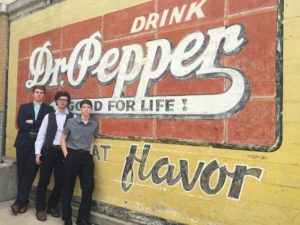 When my friends and I started a band three years ago, I never thought that one day I'd be packing my bags and my bass guitar and going on the road. But five days from now, Spencer Davis, Jackson Anderson and I — otherwise known as the Rising Sons trio — will be heading southeast to play gigs in Louisiana, Mississippi, Alabama and Florida in what we've dubbed our 2016 Gulf Coast Tour.
Going on tour sounds pretty cool, but we're not exactly living the rock-n-roll lifestyle just yet. Our tour bus is a caravan of family cars. We're not expecting crowds of screaming girls to rush the stage. And our venues don't seat thousands of people. But that doesn't make any of this less real or less important to us. We take seriously our job of performing the classic rock, jazz and country tunes that will entertain audiences near, and now, far.
What started out as just messing around on Friday nights has turned into a real paying job with pretty consistent income that has given me the ability to save money, upgrade my equipment and go out with my friends. That wouldn't be possible without owners of restaurants like the Hippodrome, Manny's and Jake's Texas Tea House taking a chance on some teenage boys and their electric instruments — and hiring us again and again once they realize we're serious about what we do.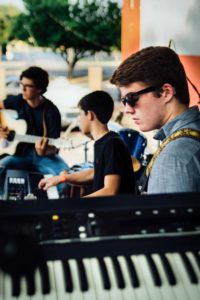 But more importantly, being part of the band — and spending many weekend nights playing music — has given me the opportunity to be part of something. You see, Spencer and Jackson have been playing music all their lives, but I didn't pick up the bass until 7th grade music class. Outside of school, Jackson practiced with me and I started to understand how the bass adds another layer and gives every song a fuller sound — and how my contributions to the music make us better as a group.
We've all worked hard to get here. And though we've had lots of help from our parents, we've put in a lot of our own sweat. From hours of perfecting every note of our favorite Eagles tune to hauling heavy gear to and from our gigs (now in our own cars — two of us are finally driving!), it's not easy. We've felt everything from love and support to skepticism and doubt. But at the end of the day, when our Algebra teacher and his wife show up to hear us (OK, maybe it was also for the chicken fried steak) at a roadhouse 20 miles outside of town, we know we're doing something right. When strangers start tapping their feet to the music and singing along, we might be onto something. We're definitely having fun.
Now we're taking it on the road. The t-shirts have been printed, the UHaul has been rented and our kick-off party plans have been made. The three of us are looking forward to playing for new audiences and picking up the musical influences of the southern coast. Are we under the illusion that this tour is going to make us famous or that we are going to be discovered? Nah. But as we head out this weekend, we'll be keeping Waco in the rear view mirror and remembering it's the good people of our hometown who helped us pave the way.
---
June 3 – Rising Sons 2016 Gulf Coast Tour Send-Off Party – Join Waco's favorite teen trio and celebrate their June 4-12 2016 Gulf Coast Tour at this pre-tour performance and party. Cost: Free admission (not including food and drinks at Jake's). Time: 6 PM – 9 PM. Location: Jake's Texas Tea House, 613 Austin Ave. For more information please visit the website: www.ehandersonpr.com/rising-sons
---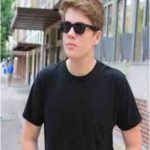 George Eichenberg is the bass player for the Rising Sons, a Texas teen trio that plays everything from the Eagles to John Mayer and lots in between. George is a junior at Vanguard College Preparatory School and when he's not playing bass, you can probably find him on the court with the varsity basketball team at school. His parents are Alex and Gretchen Eichenberg; and he has a sister, Brigitte, 13, and a big chocolate Lab named Luke.
The Act Locally Waco blog publishes posts with a connection to these aspirations for Waco. If you are interested in writing for the Act Locally Waco Blog, please email [email protected] for more information.