Help break the cycle of poverty for at-risk, teenage mothers in our community
By Glenn Robinson
Did you know the city of Waco has one of the highest teen pregnancy rates, pre-term deliveries, infant mortality rates, and child abuse in the state of Texas? What if there was a way to change these results in a way that benefits not only the mother and child, but also our community and population health overall?
Together with the Waco Foundation, we at Baylor Scott & White Medical Center – Hillcrest have launched a program called Nurse-Family Partnership committed to producing enduring improvements in the health and well-being of low-income, first-time parents and their children. Implemented in January 2016, the program is designed to utilize bachelor-prepared RN's to deliver into a home environment the information, education, and resource connection for the success of the mother's pregnancy and the child's overall health at birth. This evidence-based model has been successfully breaking the generational poverty cycle in counties all over America for the past 38 years, including 33 counties within Texas.
This proven model allows care providers to improve birth and health outcomes for first-time mothers and their babies by educating them in ways that increase attendance to appointments, thereby decreasing the likelihood of early delivery, unforeseen complications and follow-up ER visits.
But our commitment does not stop there – the program continues through the child's second birthday. As part of the curriculum, in-home assessments are used to identify early childhood development concerns, and promote school readiness. Additionally, our team's goal is to involve the family unit as a first source of learning, as well as provide nurturing and mentor support to the mother so she may become a more prepared and confident parent.
Hillcrest, in conjunction with community partners, recognizes the need for programs like this to help break the cycle of poverty for at-risk, teenage mothers in our community. Nurse-Family Partnership can help break this generational cycle – empowering confident mothers to become skillful parents who are able to prepare their children for successful futures, growing into healthy, productive citizens.
---
Interested in learning more about this terrific program?  Contact us! Let's work together for the good of our kids and our community!
Nurse-Family Partnership
Baylor Scott & White Hillcrest Medical Center
120 Hillcrest Medical Boulevard #303
Waco, Texas 76712
254-202-1130
Nfp.sw.org
Nursefamilypartnership.org
---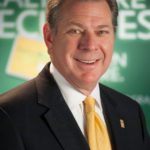 Glenn Robinson has been the President of Baylor Scott & White Medical Center – Hillcrest since September 2007. He previously held several CEO positions at hospitals in Texas, Oregon and South Carolina. A Georgia native and graduate of the University of Alabama, Glenn completed graduate school at Trinity University in San Antonio, Texas. He has more than 30 years experience in hospital and healthcare management, is a Fellow of the American College of Healthcare Executives, has received several professional awards and serves on a number of national and state healthcare policy boards. He also serves as an Adjunct Lecturer for both Baylor University and Trinity University and is involved in several non-profit organizations and community councils. Glenn and his wife, Rhonda, have three children: Josh, Jacob and Sarah Kathryn, and one grandchild: Pierce.
The Act Locally Waco blog publishes posts with a connection to these aspirations for Waco. If you are interested in writing for the Act Locally Waco Blog, please email [email protected] for more information.