Entrepreneurs of Waco: The Spin Connection
(Note: This post is part of a series called "Entrepreneurs of Waco."  The series is collaboration between the McLennan Small Business Development Center (SBDC), the Professional Writing program at Baylor University, and Act Locally Waco.  The McLennan Small Business Development Center offers technical assistance, business mentoring, training, and resources for all stages of small business. For more information, visit their website: www.mccsbdc.com.   To see all the posts in this series, click here: Entrepreneurs of Waco.  – ABT)
By Allie Drain
Spin Connection is nearly empty by five p.m.  Classic rock and modern pop songs play from the speakers, mixing with the soft rustle of plastic – the sound of customers flipping through records.
It's a comfortable atmosphere. Relaxed. Posters from popular bands and movies, both modern and vintage, plaster the walls behind the displays that line the sides of the store. In the middle are two rows of wooden displays, each row made of eight total bins.  These displays show the real treasure of the store: they hold the thousands of vintage records that Spin Connection is known for.
It wasn't always like this. "When we started, we had a couple of these racks set up," Stan Wojciechowski explains, pointing his thumb at the bins in the middle of the store. "We were having them built, and so we just had like four racks and about five hundred, eight hundred albums out here."
"I never thought I would have my own business," he says. "A few years ago, we did the Austin Record Convention, which is one of the biggest record shows in the United States if not the biggest, and we decided we'd maybe try to have a store here in Waco because vinyl was having a comeback of some sort. Not a huge comeback, but a comeback nonetheless."
Stan and his wife, Alicia, opened Spin Connection about two and a half years ago. Stan had come to Waco in 2007 for his work with industrial equipment—a job that he still holds on top of running his store. He'd always had his own collection of records though, which he started selling even before opening Spin Connection to help with bills and his children's tuition.
"I think it's something that he's kind of wanted to do for a while and when he did it, his determination, I think, just made it happen," Stan's son, Josh, says.
Josh, who helps out at Spin Connection on top of going to school and working, recalls his father's lifelong hobby of going to flea markets and auctions for music, which often turned into family trips with his parents and older siblings. He didn't always appreciate it when he was younger until he started learning more about the work behind having a stall or a small business, something he's become more aware of with his father's store. "To me, I would say it gives me some inspiration on how to find that something you like doing and turn it into something that you're proud of," Josh explains, clearly impressed with his father's accomplishments.
One of the most challenging parts of owning a record shop is finding the right inventory. With very few exceptions, the records which fill the racks of Spin Connection are all vintage, brought in by either customers looking to sell, or found through an auction of some sort.  "I just have to find them, because I want to find them for a good price so my prices are reasonable for the customer," Stan explains. "Some of the titles we can't keep. Dark Side of the Moon by Pink Floyd, we can't keep it. The Wall, also by Floyd. Michael Jackson's Thriller, it doesn't stay very long. Those kind of albums, you put it out here, 'Ahhhh, look!!!' It's gone."
While Spin Connection is never as busy as the chain stores, there is a steady flow of people from all ages and walks of life. There's a good number of Baylor students who are part of the new record culture, but also plenty of older people. Many of them, Stan notes, come in looking for albums or artists they were fond of in the past, and some come in looking to sell. "You hear them out here laughing and looking like 'Honey, look at this,' and they're laughing. It's not even a comedy album, it could be anything. They just get a kick out of it."
Spin Connection's customers are drawn in mostly by word of mouth, however Stan also mentions the importance of location in starting a business. "You wanna be where there's a lot of traffic," he says.  For that reason, Stan opened Spin Connection at 3703 Franklin Avenue, right near the intersection with North Valley Mills Drive. Beneath the upbeat music of the store's soundtrack there's a steady thrum of passing cars on the street outside. Traffic is a constant on Franklin Avenue, proving the worth of Stan's words. The location provides Spin Connection with the opportunity to both attract more customers and avoid the heavy fees that helped close some smaller businesses he knew in the downtown area. "Waco is a good place to open a business, but you have to know what you're doing," he says. "Do your homework."
"Having more live music would be good," Stan says about his future goals. Bringing in bands is one of his favorite parts of the business.  "We had a band up here from Austin that was really good and they did an acoustic set. They were doing headbanging music in clubs, but I asked them if they could do acoustic and they said yes," he recalls. "It was really good." The live music adds to the unique atmosphere that sets Spin Connection apart from many other music stores.
"He's involved in all facets of the business," Josh explains about his father's work, "and I've learned that if you find something that you really like doing, you should really just do it. There are risks involved. My dad didn't know how exactly it would turn out for him. I guess that's part of the fun, but his resolve to just open the store and just take that risk … I guess I've learned that I should take risks for stuff that I love and try to really focus on those things that I love."
---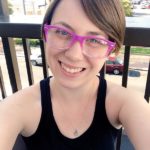 The writer…Allie Drain is a recent graduate of Baylor University, Class of 2016. While at Baylor, she focused her studies on English and Creative Writing while also acting as Co-Editor in Chief of The Phoenix, Baylor's literary magazine. She loves reading, writing, and sharing stories, and hopes to one day enter the publishing industry.
The Act Locally Waco blog publishes posts with a connection to these aspirations for Waco. If you are interested in writing for the Act Locally Waco Blog, please email [email protected] for more information.
(Visited 29 times, 1 visits today)