Grateful Reflections on Waco
by Jesse Harden
Nearly four years ago, my family moved from Albuquerque, New Mexico to Waco, Texas, to attend Baylor University. I had never been to Waco, and knew nothing about it. My family's time in Waco is now complete, and we will be returning to Albuquerque. In this short time, Waco has become more than a space we have occupied, it has become a place that has shaped us.
The concept of place speaks of the physical space we occupy at a given moment as more than the geographic boundaries of our existence, those in which we live, work, play and worship. Conceiving of place goes deeper than mere geography to the intangible ways our environment (its history, beauty and inhabitants) begins to have formative power in our lives. Dale M. Coulter (in an article found HERE) delves into the formative power of place,
"As much as humans seek to carve out the land they occupy, more times than not, it carves them. It turns ordinary humans into Southerners or Midwesterners or New Englanders"
In Short, where we are forms who we are. We are a product of the places we have lived. In the four short years my family has been in this place, we have, in many ways, become Wacoans. This place, its people, geography and culture have captivated us, and we are forever changed.
Two significant aspects of Waco that have forever carved their mark in my family are the prevalence of concern for the common good and the many assets that this community has to leverage toward this concern. First, as I have lived in Waco and have interacted with various members of this community, I have been overwhelmed by the general love, pride and concern each has had for this city. I worked as an intern, both with Communities in Schools and Mission Waco as a part of my studies. Additionally, I pastored at Highland Baptist church for two years. In each of these settings, I met people who love Waco deeply, and are dedicating their lives to see Waco flourish.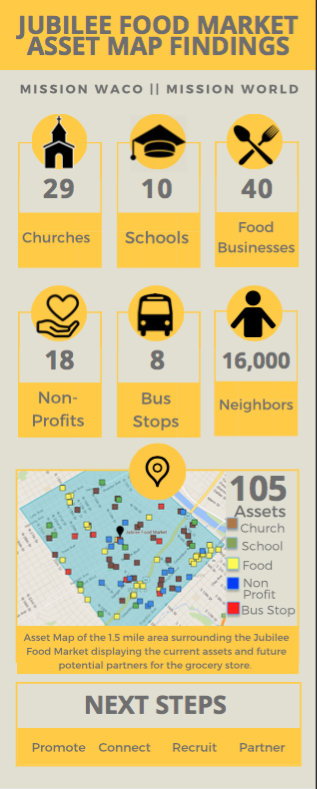 In my work at Mission Waco, I was primarily involved with their work to bring an end to North Waco's food desert, working with the community to establish Waco's first non-profit grocery store, the Jubilee Food Market. Among my responsibilities was to promote and process the OASIS Shares that Mission Waco is selling to raise funds for the market. I was privileged to see the name and generosity of each individual, foundation and organization that gave generously to this effort, providing nearly 75% of the needed funds in just a few months. The response of the greater Waco community to the opportunity in North Waco to provide fresh and affordable food to their neighbors was a truly humbling and inspiring experience (Shares are still available, by the way, and can be purchased HERE).
In addition to the generosity and concern of Wacoans for the common good of their city, I have been overwhelmed by the number of assets Waco has available to work toward a truly thriving, fruitful and just city. Waco has so many strengths waiting to be identified, connected and leveraged! As a part of my internship with Mission Waco, I partnered with North Waco residents to complete an asset map of the 3.5 square miles surrounding the Jubilee Food Market. Our team chose just five categories of assets to map, and identified 105 assets! Imagine the potential of these assets being connected together. Imagine the number of assets within Waco as a whole!
Very few people have the opportunity and platform to thank a city for their hospitality and formative role in their lives. I have such an opportunity now. Thank you, Waco! You are more than a space in which people live, you are a place by which people are formed. You have welcomed my family and allowed us to become Wacoans. And, though it grieves us to leave, we will carry our new identity to Albuquerque, inspired by your generosity and passion to see your community prosper.
---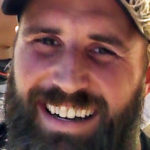 Jesse Harden just graduated with his Masters of Divinity and Masters of Social Work from Baylor University. He is a church planter and community development practitioner in Albuquerque, NM. 
The Act Locally Waco blog publishes posts with a connection to these aspirations for Waco. If you are interested in writing for the Act Locally Waco Blog, please email [email protected] for more information.