Entrepreneurs of Waco: Maker's Edge
(Note: This post is part of a series called "Entrepreneurs of Waco."  The series is collaboration between the McLennan Small Business Development Center (SBDC), the Professional Writing program at Baylor University, and Act Locally Waco.  The McLennan Small Business Development Center offers technical assistance, business mentoring, training, and resources for all stages of small business. For more information, visit their website: www.mccsbdc.com.   To see all the posts in this series, click here: Entrepreneurs of Waco.  – ABT)
By Allison Le Grice
"I love owning a business where I only succeed if my clients succeed," Melissa Pardun explains as her dog Josie leaps onto her desk to lick the palm of her hand. Along with her husband Rick Pardun, Melissa owns Maker's Edge. Maker's Edge is a "maker space," a full-featured do-it-yourself studio for anyone from teens to hobbyists to high-tech entrepreneurs who want to make things.  According to the website, Maker's Edge is a "…a space that brings together a community of DIY people with wonderful fabrication equipment in a way that supports collaboration, creativity, ingenuity and personal development."
Melissa, with her thick royal blue rimmed eyeglasses and zebra print nails, sits in her office conveniently at the front of the maker space.  This allows her to shout a greeting to every member who walks in. "Community is our number one emphasis," Melissa says, pointing to a banner in shop that reads "Look around you, here are your fellow doers. Here is your creative team."
Upon walking into Maker's Edge, you see a huge open workspace with tables and stools where members work on their projects in the presence of other members. Surrounding this open space is a collection of private working spaces — Wood Shop, Metal Shop, Welding Shop, and Electronics Shop, to name a few — that are available to members upon completing proper training.
"Once we finally got started, our biggest battle was having to define what a maker space was. No one knew what the heck we were," Melissa chuckles. Even among the engineer and maker community, it was rare that people in Waco had heard of, much less been to, a maker space. Small town curiosity helped. People were constantly wandering in to ask about Maker's Edge; some of those curious visitors stuck around to become members. Now some of those members are making products that are being sold at Magnolia Market.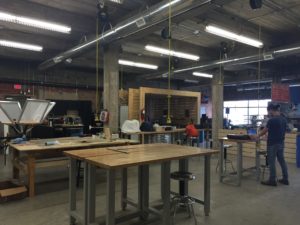 Maker's Edge is one of the largest maker spaces around that isn't a part of a franchise. This is largely because the Pardun's decided to establish a for-profit business instead of the more typical non-profit maker space.  The for-profit model allowed them to get big quickly and fill the shop with mostly new, efficient, and precise tools.  Additionally, this business model allows Maker's Edge to team with Circle Hardware to provide an in-house mini-hardware store for those "forgotten materials".  And a hidden benefit of avoiding the non-profit makerspace "club" approach: members never have to take their turn cleaning the bathrooms!
Maker's Edge charges membership fees. Members use the space and everything in it for a monthly fee that goes towards the maintenance of the building, tools, and material that makers wish to use. The membership types range from "Unlimited Open Shop Membership" for $125 a month to a "Youth Membership" for $30 a month.  There's also an "Entrepreneur Package" that provides 24-hour access, an enclosed office, a professional address and mailbox, and more benefits for entrepreneurs.
The idea for Maker's Edge came about when Rick Pardun, an engineer, grew frustrated with engineering applicants who could not design well. They had all the education necessary for their job, but they couldn't physically do anything because they had never touched a tool.  As an avid reader of Make Magazine, a magazine dedicated to DIY and all types of building, Rick was aware of the maker space movement and thought that it might be a good idea to start one with his wife Melissa, who was very familiar with nonprofit work.
Initially they worried that Waco would not be the ideal place to start a business, but Melissa did not want to leave Waco until her children were out of school.  Waco eventually proved itself to be a fine location – big enough to ensure business in the shop, but not big enough to attract much competition from the franchises. The Parduns grew up in that small town environment. They appreciate that Waco seems to embrace a small town feel despite not being a "small town." They wanted to be able to have a business where their members appreciated that the owners treated them like neighbors.
Melissa and Rick decided to get help actually creating this business idea.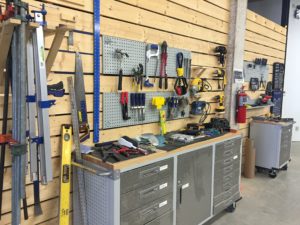 First, they sought some advice from Bradley Norris, an entrepreneurship instructor at Baylor University who was familiar with teaming up technology with entrepreneurship. Bradley had played with the idea of creating a maker space himself, but never had the time or the means. He offered Melissa and Rick some guidance on the technicalities of starting that kind of business as well as constant emotional support. Next, they got help from the LAUNCH program. This program included a three-day intensive workshop, where entrepreneurs gathered all of their business ideas and proposals together in order to actually begin the process of starting their business. After this, they got in touch with Jane Herndon of McLennan Small Business Development Center. Jane helped Melissa and Rick create a cohesive plan to present to a bank. Finally, Melissa and Rick got access to the most important part of the business process: connections. The Greater Waco Chamber of Commerce provided the Parduns with access to other business people who could help them get started and helped them get their business name out to more entrepreneurs around Waco.
"One thing I would tell entrepreneurs is that an independent spirit does not work…We live off a community philosophy," Melissa says with a large smile. "It takes a community to start a business. It takes a community to complete a project. It takes a community to do everything in this life. Embrace it."
---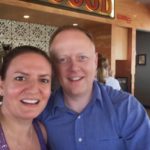 The Entrepreneurs…Melissa Pardun is the Executive Director of Maker's Edge.  Melissa is a life-long thinker and maker and strongly identifies with teaching the ideals of the DIY spirit to the next generation of innovators.  Rick Pardun is the Chief EDGe-ineer, the creative force responsible for initial workshop design and ongoing training and tool acquisition.  As a mechanical engineer, Rick has 18 years of experience in prototyping and design in the aerospace industry.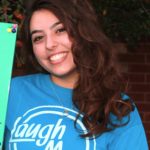 The writer…Allison Le Grice is an English student at Baylor University. She is passionate about literature, mental health, and recycling. In her free time, she is most likely binge-watching "Chopped."
The Act Locally Waco blog publishes posts with a connection to these aspirations for Waco. If you are interested in writing for the Act Locally Waco Blog, please email [email protected] for more information.
(Visited 26 times, 1 visits today)