Vocabulary word for the day: "Access"
By Craig Nash
I had to learn a new lingo when beginning my work at the Texas Hunger Initiative, and it was challenging. (The very use of the word "challenging" in the previous sentence is an example, and proof that I have begun to absorb the lingo, choosing a more tame term over a collection of other, more colorful, words that I would have chosen before.) And it wasn't just the acronyms connected to social services that were, uh, challenging. It was a whole new lexicon full of words meant to convey how we are doing our work, but words that are usually used with different meaning outside the non-profity world in which we exist. Words and phrases like "value-add," "capacity," and, my personal favorite, "bandwidth," would often leave me looking around the room wondering if I am the only other person suffering from a mental condition that prohibits me from understanding. I eventually picked up the pace and figured the new language out, although I am still much slower at translation that most of my colleagues.
One word, though, that resonated with me early on is the term "access," often used when describing how easy or difficult it is for a particular person or group to receive basic human needs. In other fields of conversation we may say that someone can or can't afford a particular need, or someone is or isn't able to provide for themselves or their families. But access opens up a different line of thought altogether. It guides us into a more compassionate mode of thinking  for those without it, as well as for those who have it.  It equals the playing field, if you will.
With regards to access to food, there are a number of reasons someone may or may not have it. Money is one, but so is availability, location and safety. I've witnessed an army of people in our city whose very job and mission is to make access more widespread.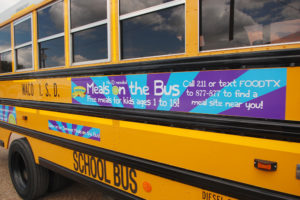 One way that Waco and La Vega ISD's Child Nutrition departments have been making access to food more widespread to our local children is through their mobile meal-bus programs. If location is a barrier (there's another one) to access, then they are working to remove that barrier. Rather than requiring children to come to one of the dozens of stationary Summer Food sites around town, they are bringing Summer Food sites to neighborhoods, parks and clinics all around the area. Like the other sites, food on the buses are free to children under 18, and require no id to, um, access.
One way you can help increase access is to spread the word. All summer sites can be found by visiting Summerfood.org. Below is a list of Waco and La Vega ISD Meals on the Bus location stops and times.
Waco ISD "Meals on the Bus" – Monday through Friday
 Bus #1
Waco Apartments, 2724 Robinson Drive                                       10:40-11:00am
South 18th Street Community Center, 1800 Gurley Lane              11:10-11:30am
Elm Street Community Center, 609 Elm                                         11:45am-12:05pm
Waco Central Library, 1717 Austin Avenue                                   12:20-12:40
UBC, 1701 Dutton Avenue                                                                12:50-1:10
East Waco Library                                                                            1:25-1:45
Bus #2
Scott & White Macarthur Center, 2201 Macarthur Dr.                  10:40-11:00am
Family Health Center, 1000 Delano Street                                     11:15-11:35
Barron's Branch Apartments, 819 Colcord                                    11:45am-12:05pm
Estella Maxey Apartments, 1000 Delano                                        12:15-12:35
Guthrie Park, 7400 Brookview Drive                                              12:50-1:10
La Vega ISD "Lunch Bus Express" – Monday through Thursday
 JMJ Wrecking, Corner of Campground Road and Harrison St.      10:10-10:30am
Maranatha Church, Ashleman and Latimer Streets                       10:40-11:00am
La Vega High School Tennis Courts                                                 11:10-11:30
Brazos Village Apartments, Lakeshore and Gholson Rd.              11:40am-12:20pm
Brame Park, Hogan St. and Briarwood                                           12:30-1:10
---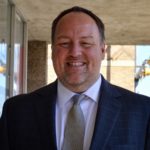 Craig Nash has lived in Waco since 2000. Since then he has worked at Baylor, been a seminary student, managed a hotel restaurant, been the "Barnes and Noble guy," pastored a church and once again works for Baylor through the Texas Hunger Initiative. He lives with his dog Jane, religiously re-watches the same 4 series on Netflix over and over again, and considers himself an amateur country music historian.
The Act Locally Waco blog publishes posts with a connection to these aspirations for Waco. If you are interested in writing for the Act Locally Waco Blog, please email [email protected] for more information.