Healthy Outdoor Summer Celebrations
By Meilana Charles
Even as the Waco temperatures rise into the triple digits, many holiday celebrations still move outdoors. Here are a few tips on how to have happy, healthy summer celebrations outdoors.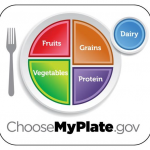 Enjoy healthy options– Incorporate My Plate into the menu. Replace food high in sugar, salt and saturated fat with 100% whole grain, fruits, vegetables and lean meat and seafood options. Try fruit parfaits, grilled vegetable kabobs, 100% whole wheat buns and salmon patties. Additionally, use smaller plates to help with portion control.
Incorporate physical activity into the celebration-After the meal, enjoy the warm weather by going on a brisk walk with family members, have a scavenger hunt, play tug-of-war or have a jump rope competition.
Keep water handy-Stay hydrated by sipping on cold water instead of soda or other drinks. Too many caffeinated beverages are high in sugar and calories and can lead to dehydration. Try alternating caffeinated drinks with water.
 Keep food safe-To reduce the chance of foodborne illness, use the four food safety principles-Clean, Separate, Cook and Chill.
Clean – Wash hands by using warm water and soap for 20 seconds before rinsing. Also, clean and sanitize surfaces and appliances and thoroughly rinse produce.
Separate – Always keep fresh produce and cooked food separate from raw meat, poultry and seafood. Use different cutting boards, utensils and plates for cooked and uncooked foods.
Cook – Keep hot food at an internal temperature of 140 F or higher. Use a food thermometer to make sure cooked foods are safe until it's time to eat. For safe cooking temperatures of meat, poultry and seafood go to: https://www.foodsafety.gov/keep/charts/mintemp.html
Chill – Keep cold food at 40 F or below by transporting and storing it in an insulated cooler with ice, dry ice or frozen gel packs. Additionally, keep food safe and out of the "Danger Zone" (40 F – 140 F) by eating or storing it within 2 hours (1 hour if the temperature is 90 F of higher).
---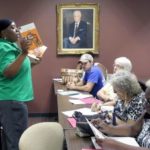 This Act Locally Waco blog post was written by Meilana Charles. Meilana is a Family and Consumer Sciences Extension Agent at Cooperative Extension Program at Prairie View A&M University. Meilana's priority areas for providing educational resources to McLennan County are general nutrition, money management and parenting. She has a M.S. in Child Development from Texas Woman's University and is a certified Human Development and Family Studies professional through American Association of Family and Consumer Sciences.
The Act Locally Waco blog publishes posts with a connection to these aspirations for Waco. If you are interested in writing for the Act Locally Waco Blog, please email [email protected] for more information.
---
References: MyPlate Tip Sheet-Be food safe: http://www.choosemyplate.gov/foodgroups/downloads/TenTips/DGTipsheet23BeFoodSafe.pdf MyPlate Tip Sheet-Enjoy your food, but eat less: http://www.choosemyplate.gov/foodgroups/downloads/TenTips/DGTipsheet18EnjoyYourFood.pdf MyPlate Tip Sheet-Make celebrations fun, healthy and active: http://www.choosemyplate.gov/foodgroups/downloads/TenTips/DGTipsheet20MakeCelebrations.pdf MyPlate Tip Sheet-Make healthier holiday choices: http://www.choosemyplate.gov/foodgroups/downloads/TenTips/DGTipsheet32MakeHealthierHolidayChoices.pdf