McLennan County Improves Health Infrastructure and Policy  
By Courtney Restivo Wollard
I am the Public Health Education Specialist Lead for the Health Education Program at the Waco-McLennan County Public Health District and for the past two years, the department has been working on projects under the Texas Healthy Communities Program, a program of the Texas Department of State Health Services.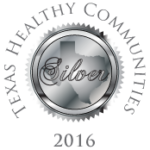 This program helps communities assess their existing environments and implement change in local environmental and policy infrastructure.  The program encourages  the adoption of priority public health practices to reduce risk factors for chronic diseases. Communities that promote recognized best practices for preventing and controlling cardiovascular disease, stroke and other chronic diseases are then recognized by the program. This year, the Waco-McLennan County Health District has achieved Silver level status for the county for preventing and controlling heart disease, stroke and other chronic diseases.  This is an improvement from Honorable Mention in 2014.
Communities are assessed on eight health indicators to determine recognition as a Texas Healthy Community: physical activity, healthy food access, mother-friendly worksites, healthy worksites, healthy schools, tobacco control, healthcare quality, and cardiac and stroke response.  Some examples of activities within these indicators include:
Offering physical activity areas
Offering healthy eating options
Mother-friendly worksites promoting breastfeeding
An evidence-based health curriculum in schools
100% smoke free city ordinance
EMS system which maintains a rapid response time for cardiac events
Treatment of stroke and a medical emergency in the community with appropriate acute stroke treatment protocols in place
The biggest improvements that increased our scores from 2014 included the implementation of the 100% Comprehensive Smoke Free Waco Ordinance passed in July 2015 by City Council that went into effect January 2016 as well as an increase in the number of worksites designated as mother-friendly.
Back in 2014, there were only 2 recognized mother friendly designated worksites whereas in 2016, there are 13 designated mother-friendly worksites. A worksite is considered Mother Friendly if there is a policy in place to support employees choosing to breastfeed their infants. To determine if your worksite could become a mother friendly worksite, you can visit the Texas Mother Friendly Website.
We have received confirmation that we were approved for an additional year of the program funding, which will go towards improvements in several different parks in the city to improve physical activity opportunities for residents. (See the accompanying table for the scores received within each health indicator.) Hopefully, next year, we can reach the Gold Status for the program!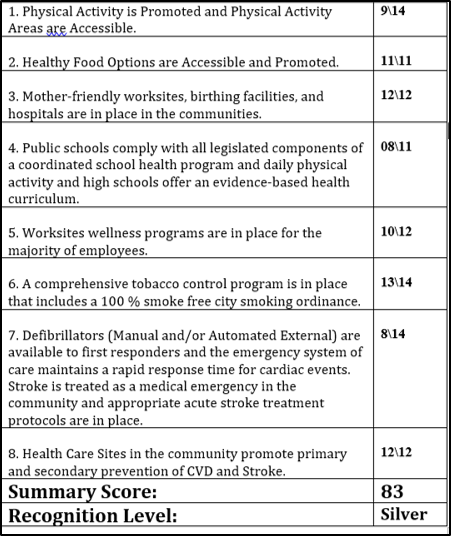 ---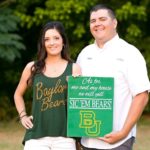 Courtney Restivo Wollard is a lifelong Waco resident who works as Public Health Education Specialist Lead at the Waco-McLennan County Public Health District and serves as Chair for Live Well Waco, the group working to decrease obesity rates under the Prosper Waco Health Committee Initiative. She is also an alumnus of the Waco Foundation LeadershipPLENTY Institute. Courtney graduated with her Masters of Public Health from Baylor University and right away began her career as a health advocate. She is married to Kyle, with whom she has two fur babies – a Chihuahua and a Labrador. Courtney hopes to continue to create healthier environments for McLennan County residents filled with healthy eating and physical activity opportunities.
The Act Locally Waco blog publishes posts with a connection to these Aspirations for Waco. If you are interested in writing for the Act Locally Waco Blog, please email [email protected] for more information.
Resources:
https://www.dshs.texas.gov/heart/AbouttheTXHCProgram.aspx
Other communities recognized at the Gold, Silver, Bronze, or Honorable Mention Level this year:
Gold Level: Harris County, City of Houston, Nueces County, Webb County
Silver Level: Angelina County, Lubbock County, McLennan County, Smith County, Tom Green County, Wichita County
Bronze Level: Hidalgo County, Lamar County, Parker County, Taylor County, Victoria County
Honorable Mention: City of Red Oak, City of Waxahachie, El Paso County, Jasper County, Nacogdoches County, Newton County, Waller County, Wood County